Para ser sincero, los edificios no son mi pieza favorita de LEGO. Hay muchos sets estupendos, sin duda, pero ninguno que me atraiga tanto. Ahora bien, este set 31118 Casa Surfera en la Playa de Lego Creator 3 en 1 encaja bastante bien en mi colección de sets de temática vacacional, aunque se componga principalmente de casas móviles de autocaravanas.
Pero también tiene que haber un lugar donde los turistas que buscan emociones fuertes puedan conseguir su equipo o algunas lecciones de surf, ¿no es así?
Las mejores ofertas para 31118 Casa Surfera en la Playa
Las mejores ofertas para 31118 Casa Surfera en la Playa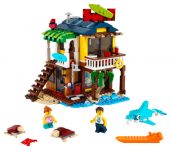 31118 Casa Surfera en la Playa
¡Ofertas!
Lego Creator 3 en 1
| DETALLES | |
| --- | --- |
| Numero | 31118 |
| Nombre | Casa Surfera en la Playa |
| Tema | Creator 3 en 1 |
| Lanzamiento | 2021 |
| Piezas | 564 |
| Minifiguras | 2 (2 exclusivas del set) |
Minifiguras
Minifiguras
Este set incluye dos minifiguras: un adulto masculino (el padre) y una niña de tamaño infantil (la hija). Ambos tienen cabezas de doble cara con diferentes expresiones. Como se ha mencionado anteriormente, hay un pequeño equipo para ellos, pero no es realmente necesario. En mi opinión, una tercera minifigura, tal vez un cliente de la tienda, habría estado bien.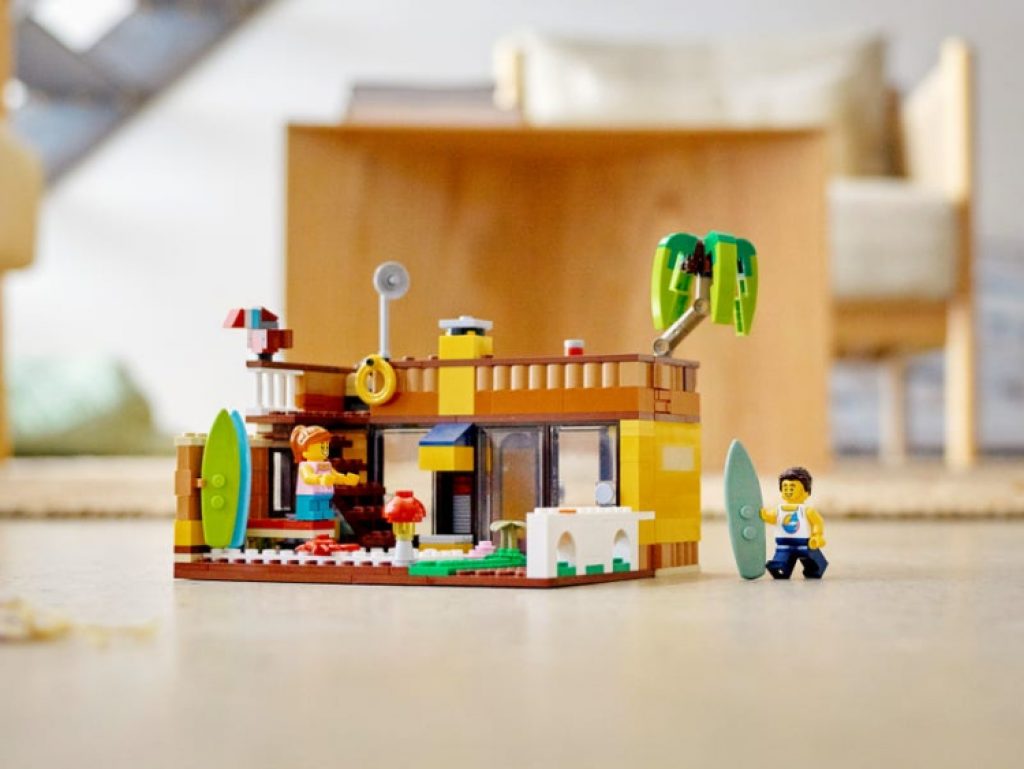 As with most Creator sets, lots of basic bricks, tiles, plates and windows. They come in so many colours in this set, it opens up a ton of possibilities for ones own imagination. Three surfboards are included, as well as a safety buoy and a pizza box. Some googly eyes are also included as is a staircase-part.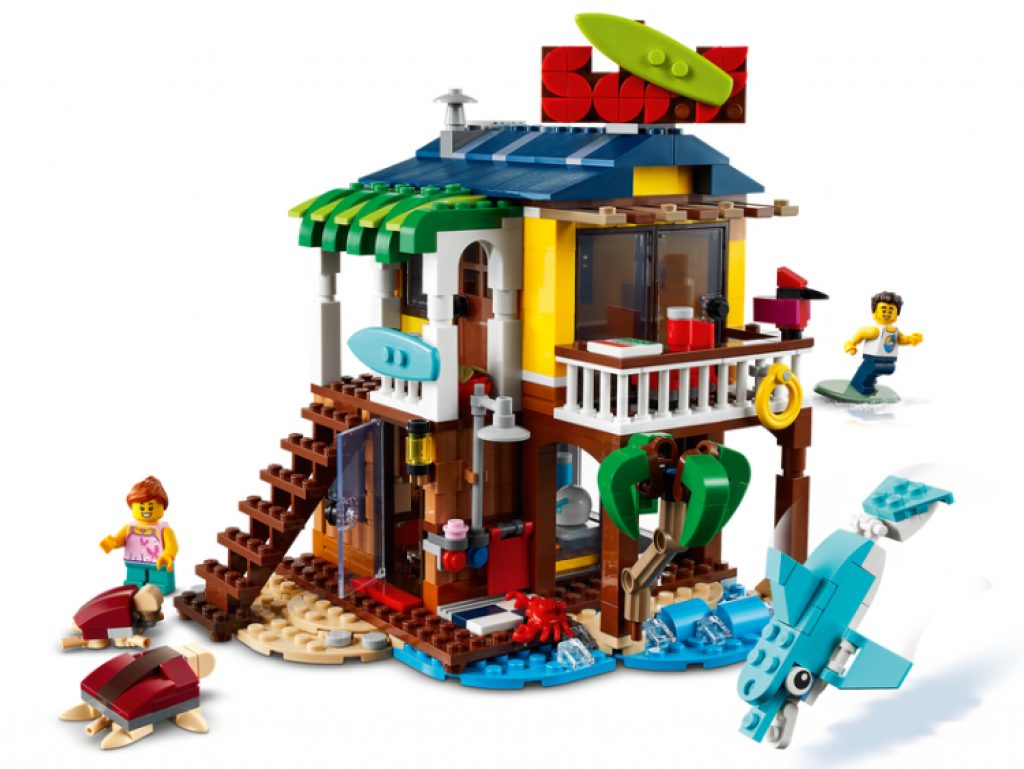 La construcción
La construcción
No es realmente difícil, pero hay que prestar algo de atención aquí y allá, debido a que hay varias partes con el mismo esquema de color (los ladrillos bronceados, por ejemplo). Por ahora, sólo he construido el modelo principal, la tienda de surf, así que no puedo decir nada sobre los otros dos.
La construcción es muy sencilla, empezando por los animales, luego la base de la casa, las paredes exteriores, el interior y las escaleras. El siguiente paso abarca el nivel superior con el balcón, el porche, el interior del «salón» y el techo con el letrero.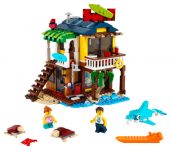 31118 Casa Surfera en la Playa
¡Ofertas!
Lego Creator 3 en 1
El modelo completo
El modelo completo
El resultado de la construcción es una casa muy colorida y atractiva de dos plantas. En el sótano, hay una pequeña tienda de surf y buceo con algunos equipos de buceo a la venta y una tabla de surf montada en la pared exterior. Tiene grandes ventanas a los lados, por lo que el interior no es demasiado oscuro. En la parte delantera hay un pequeño trozo de arena y orilla del mar con algunas olas estilizadas, una palmera y las vigas de soporte para el balcón. También hay una ducha con baldosas, jabón y grifos para el agua caliente y fría.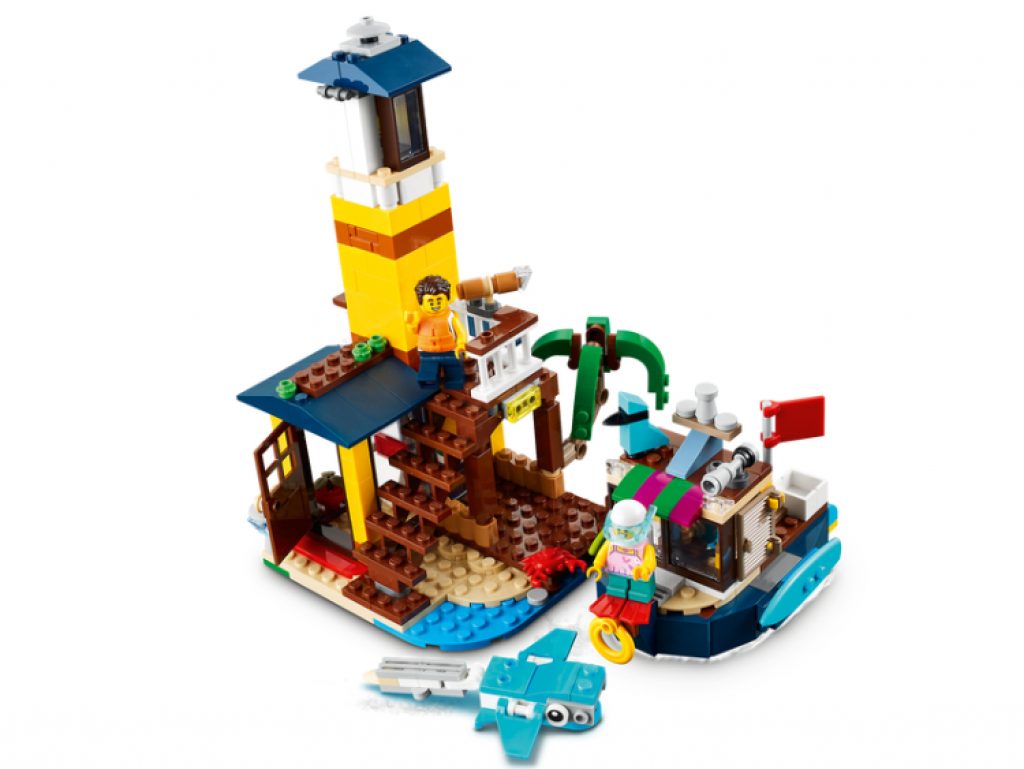 La planta superior tiene una pequeña sala de estar con una cama, una nevera y un fregadero. Tiene grandes ventanas y una puerta a un pequeño balcón con una sola silla. Unas escaleras conducen a la entrada de la habitación, que está protegida por un techo aparentemente hecho de hojas de palmera.
El conjunto tiene algunas funciones, principalmente las piezas grandes que se pueden abrir. Se trata de la parte con el balcón y el agua, así como la de la escalera. De este modo, se puede acceder fácilmente al interior para jugar mejor. El letrero «Surf» de la azotea puede girar 360°.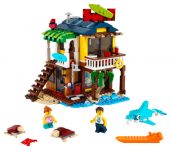 31118 Casa Surfera en la Playa
¡Ofertas!
Lego Creator 3 en 1
Conclusión y reflexiones generales
Conclusión y reflexiones generales
Este es un conjunto realmente hermoso. Los colores atraen la vista, el diseño es robusto, pero acogedor, y el diseño general parece muy natural, como si se hubiera construido a partir de lo que estaba disponible en la época. Aunque me hubiera gustado algún tipo de fijación para los laterales abribles del edificio, estos son increíbles para acceder al interior y jugar con las minifiguras proporcionadas y con todas las que se detengan. Hay muchas opciones para jugar, construir e integrarlo en una colección. ¡Y eso es sólo el modelo que he construido hasta ahora! ¡Por su aspecto, el faro y la villa de vacaciones también tienen muy buena pinta! ¡Supongo que tendré que construirlos pronto!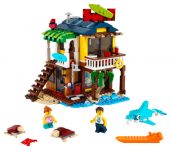 31118 Casa Surfera en la Playa
¡Ofertas!
Lego Creator 3 en 1
El set está disponible a un precio de unos 35-40€, que está bien para el número de piezas. Como es bastante nuevo, probablemente habrá mejores descuentos en el futuro, ¡que definitivamente recomiendo aprovechar! ¡¡Este conjunto es una gran adición a cada colección!!

31118 Casa Surfera en la Playa – Creator 3 en 1