Speed Champions abarca varias marcas y períodos de la historia del automóvil, aunque la gama ya incluye un Dodge Charger de 1970. No obstante, el set 76912 Fast & Furious 1970 Dodge Charger R/T presenta importantes mejoras respecto a su homólogo de 2019.
El aumento de la escala es ciertamente importante, mientras que tomar la inspiración específica del poderoso coche de Dominic Toretto proporciona la base para mejorar los detalles del interior. Esperemos que este modelo logre popularidad más allá del 42111 Dodge Charger de Dom.
¡Sigue leyendo!
Las mejores ofertas para el set 76912 Fast & Furious 1970 Dodge Charger R/T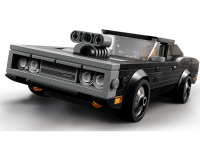 76912 Fast & Furious 1970 Dodge Charger R/T
¡Ofertas!
Lego Speed Champions
| DETALLES | |
| --- | --- |
| Numero | 76912 |
| Nombre | Fast & Furious 1970 Dodge Charger R/T |
| Tema | Speed Champions |
| Lanzamiento | 2022 |
| Piezas | 345 |
| Minifiguras | 1 (1 únicas del set) |
76912 Fast & Furious 1970 Dodge Charger R/T: Minifigura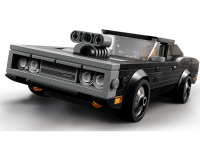 76912 Fast & Furious 1970 Dodge Charger R/T
¡Ofertas!
Lego Speed Champions
El set 42111 Dodge Charger de Dom no ofrece ninguna posibilidad para las minifiguras, ya que pertenece al tema Lego Technic, por lo que esta representación exclusiva de LEGO de Dominic Toretto resulta atractiva. La minifigura hace un uso impresionante del tono de piel bronceado y cálido introducido a principios de este año, aunque la expresión de Dom se ve extraña y tal vez algo más tosco habría sido más apropiado para el personaje.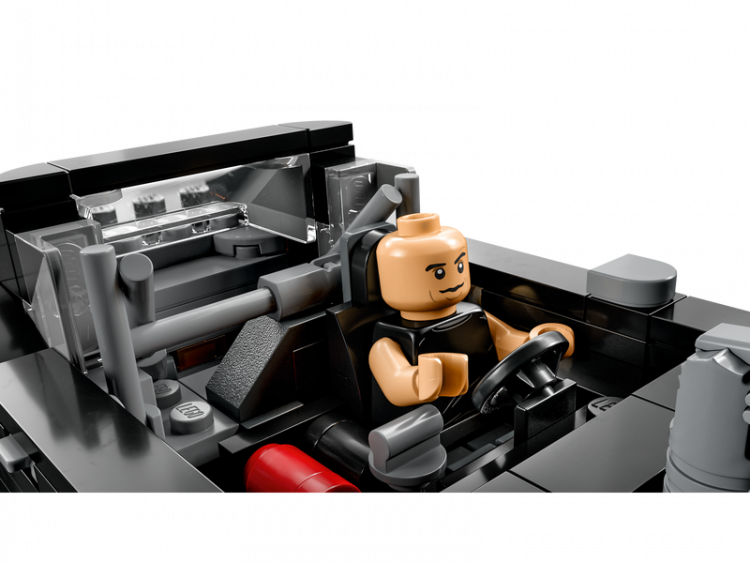 Sin embargo, la camisa sin mangas le queda genial, recreando el atuendo más habitual de Dom a lo largo de la franquicia Fast & Furious. Mientras que la llave inglesa que acompañaba a James Bond parecía fuera de lugar en el 76911 Aston Martin DB5, este accesorio le viene muy bien a Dominic Toretto, ya sea para trabajar en su coche o para vengarse de sus enemigos.
76912 Fast & Furious 1970 Dodge Charger R/T: El Modelo Completo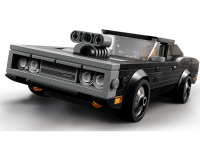 76912 Fast & Furious 1970 Dodge Charger R/T
¡Ofertas!
Lego Speed Champions
El clásico Dodge Charger de 1970 es muy apropiado para la recreación de Lego, dada su forma relativamente cuadrada. Por lo tanto, este vehículo es instantáneamente reconocible y presenta un esquema de color negro preciso, aunque se echan en falta curvas más sutiles. Sin embargo, la curvatura hacia la parte delantera sería casi imposible de reproducir, ya que esas formas exigirían pendientes curvas especialmente suaves.
Afortunadamente, este modelo sí capta la inclinación hacia delante del coche de Dom y tiene un aspecto extraordinario cuando se ve desde ambos lados. Los tapones de las ruedas decorados son brillantes y este vehículo encaja perfectamente en la gama más amplia de Speed Champions, ya que mide 17 cm de longitud. Sin embargo, la voluminosa estructura detrás de las ruedas traseras, se desvía de las películas.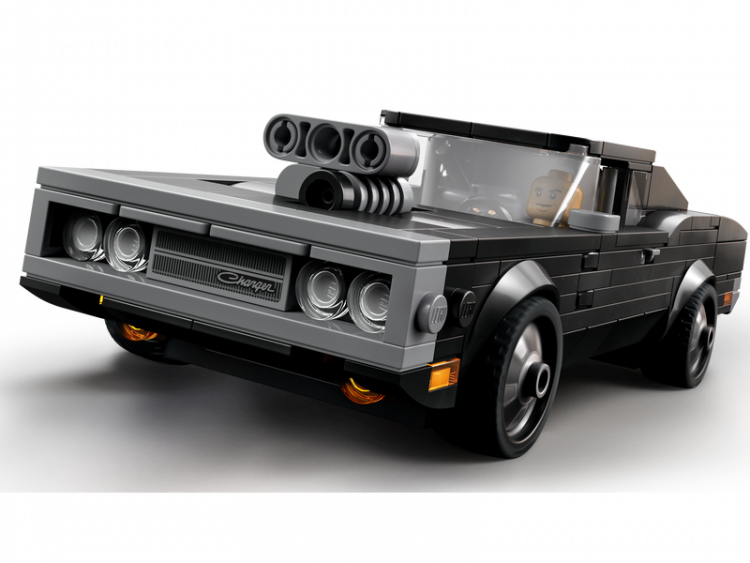 Inevitablemente, se han establecido comparaciones entre el nuevo Dodge Charger y modelos similares de Dodge de series anteriores. El ejemplo de seis de ancho en 75893 2018 Dodge Challenger SRT Demon y 1970 Dodge Charger R / T retrata el mismo coche, mientras que el 1970 Dodge Challenger comparte similitudes obvias con el nuevo diseño. Sus proporciones y formas son esencialmente idénticas, pero se han realizado cambios necesarios, especialmente en torno al frontal.
Me gustó el anterior Dodge Charger de 1970, lanzado hace sólo tres años. Sin embargo, la comparación de aquel diseño con esta interpretación demuestra las numerosas ventajas del tamaño ampliado. Más allá de las grandes mejoras en los detalles, la transición entre la carrocería y el parabrisas parece más natural ahora que antes y la forma hacia la parte trasera también parece más precisa.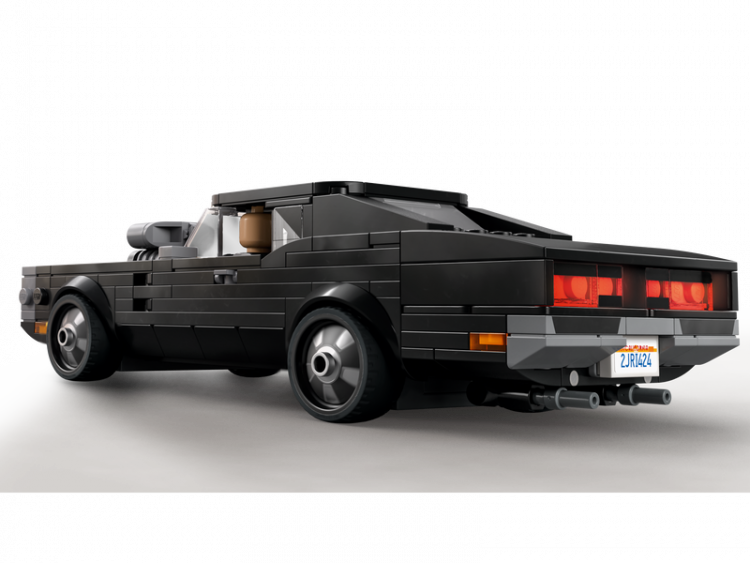 Una banda plateada cromada rodea el radiador y los faros del coche original. Las piezas cromadas apenas se utilizan en los sets modernos de LEGO, pero esta banda de color gris azulado parece eficaz y hace un uso inteligente de los soportes para sostener la estructura. Además, el espectacular supercargador muestra amplios detalles, ya que las placas redondas de 1×1 apiladas con tacos huecos proporcionan textura a lo largo de ambos lados.
Las placas de cuarto de círculo de 1×1 crean un efecto similar en la carrocería, situada detrás de las ruedas delanteras. El retrovisor de una puerta parece igualmente preciso, a juego con el vehículo de Dom de las películas, pero mis detalles favoritos son sin duda los tiradores de las puertas. Están construidos con patines y la escala diminuta de los tiradores es notable.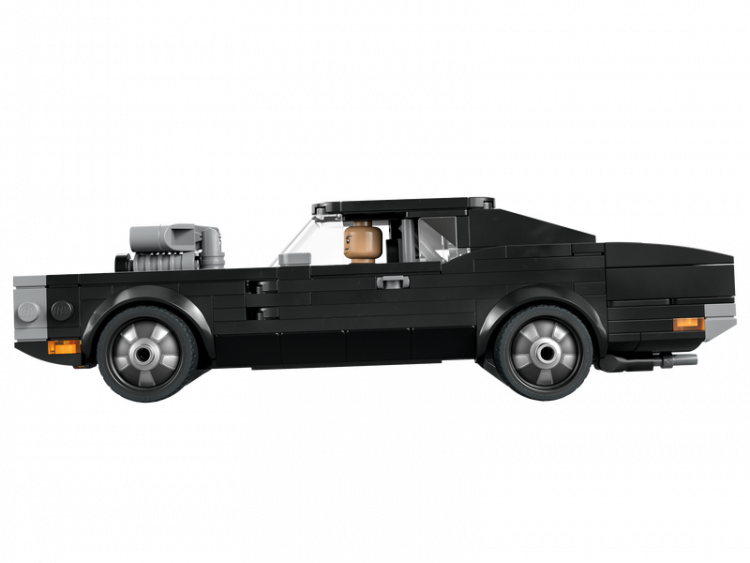 Las puertas no son realmente funcionales, pero se puede acceder al interior quitando el techo. El asiento individual también se corresponde con la película, mientras que la compleja jaula antivuelco está compuesta por una combinación adecuada de barras de 3L, de nuevo reflejando el coche original.
Aunque algunas curvas están ausentes en la parte delantera, el techo y la carrocería trasera replican curvas realistas. Por ejemplo, las tejas de cuarto de círculo de 1×1 en cada esquina del techo son magníficas. Sin embargo, aún más realistas son las luces transparentes-rojas y los elementos impresos de los bajos, que recrean fielmente los rasgos distintivos del coche original. Sólo incluye cinco pegatinas, incluida la matrícula de The Fast and the Furious.
Conclusión y reflexiones generales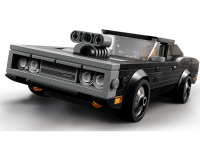 76912 Fast & Furious 1970 Dodge Charger R/T
¡Ofertas!
Lego Speed Champions
La perdurable franquicia Fast & Furious incluye innumerables coches extraordinarios, muchos de los cuales se adaptarían a los campeones de velocidad. Sin embargo, el vehículo más mítico es definitivamente el Dodge Charger de Dominic Toretto y el 76912 Fast & Furious 1970 Dodge Charger R/T ha demostrado ser impresionante, sobre todo por su increíble detalle, ¡por dentro y por fuera!
Aunque rara vez se asocia con la sutileza, el Dodge Charger R/T de 1970 incluye una sutil curvatura ausente en este diseño. No obstante, dadas las limitaciones de las piezas de Lego, creo que el diseñador ha logrado una gran precisión y ha mejorado los modelos existentes de Dodge. El precio de 24,99 euros refleja una subida en Europa, en relación con los sets de Speed Champions lanzados a principios de año, pero siguen siendo razonables, en mi opinión.
¿Qué te parece este set Lego Speed Champions? Háznoslo saber en los comentarios.

76912 Fast & Furious 1970 Dodge Charger R/T – Lego Speed Champions