Los cazas estelares X-wing de la Resistencia se introdujeron durante 2015 y este magnífico vehículo ya ha aparecido en dos sets LEGO anteriores. El set 75273 Caza Ala-X de Poe Dameron de Lego Star Wars es la versión más reciente y comparte varias similitudes con los modelos anteriores, al tiempo que ofrece una grata innovación.
Las estructuras cilíndricas del motor resultan especialmente impresionantes, y hacen un uso eficaz de los nuevos ladrillos de arco curvado 3×3 para mejorar los diseños anteriores. Además, se ofrece una interesante selección de minifiguras, entre las que se encuentra Jannah junto a un exclusivo Caballero de Ren. Por lo tanto, estoy deseando construir este set.
Las mejores ofertas para 75273 Caza Ala-X de Poe Dameron
Las mejores ofertas para 75273 Caza Ala-X de Poe Dameron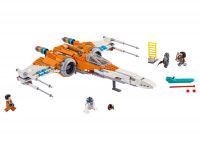 75273 Caza Ala-X de Poe Dameron
¡Ofertas!
Lego Star Wars
| DETALLES | |
| --- | --- |
| Numero | 75273 |
| Nombre | Caza Ala-X de Poe Dameron |
| Tema | Star Wars |
| Lanzamiento | 2020 |
| Piezas | 761 |
| Minifiguras | 4 (3 exclusivas del set) |
Minifiguras
Minifiguras
Hay varias versiones de Poe Dameron disponibles, pero este ejemplo solo ha aparecido anteriormente en el caza X-wing 75102 de Poe. El casco de doble molde tiene un aspecto absolutamente perfecto, con un visor trans-amarillo junto a reflejos en plata metálica y rojo oscuro. Las letras Aurebesh también decoran este elemento, en el que se lee ROAEHAL, mientras que la cabeza de doble cara que hay debajo incluye una barba de caballo precisa. También se proporciona un postizo alternativo.
El traje de vuelo naranja oscuro y el chaleco antibalas blanco incluyen maravillosos detalles y me gusta el arnés gris claro que rodea la cintura de Poe. La unidad de soporte vital y el tubo corrugado que la acompaña parecen igualmente auténticos, continuando por el torso y las piernas. Esta minifigura lleva un blaster de color plata perla, por lo que coincide con la variante del 75249 Resistance Y-wing Starfighter.
Jannah ocupa un papel influyente durante Star Wars: El ascenso de Skywalker y esta minifigura exclusiva es, por tanto, atractiva. La pieza de pelo incluye una textura fantástica, que recrea fielmente el pelo encrespado del personaje en pantalla. Además, me encantan sus gafas macrobinoculares recuperadas, que están bellamente impresas con vetas rojas. La cabeza de doble cara también tiene un aspecto magnífico, mostrando expresiones alegres y de enfado.
También me impresiona la decoración del torso, que refleja el aspecto cutre del atuendo de Jannah. Su bandolera de cuero de pescado parece especialmente llamativa y presenta intrincadas escamas, mientras que en su cinturón hay un equipo de agarre oxidado. Por desgracia, las piernas no están impresas. El doble moldeado habría sido ideal en este caso y el azul arena parece excesivamente brillante en comparación con la película.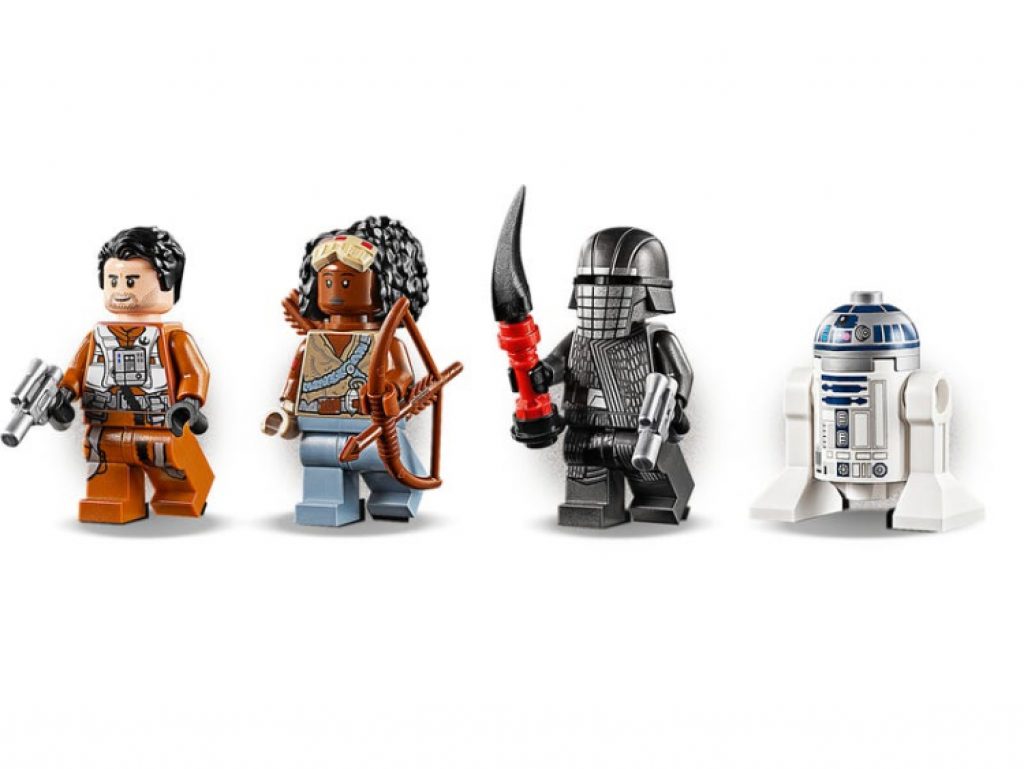 Sin embargo, mi aspecto favorito de esta minifigura es el transpondedor de localización que decora su brazo derecho. Este tipo de detalles suelen omitirse en la temática de Star Wars y espero ver más detalles como éste en el futuro. Jannah va adecuadamente armada con su arco motorizado y lleva un carcaj de color marrón rojizo a la espalda, aunque debería estar atado a su cintura.
BB-8 ha acompañado tradicionalmente a Poe Dameron en la batalla, pero aquí aparece R2-D2 en su lugar. Esta figura parece totalmente familiar, pero la cabeza abovedada ha sido actualizada, presentando ahora más detalles en el proyector holográfico y pantallas de funciones lógicas ampliadas. Sin embargo, el cuerpo cilíndrico permanece completamente inalterado y podría mejorarse introduciendo una impresión en el reverso.
Un exclusivo Caballero de Ren, llamado Vicrul, completa la selección de minifiguras. La oscuridad perlada domina toda esta minifigura y su intimidante casco tiene un aspecto absolutamente magnífico, con decoración en plata metálica y una estrecha visera en la parte delantera. Las estrías moldeadas también parecen precisas y continúan a lo largo de este componente. Al quitar el casco, se ve la cabeza negra debajo.
El torso y las piernas también tienen detalles en plata perlada, que reproducen la textura rugosa del pelaje de Vicrul. Su diseño parece relativamente sencillo, pero incluye precisas bandas a lo largo del borde y las botas tienen un aspecto espléndido. Este guerrero lleva una pistola blaster de plata perlada, pero prefiere luchar a corta distancia, de ahí que también empuñe una guadaña letal con empuñadura roja. Es de suponer que los dos caballeros restantes aparecerán en otra serie.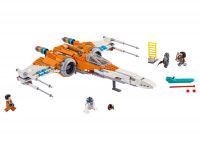 75273 Caza Ala-X de Poe Dameron
¡Ofertas!
Lego Star Wars
El set completo
El set completo
El 75102 Poe's X-wing Fighter salió a la venta en 2015 y cada una de las versiones posteriores del T-70 X-wing Starfighter se ha parecido mucho al modelo original. Por lo tanto, este vehículo mide 37 cm de longitud e incorpora técnicas de construcción familiares, que se corresponden con los sets anteriores. Sin embargo, su combinación de colores naranja y blanco es ciertamente distintiva. Creo que este diseño se ve muy bien, aunque la nave negra y naranja sigue siendo mi favorita.
El morro parece más fiel a los cazas estelares X-wing T-65 que al modelo T-70, aunque me gusta la ventana del sensor hundida. Las bisagras recrean eficazmente el sutil estrechamiento del morro y se aplica una pegatina en uno de los lados, como se muestra a continuación. Sin embargo, este detalle no adorna el caza estelar original ni ninguna otra mercancía, por lo que su inclusión parece extraña.
Los disparadores de pernos están fijados al lado de la cabina, sustituyendo a los tubos de lanzamiento de torpedos. Ciertamente, podrían haberse integrado de forma más ordenada, pero se pueden quitar fácilmente si se desea. Sin embargo, las luces azules oscuras vecinas son excelentes y la cabina impresa tiene un aspecto impresionante, a pesar de que su anchura es imprecisa en toda la longitud de este componente. También se incluye una escalera de acceso amarilla.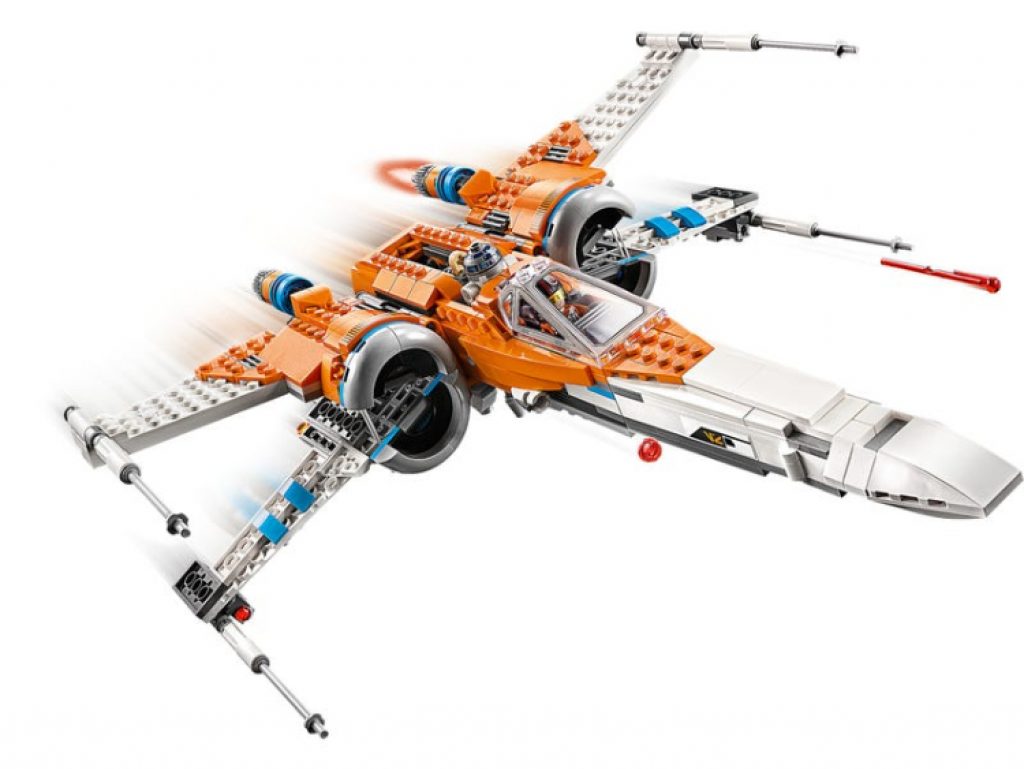 Al abrir la cabina hay espacio para que Poe se siente dentro y guarde su blaster en un clip detrás del asiento. Aquí se colocan varios paneles de control impresos, incluido un nuevo azulejo con pantallas de color rojo oscuro que solo ha aparecido en este set. Aprecio el diseño espacioso y el zócalo del droide Astromech también parece razonable, aunque su forma ancha que acomoda a R2-D2 es inadecuada para BB-8.
El cambio del zócalo del droide es comparativamente menor, pero los motores se han actualizado de forma espectacular. Me encantan los ladrillos de arco curvo de 3×3 de color gris azulado claro, que parecen fieles al material original, mejorando los arcos de las ruedas que se utilizaban anteriormente. Los anillos azules oscuros que los rodean son maravillosos, pero faltan las estructuras horizontales que deberían dividir cada motor, por lo que resultan incómodas cuando se despliegan las aletas S.
Las rayas azules oscuras decoran las alas y se corresponden exactamente con el vehículo original. También me gusta la transición entre los paneles naranja y blanco. Desgraciadamente, la estructura de estas aletas S es muy decepcionante, ya que deberían encajar cuando se cierran, formando una superficie lisa. En lugar de ello, las alas se solapan considerablemente, por lo que su perfil parece demasiado voluminoso, muy parecido a las anteriores versiones del Ala-X de la Resistencia.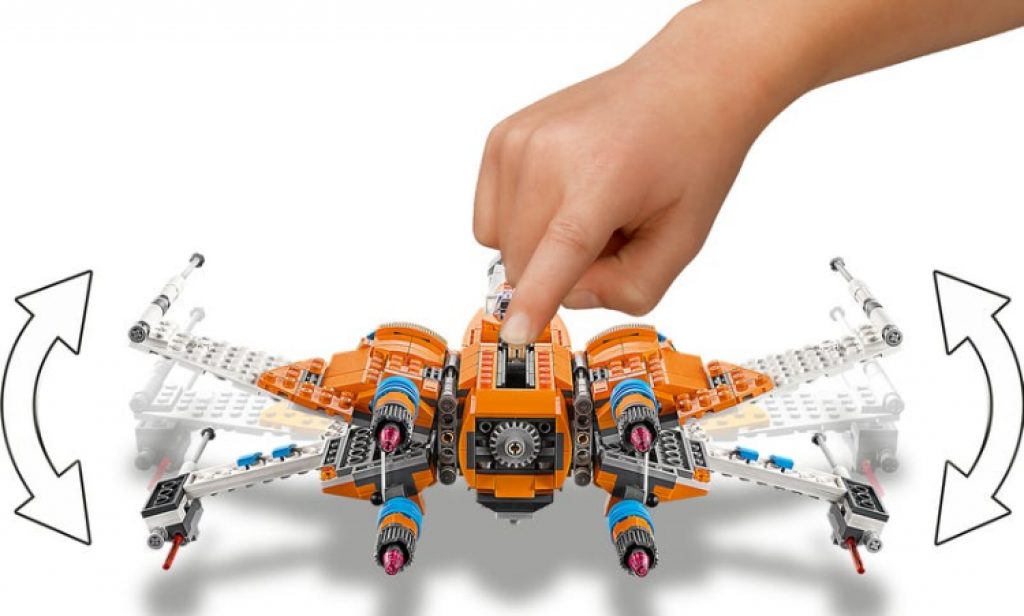 Sin embargo, aprecio la eliminación de los tiradores con resorte de las alas S superiores y los cañones láser tienen un aspecto estupendo. Las piezas adicionales de color azul oscuro están conectadas a los motores y su brillo trans-rosado parece apropiado. El X-wing Starfighter 75218 introdujo un nuevo mecanismo para desplegar las aletas S y ese diseño vuelve aquí. Si se mueve el elemento de color canela situado sobre el fuselaje hacia delante, las alas se abrirán.
El perfil resultante es bastante atractivo, aunque las alas siguen siendo demasiado anchas en comparación con el material original. No obstante, el rápido despliegue de las alas es agradable y las gomas quedan relativamente bien ocultas, ya que su color blanco se funde con el blindaje circundante. La superficie interna de cada ala también tiene un aspecto razonable, lo que supone una mejora con respecto a los modelos anteriores, en los que se han encontrado piezas de colores.
Además de su despliegue instantáneo, las alas S pueden retraerse rápidamente moviendo el interruptor de la parte superior o pulsando el botón gris azulado de la parte inferior. Esto está pensado para evitar aterrizar el modelo con las alas abiertas y potencialmente estresarlas, pero es igualmente conveniente para cerrar manualmente las alas. El puntal retráctil del tren de aterrizaje delantero también es visible aquí, pero los situados hacia la parte trasera están fijados en su lugar.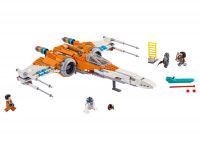 75273 Caza Ala-X de Poe Dameron
¡Ofertas!
Lego Star Wars
Conclusiones finales
Conclusiones finales
El caza X-wing 75273 de Poe Dameron representa, sin duda, una mejora considerable con respecto a las versiones anteriores de esta elegante nave, aunque aún queda potencial para su desarrollo posterior. El esquema de colores naranja y blanco tiene un aspecto magnífico y también me encantan las góndolas de motor actualizadas. En cambio, el diseño impreciso de las aletas S es especialmente decepcionante, ya que LEGO ha tenido dos oportunidades de rectificar este problema.
No obstante, sigue siendo un set impresionante y las minifiguras son excepcionales. Jannah y Vicrul muestran una precisión excepcional y se encuentran entre mis figuras favoritas de la gama Star Wars: The Rise of Skywalker. Sin embargo, el precio de 109,99 euros parece caro, sobre todo porque sólo se incluyen tres minifiguras, además de R2-D2.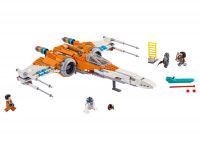 75273 Caza Ala-X de Poe Dameron
¡Ofertas!
Lego Star Wars
Espero que esta reseña os haya resultado informativa. Háganos saber si le gusta este artículo y comparta su opinión sobre el set en los comentarios a continuación.

75273 Caza Ala-X de Poe Dameron – Star Wars