Ahsoka Tano y los coloridos Clone Troopers de la 332ª Compañía aparecen durante los episodios culminantes de Star Wars: The Clone Wars y han atraído una gran atención. El set 75283 Tanque Blindado de Asalto (AAT) incluye a ambos personajes y debería ser muy popular.
Por desgracia, esta versión del AAT separatista ha recibido críticas por sus proporciones inexactas en comparación con el material original. El precio de 44,99 euros también parece bastante caro, aunque la presencia de las minifiguras exclusivas de Ahsoka Tano y de la 332ª Compañía de Soldados Clon es ciertamente atractiva.
Las mejores ofertas para 75283 Tanque Blindado de Asalto
Las mejores ofertas para 75283 Tanque Blindado de Asalto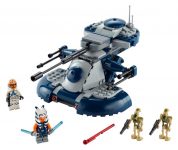 75283 Tanque Blindado de Asalto
¡Ofertas!
Lego Star Wars
| DETALLES | |
| --- | --- |
| Numero | 75283 |
| Nombre | Tanque Blindado de Asalto |
| Tema | Star Wars |
| Lanzamiento | 2020 |
| Piezas | 286 |
| Minifiguras | 4 (2 exclusivas del set) |
Minifiguras
Minifiguras
Desde 2008 se han producido cuatro minifiguras únicas de Ahsoka Tano, que reflejan su cambiante aspecto a lo largo de Star Wars: The Clone Wars y Star Wars Rebels. El último ejemplar está basado en la séptima temporada de The Clone Wars y parece fiel a la serie. Su atuendo azul oscuro cuenta con toques de plata metálica y oro metálico que se ven muy bien y me gusta la continuación de este diseño a través de las caderas.
La banda de plata metálica bajo los montrales de Ahsoka es atractiva, aunque debería haberse impreso un poco más abajo. Además, el lekku parece demasiado largo en comparación con el personaje en pantalla, ya que este componente se creó originalmente para Shaak Ti, un Togruta adulto en la Lanzadera Jedi 7931 T-6. Sin embargo, las rayas azules y blancas alternadas tienen un aspecto excelente.
Ahsoka empuña dos sables de luz azules, que reflejan sus armas de los últimos episodios de The Clone Wars. El personaje ya ha utilizado tres colores de sable láser diferentes en los sets de LEGO. Su cabeza de doble cara presenta tatuajes faciales apropiados y dos expresiones, mostrando determinación en un lado y una sonrisa en el otro.

Los soldados clon de la 332ª Compañía acompañan a Ahsoka durante el asedio de Mandalore, de ahí que la segunda minifigura se identifique como el soldado clon de Ahsoka. Su distintivo casco es inmediatamente reconocible, con diseños naranjas que se corresponden con la apariencia de Ahsoka. Un tono más oscuro de naranja podría haber sido más adecuado, aunque este color coincide con el tono de piel de Ahsoka en LEGO.
El torso y las piernas son idénticos a los de la 75280 501st Legion Clone Troopers, lo cual es razonable, ya que la 332ª Compañía forma parte de la 501ª Legión. Estos elementos incluyen un excelente detalle, continuando con los pies. Al quitar el casco se ve una nueva cabeza de Clone Trooper que luce espléndida y la figura lleva un rifle blaster estándar a la batalla.
Se incluyen dos droides de batalla conductores AAT idénticos, aunque uno de ellos se describe como droide de batalla estándar en el embalaje, lo que resulta extraño. Estas figuras han aparecido en dos sets anteriores, donde se identificaban como droides de batalla de Kashyyyk, pero están inspirados en las variantes de los conductores AAT de Star Wars: The Clone Wars. El color verde oliva y los reflejos verde oscuro de sus cabezas parecen ser muy precisos y ambos droides llevan blásters de color gris oscuro perlado.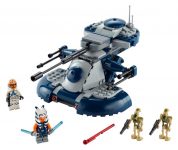 75283 Tanque Blindado de Asalto
¡Ofertas!
Lego Star Wars
El set completo
El set completo
Las formas curvas dominan el AAT y, en consecuencia, ha sido necesario hacer concesiones desde que el 7155 Trade Federation AAT estuvo disponible en 2000. Sin embargo, la gama de diferentes inclinaciones y arcos curvos ha crecido drásticamente durante los últimos años, lo que ha permitido al diseñador incluir una forma más auténtica alrededor de la cabina. Sin embargo, la sección distintiva de los «pies» podría mejorarse, ya que este diseño parece demasiado abultado.
Desde el año 2000 se han producido varias versiones del AAT a escala de minifigura, que varían considerablemente en cuanto a su aspecto y tamaño. El último modelo mide 14 cm de ancho, mientras que el 75080 AAT, lanzado durante 2015, mide 12 cm de ancho y el 8018 Armoured Assault Tank (AAT) mide 20 cm de ancho. Creo que el diseño moderno es el más exacto en escala junto a las minifiguras.
Al ver el modelo desde cualquier lado, se aprecia su defecto más notable, ya que el cañón láser primario es demasiado largo en comparación con el material original. La sección del cuerpo y la torreta parecen razonables como componentes individuales, pero parece que podrían pertenecer a modelos de dos escalas diferentes. Afortunadamente, el cañón láser puede modificarse fácilmente.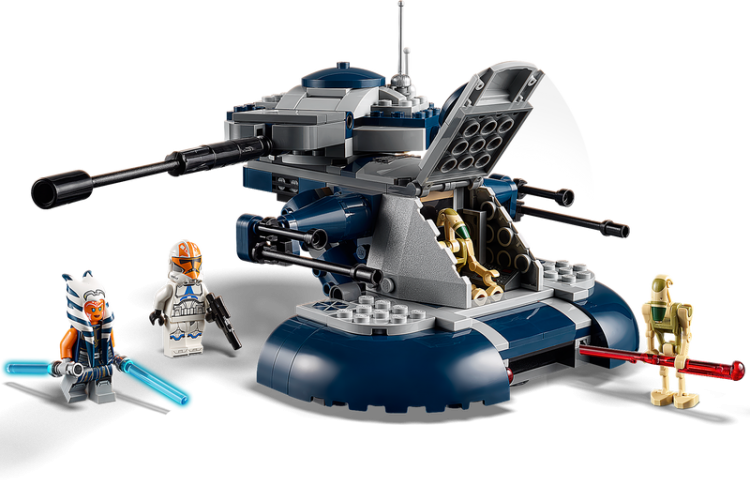 En el interior del cuerpo blindado se han colocado dos tiradores con resorte, que se asemejan vagamente a los lanzadores de proyectiles que aparecen en la pantalla. Los misiles se activan empujando elementos Technic de color gris azulado oscuro debajo de los cañones láser antipersonal y creo que tienen un aspecto razonable, aunque los lanzadores podrían haberse situado más atrás. Además, los ladrillos de arco 6x6x2 que los flanquean deberían haber sido decorados con tubos de lanzamiento de proyectiles precisos.
La combinación de colores azul oscuro y gris azulado claro se corresponde con los AAT desplegados durante las Guerras Clon. Este diseño es relativamente fiel al material original, pero faltan detalles más sutiles, como la franja que cruza la escotilla de la cabina. Afortunadamente, el interior tiene un aspecto espléndido y ofrece un amplio espacio para que un droide de combate se siente entre los paneles de control.
Me impresiona especialmente la forma de la carrocería alrededor de la cabina, que hace un uso ingenioso de las cuñas de 4×4. Los cañones láser giratorios a ambos lados son igualmente efectivos y los convertidores de energía angulados también tienen un aspecto magnífico. Por lo demás, el vehículo parece relativamente soso cuando se ve desde atrás, ya que carece de cualquier textura apropiada.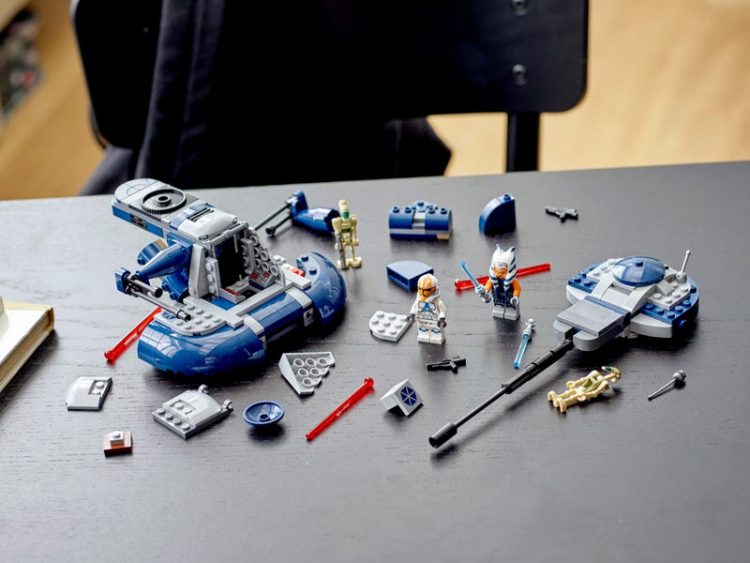 A pesar de su excesivo tamaño, el cañón láser principal incluye detalles razonables. El arma gira por completo y se eleva, proporcionando un impresionante campo de tiro. Por desgracia, la articulación de elevación es demasiado ancha, incluso en relación con la carcasa de la torreta, que ya parece inusualmente amplia en comparación con la serie animada.
Sin embargo, el detalle exterior es sobresaliente, con dos antenas receptoras de mando de control junto a la escotilla de apertura. Lo ideal sería que hubiera algunas pantallas de información en el interior, pero hay espacio suficiente para que el segundo droide de batalla conductor de AAT inspeccione el campo de batalla. La cabeza debe retraerse al cerrar la escotilla superior, lo que coincide con las versiones anteriores del AAT.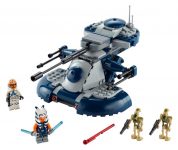 75283 Tanque Blindado de Asalto
¡Ofertas!
Lego Star Wars
Conclusiones finales
Conclusiones finales
El 75283 Tanque Blindado de Asalto (AAT) introduce ciertamente algunas mejoras con respecto a los modelos anteriores del AAT, incluyendo el modelado alrededor de la cabina y la escala al lado de las minifiguras. Sin embargo, las proporciones entre la torreta del cañón láser y la sección de la carrocería parecen incómodas. Ambos componentes son individualmente atractivos, pero en mi opinión parecen incompatibles.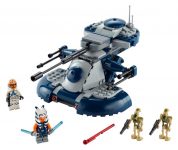 75283 Tanque Blindado de Asalto
¡Ofertas!
Lego Star Wars
No obstante, la nueva minifigura de Ahsoka Tano es impresionante y el soldado clon de la 332ª Compañía se corresponde exactamente con sus homólogos en pantalla. Creo que estas dos minifiguras pueden justificar por sí solas el precio de 44,99 euros para muchos fans, aunque también creo que se antoja demasiado caro teniendo en cuenta el tamaño de la AAT. Aun así, aquellos que disfruten de Star Wars: The Clone Wars apreciarán sin duda este set.

75283 Tanque Blindado de Asalto – Star Wars