The Mandalorian se estrenó durante 2019 e introdujo varios personajes divertidos, dos de los cuales están disponibles con 75317 The Mandalorian & The Child. Anticipo que estos dos BrickHeadz serán excepcionalmente populares y ciertamente parecen impresionantes en las imágenes oficiales.
Las mejores ofertas para 75306 El Mandaloriano y el Niño
Las mejores ofertas para 75306 El Mandaloriano y el Niño
El propio Mandalorian parece parecido al 41629 Boba Fett, lo cual es razonable, sobre todo porque el anterior cazarrecompensas mandaloriano es uno de mis BrickHeadz favoritos. El misterioso Niño parece igualmente impresionante cuando se le compara con el adorable personaje de la pantalla, montado dentro de su famoso hover-pram.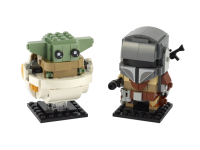 75306 El Mandaloriano y el Niño
¡Ofertas!
Lego BrickHeadz
| DETALLES | |
| --- | --- |
| Numero | 75306 |
| Nombre | El Mandaloriano y el Niño (The Mandalorian & The Child) |
| Tema | BrickHeadz (Star Wars) |
| Lanzamiento | 2020 |
| Piezas | 295 |
| Minifiguras | 0 |
El modelo completo
El modelo completo
La distintiva armadura mandaloriana de Din Djarin aparece inmediatamente reconocible aquí, inspirándose en las primeras apariciones del cazarrecompensas durante la serie. Su armadura en el pecho y en los hombros es de color marrón rojizo, que complementa el atuendo de color tostado y oscuro que lleva debajo. Como es habitual, la figura se presenta en una placa negra de 6×6 que hace juego con otros BrickHeadz recientes y tiene un aspecto espléndido.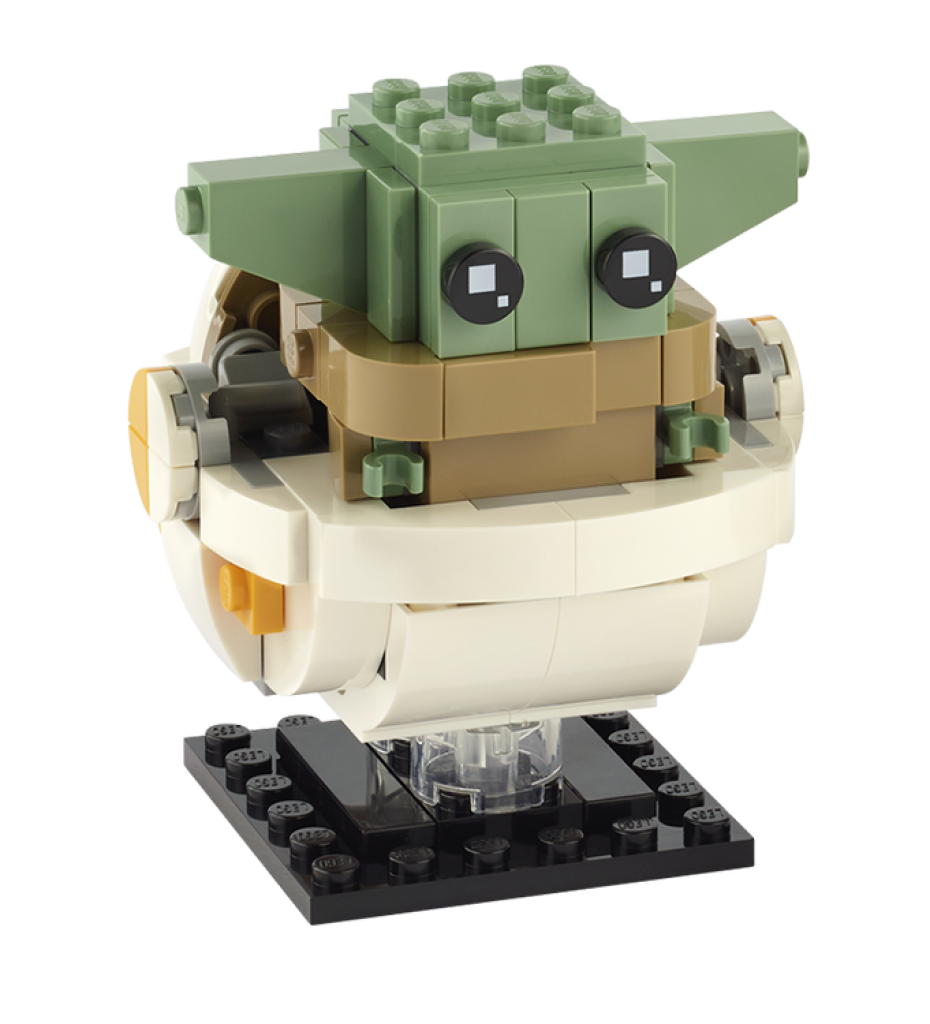 Si se compara este modelo con los anteriores personajes mandalorianos se aprecian algunas similitudes notables, especialmente con el 41629 Boba Fett que estuvo disponible durante 2018. Sus cascos tienen un diseño casi idéntico, incorporando pares de placas de cuña de 2×2 y baldosas de cuña de 2×2 impresas a lo largo de la parte delantera. Estos elementos se fijan lateralmente, formando el estrecho centro de la visera.
Sin embargo, la sección horizontal del visor difiere de cualquiera de los dos modelos de Boba Fett, ya que carece de decoración y se extiende más alrededor del casco. Este diseño parece razonable, aunque las dos versiones anteriores eran ligeramente más estrechas y, por tanto, más precisas. Además, el casco gris azulado oscuro parece relativamente soso, pero me gustan los reflejos gris azulados claros de los laterales.
La franja azul oscuro que cruza el hombro derecho del mandaloriano tiene un aspecto excelente, demostrando una gran atención al detalle y destacando sobre los tonos apagados. Las rodilleras desparejadas parecen igualmente auténticas y me gusta el equipo situado alrededor de su cinturón, que incluye paquetes de carga suplementarios para el potente rifle blaster de pulso de fase Amban del cazarrecompensas.
Esta arma está colocada en la espalda de Din Djarin y tiene un aspecto bastante bueno, aunque la combinación de partes negras, plateadas metálicas y gris azulado claro es algo incómoda. No obstante, su forma se compara favorablemente con el material original y el mandaloriano también empuña una pistola bláster más pequeña. La capa negra a lo largo de su espalda está curvada y completa perfectamente este modelo de BrickHeadz.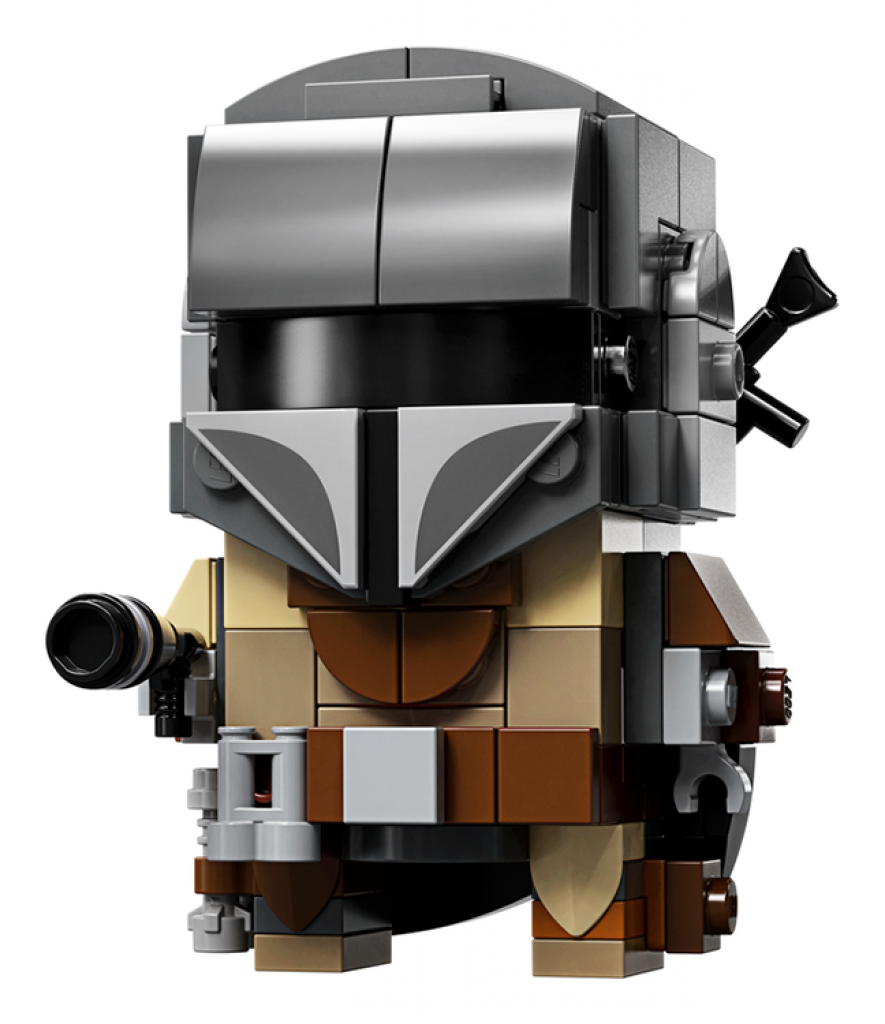 Mientras que el firme mandaloriano ha demostrado ser excepcionalmente popular, ¡su joven compañero es potencialmente aún más querido! El Niño difiere de las figuras BrickHeadz anteriores, ya que se encuentra dentro de su hover-pram que aparece regularmente a lo largo de la serie de televisión. La escala de estos dos personajes es inexacta, ya que el Niño es demasiado grande, aunque eso no me molesta porque la escala de BrickHeadz rara vez es consistente.
El niño está perfectamente encajado en el cochecito, con una enorme cabeza con orejas prominentes y dos pequeños brazos que se apoyan en los lados del cochecito. El cochecito se ha simplificado, sin duda, en relación con la serie, ya que carece de los botones que deberían aparecer en la parte delantera y se aleja ligeramente de su forma de huevo en la pantalla.
Sin embargo, creo que este diseño se corresponde con la estética establecida de BrickHeadz y se incluyen ciertos detalles importantes, como los reflejos de color naranja amarillento de la llama en cada lado. Los pivotes circulares parecen especialmente auténticos y la forma curvada es efectiva. Por desgracia, algunas piezas negras quedan visibles bajo el Niño y creo que eso podría haberse mejorado.
Hay huecos estrechos entre los arcos invertidos de 2x8x2 que forman la parte inferior de la viga flotante y sus bordes, aunque estos huecos son bastante sutiles. Además, me gustan los ladrillos curvados de 3x3x2 colocados detrás del Niño, creando una forma adecuada. El cochecito no puede cerrarse, pero creo que resulta más impresionante cuando el Niño está a la vista.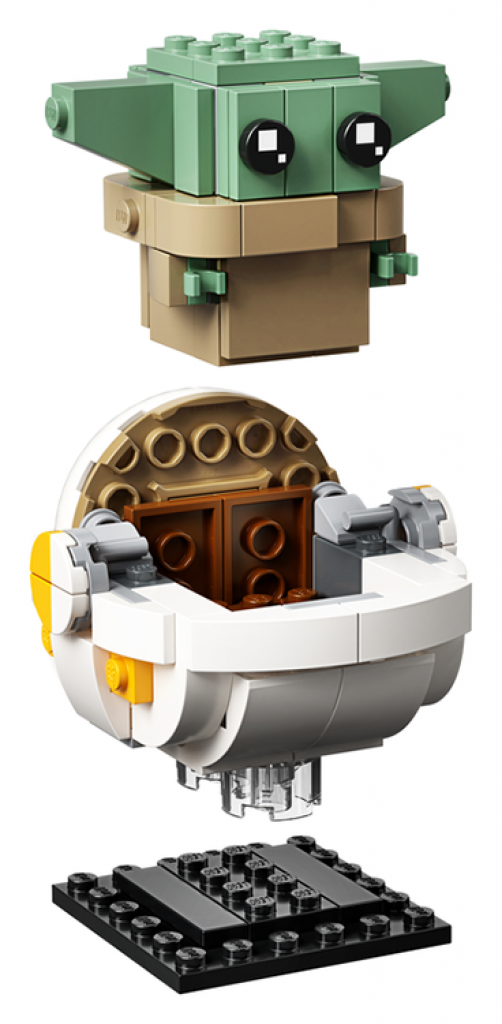 Al retirar el Niño se descubren varios componentes de color marrón rojizo en su interior, a juego con las mantas que aparecen en la serie de televisión. Algunos detalles mecánicos también se hacen más visibles cuando se ha retirado el Niño y están ingeniosamente construidos utilizando placas de 1×4 con ganchos. Estas barras expuestas podrían utilizarse probablemente para conectar una carcasa separada y cerrar el cochecito si se desea.
El Niño tiene un aspecto excepcional cuando se coloca dentro del hover-pram, pero también puede exhibirse por separado. Su túnica de color tostado oscuro es bastante sencilla, pero parece notablemente fiel a la serie, debido principalmente a su aspecto pesado alrededor del cuello, donde el material es más grueso. Sus pequeñas manos de color verde arena también tienen un aspecto magnífico, aunque las piezas de color canela detrás de las mangas parecen estar fuera de lugar.
A pesar de compartir especie, este modelo del Niño difiere sustancialmente del de Yoda en 41627 Luke Skywalker y Yoda. Sus cabezas tienen la misma anchura, pero las orejas del Niño son mucho más grandes y su cabeza es más corta que la de Yoda. Las proporciones resultantes se asemejan a las del personaje original y creo que esta figura tiene un aspecto absolutamente adorable, como era de esperar.
Conclusiones finales
Conclusiones finales
75317 The Mandalorian & The Child se encuentra sin duda entre mis modelos favoritos de BrickHeadz, no sólo porque me encantan estos personajes, sino también por su tremendo diseño. El mandaloriano titular parece adecuadamente robusto, con un impresionante casco y componentes de armadura desiguales que se corresponden exactamente con el material de origen.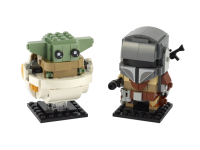 75306 El Mandaloriano y el Niño
¡Ofertas!
Lego BrickHeadz
Sin embargo, estoy aún más encantado con el Niño, cuyo cochecito flotante distingue a este modelo de otros BrickHeadz. En mi opinión, el diseñador ha logrado un excelente equilibrio entre la precisión y la estilización, a pesar de que se pueden mejorar algunas áreas del cochecito. Creo que el precio de 19,99 euros representa una buena relación calidad-precio en comparación con otros BrickHeadz y este paquete doble puede incluso tentar a algunos que se han resistido a los BrickHeadz anteriores.

75306 El Mandaloriano y el Niño – BrickHeadz