En enero de este año estaba prevista la publicación de un set de arquitectura del horizonte de Las Vegas, pero tras un incidente con uno de los edificios de la ciudad, se canceló y posteriormente se rediseñó para omitirlo. El resultado es el 21047 Las Vegas, que estará disponible a partir del 1 de septiembre.
Conocida también como la Ciudad del Pecado y la Capital Mundial del Juego, Las Vegas es quizás una extraña elección de ciudad para el retrato de LEGO, aunque no hay duda de que alberga una interesante arquitectura.
Las mejores ofertas para 21047 Las Vegas
Las mejores ofertas para 21047 Las Vegas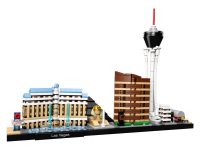 21047 Las Vegas
¡Ofertas!
Lego Architecture
| DETALLES | |
| --- | --- |
| Numero | 21047 |
| Nombre | Las Vegas |
| Tema | Architecture |
| Lanzamiento | 2018 |
| Piezas | 501 |
| Minifiguras | 0 |
Caja y contenido
Caja y contenido
La caja, de gran calidad y estilo flip-top, contiene cinco bolsas de piezas sin numerar y el manual, perfectamente encuadernado, que, como es habitual, ofrece información sobre la ciudad y los edificios que aparecen, así como las instrucciones de construcción.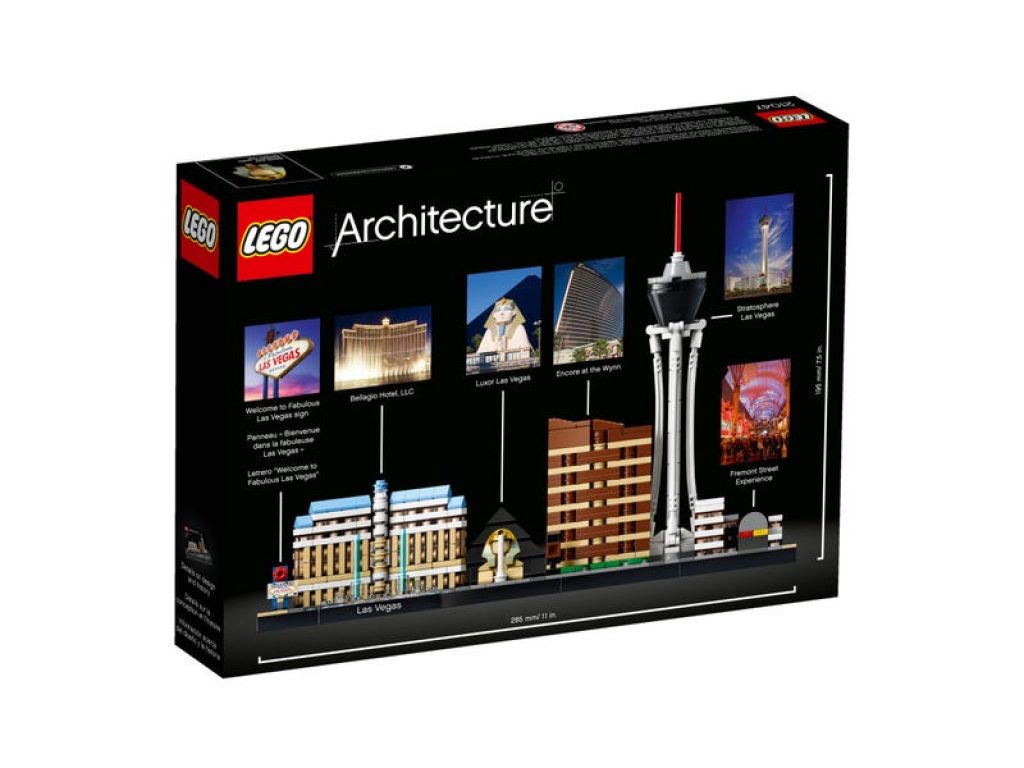 La parte posterior de la caja muestra cuáles son, de izquierda a derecha: el cartel de Las Vegas, el Hotel Bellagio, el Luxor Las Vegas, el Encore at the Wynn, el Stratosphere Las Vegas y el Fremont Street Experience.
Desgraciadamente, he perdido el rastro de las piezas del Sistema para poder decir definitivamente cuáles son recoloradas, así que tendremos que esperar a que se publique el inventario cuando se ponga a la venta el conjunto.
Construcción
Construcción
Como siempre, la construcción comienza con la base. Las primeras dos capas de placas que se cubren con una tercera capa de baldosas y placas para representar las aceras, etc.
La base representa un gran volumen de las piezas del conjunto y una vez construida quedan en su mayoría piezas pequeñas.
La construcción de los edificios comienza a la derecha con la Fremont Street Experience.
La característica principal del edificio real es un gran techo semicircular que ha sido representado aquí por un ladrillo curvo gris de 2×4. Creo que uno transparente hubiera sido más apropiado y dado que la pieza ha sido fundida en amarillo trans y azul en la pieza estoy seguro que se podría haber producido uno para este set.
A continuación, dirigimos nuestra atención al Luxor, que consiste en media pirámide con una esfinge delante. Por lo tanto, no requiere demasiada construcción.
El revestimiento de la cabeza de faraón de la minifigura que apareció por primera vez en los años 90 se ha puesto en práctica en la cabeza de la Gran Esfinge de Giza. Es una de las dos piezas impresas del set.
Entre ambas se añade la Stratosphere, la torre de observación más alta de Estados Unidos.
Las piezas técnicas flexibles se han utilizado con buenos resultados para recrear la curvatura de la estructura, aunque es un poco difícil conseguir que estén correctamente alineadas en la parte superior.
El Encore at the Wynn es un hotel de 48 plantas y uno de los dos edificios similares de Las Vegas, el otro es el Wynn.
El edificio es curvo, lo que se ha modelado intercalando placas redondas de 1×1 entre otras cuadradas para permitir que se doble ligeramente. El apilamiento de los 1×1 es la parte más tediosa de la construcción del conjunto.
La construcción más compleja, el Bellagio, remata la franja.
Desde el frente tiene un aspecto fantástico, con placas colocadas horizontal y verticalmente para representar las diferentes secciones de la fachada.
Las fuentes de la parte delantera del edificio se han reproducido utilizando placas transparentes de tetones de 1×1 y hojas de sable de luz en ladrillos redondos de 1×1.
Sin embargo, esta complejidad tiene un precio. Al asomarse a la parte trasera se ve cómo se ha conseguido: barras y clips que parecen algo antiestéticos.
Sin embargo, no es un problema, ya que el modelo se expondrá probablemente en una estantería y sólo se mirará de frente.
Por último, pero no por ello menos importante, se añade el cartel Welcome to Fabulous Las Vegas, erigido en 1959, en el extremo izquierdo.
El azulejo transparente de 1×2 impreso es, er, fabuloso. Después de ver la foto del cartel real, parece que debería haberlo colocado un poco descentrado a la derecha.
El modelo completo
El modelo completo
El horizonte se compone de una gran variedad de edificios, colores, estilos arquitectónicos y alturas, por lo que resulta visualmente muy atractivo.
Puede que la pérdida del hotel Mandalay Bay y su sustitución por el Bellagio nos haya privado de la oportunidad de abastecernos de piezas de oro (si es que eso es lo que iban a ser, como muchos piensan), pero personalmente creo que el Bellagio es un edificio mucho más atractivo e interesante.
A excepción de la parte trasera del Bellagio, es bastante presentable por detrás.
Conclusiones finales
Conclusiones finales
Esta es otra excelente adición a la serie Skyline. Como dije al principio, Las Vegas es quizás una elección sorprendente para un set de LEGO dada la reputación de la ciudad, pero presenta una buena oportunidad para modelar una buena variedad de edificios, que han sido modelados utilizando técnicas interesantes.
Visitar Las Vegas sigue estando en mi lista de deseos. La construcción de este set y la investigación de esta reseña lo han acercado a la cima…
Cuando salga a la venta el 1 de septiembre, costará 39,99 euros, lo cual, para un set de 500 piezas, parece bastante razonable.
En el evento de medios de comunicación de los fans de LEGO al que asistí la semana pasada, Kim, el director de participación de la comunidad de la compañía, sugirió que el precio por pieza no era una forma particularmente buena de cuantificar el valor de los sets y que, en su lugar, se debería utilizar el peso, o al menos tenerlo en cuenta. Así que, teniendo esto en cuenta, vamos a empezar a pesar los LEGO de los sets que revisamos y a calcular el precio por kilogramo.
Éste pesa 207g, lo que equivale a 193 euros por kilo. No tengo ni idea de cómo se compara con otros juegos, pero con el tiempo podremos hacer valoraciones.

21047 Las Vegas – Architecture