Durante el Episodio V de La Guerra de las Galaxias: El Imperio Contraataca se introdujeron innumerables vehículos impresionantes, incluido el monumental AT-AT. Se han creado varias versiones del memorable caminante y el 75288 AT-AT es la más grande de ellas, ¡contiene 1267 piezas!
El modelo tiene un aspecto absolutamente excepcional según las imágenes oficiales y su anuncio ha provocado una gran expectación, sobre todo porque esta versión del AT-AT es más grande que las anteriores. Además, creo que el nuevo modelo parece excepcionalmente preciso y el detalle del interior se ha mejorado significativamente.
Las mejores ofertas para 75288 AT-AT
Las mejores ofertas para 75288 AT-AT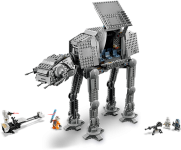 75288 AT-AT
¡Ofertas!
Lego Star Wars
| DETALLES | |
| --- | --- |
| Numero | 75288 |
| Nombre | AT-AT |
| Tema | Star Wars |
| Lanzamiento | 2020 |
| Piezas | 1267 |
| Minifiguras | 6 |
Minifiguras
Minifiguras
Luke Skywalker ha acompañado a tres modelos anteriores de AT-AT, inspirándose en su memorable destrucción de uno de estos vehículos mediante un detonador térmico durante la batalla de Hoth. Esta minifigura se presentó con el 75235 X-wing Starfighter Trench Run, por lo que lleva el uniforme de piloto de X-wing en lugar del uniforme de piloto de Snowspeeder, que debería incluir guantes blancos y una decoración más sencilla en el cinturón.
Estas inexactitudes son decepcionantes, sobre todo porque LEGO ya ha producido atuendos apropiados para los pilotos del Snowspeeder. No obstante, tanto el torso como las piernas están muy detallados y el casco de Luke tiene un buen aspecto, con los símbolos de la Alianza Rebelde junto a las auténticas rayas de peligro. El casco de doble molde del X-wing Starfighter 75218 sigue siendo exclusivo del set de 2018.
Lamentablemente, parte de la cabeza de doble cara de Luke permanece visible bajo el casco. Sin embargo, sus expresiones alternativas son magníficas, ya que muestra diferentes sonrisas y cuenta con una visera abierta en un lado. Esta minifigura incluye un sable de luz azul, un detonador térmico impreso y un lanzador de rezón, aunque este último accesorio está inteligentemente integrado en el AT-AT.
Se han producido varias versiones del General Veers, a partir de 2007. Este ejemplo está sustancialmente más detallado que las minifiguras anteriores, y lleva un impresionante casco que regresa del 75211 Imperial TIE Fighter e incluye unas gafas moldeadas. La decoración impresa complementa el detalle moldeado y también me gusta la cabeza de doble cara, que presenta dos expresiones y se parece mucho al personaje de la pantalla.

El torso parece igualmente fiel al material original. Me gusta especialmente el colorido indicador de rango del peto de Veer y esta armadura azul arena se corresponde con la película, aunque el gris azulado oscuro también habría sido satisfactorio. Dada su posición dirigiendo la batalla, esta minifigura carece de armamento, pero lleva un par de macrobinoculares.
Una característica de diseño que distingue al 75288 AT-AT de sus predecesores es la cabina, que ofrece espacio para dos pilotos AT-AT. Estas minifiguras parecen idénticas por fuera, ya que llevan cascos de color gris azulado claro que complementan su armadura pectoral y presentan un detalle excepcional. Los intrincados símbolos imperiales y las rejillas de ventilación tienen un gran aspecto, aunque este casco sigue dejando al descubierto parte de la cabeza cuando se ve desde atrás.
Inusualmente, esas cabezas difieren cuando se les quita el casco. Los diseños clásicos de los Clone Trooper han sido sustituidos por componentes genéricos, que regresan de otros personajes pero que se adaptan a estas minifiguras. La cara sonriente es especialmente interesante, ya que sólo aparece en Tom Riddle del Tesoro mágico de Harry Potter: A Visual Guide to the Wizarding World.
El tejido azul arena contrasta con la mencionada armadura gris azulada y estas minifiguras lucen detallados arneses de eyección. Las botas de doble moldeado habrían sido perfectas en este caso, pero los pilotos incluyen precisos paquetes de soporte vital, con reflejos plateados metálicos. Ambos están equipados con pistolas blaster negras.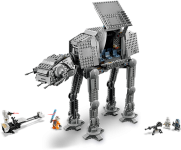 75288 AT-AT
¡Ofertas!
Lego Star Wars
Dos Snowtroopers blindados completan esta selección de minifiguras y permanecen sin cambios desde 2019, donde los mismos troopers aparecieron en tres sets. Sus cascos incluyen un precioso detalle moldeado y me gustan las diferentes cabezas que hay debajo, que se corresponden con los conductores de AT-AT. Estos componentes son ambos relativamente comunes, pero aprecio la variación entre ellos y sus severas expresiones faciales parecen ideales.
Los Snowtroopers imperiales llevan mochilas durante la película, por lo que me decepciona que se hayan omitido. Además, estas minifiguras carecen de kamas de tela. Creo que los Snowtroopers del 75054 AT-AT, lanzados durante 2014, eran por tanto superiores, pero la impresión del torso y las piernas de estos soldados del frío es excelente. Cada figura lleva un rifle blaster estándar.
El modelo completo
El modelo completo
LEGO ha producido cinco modelos de AT-AT a gran escala desde 2003, que varían considerablemente en cuanto a aspecto y construcción. El 75288 AT-AT tiene un aspecto especialmente distintivo y presenta unas proporciones únicas, con una cabeza más grande y menos ángulos dramáticos en el compartimento de la tropa. El vehículo resultante parece auténtico cuando se compara con la película y tiene un aspecto absolutamente espectacular en la exposición.
Además, esta versión del AT-AT es más grande que sus predecesores, ya que mide 38 cm de longitud y 35 cm de altura. El 75054 AT-AT, en comparación, mide 34 cm de longitud mientras que su altura es similar, alcanzando los 34 cm. Estas diferencias parecen relativamente menores, pero el nuevo modelo también mantiene una anchura más consistente a lo largo del compartimento de la tropa. Por lo tanto, todo este vehículo parece más sustancial que los ejemplos anteriores.
A pesar de su considerable tamaño, el peso está distribuido uniformemente, lo que permite una amplia articulación. Las caderas, las rodillas y los tobillos incorporan cada uno bisagras independientes y este modelo se siente completamente estable, incluso cuando se muestra en posiciones de marcha. Sin embargo, plantar cada pie en la superficie asegura la mayor estabilidad. El cuello también incluye dos articulaciones independientes, lo que permite que la cabeza gire más que en los anteriores AT-AT.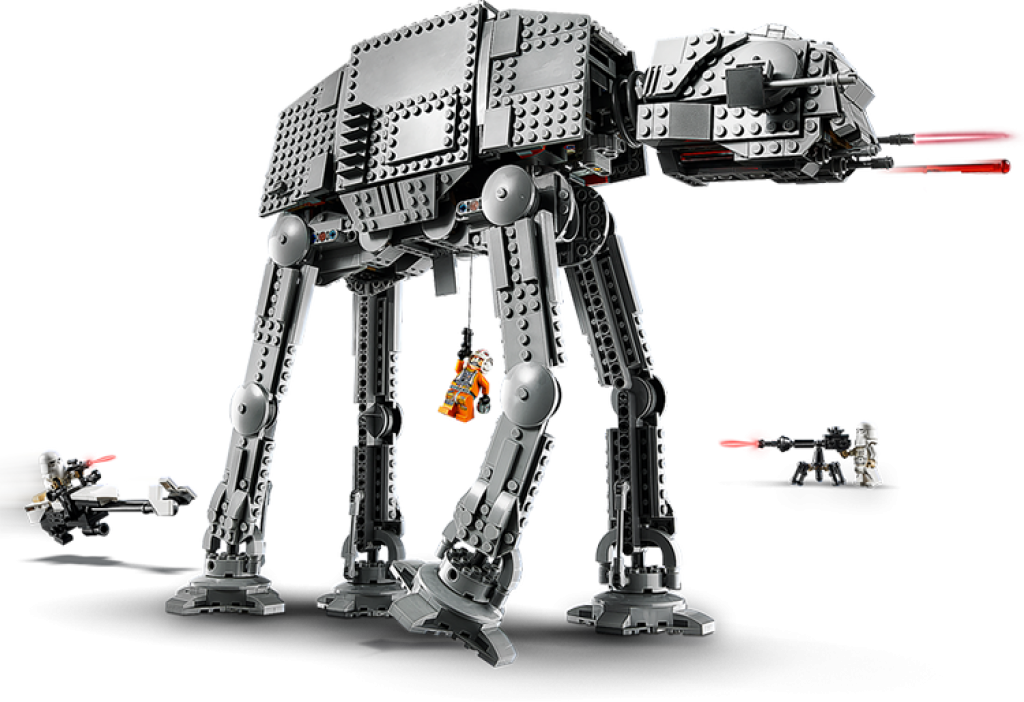 El diseño de la cabina se ha mantenido notablemente consistente entre los modelos anteriores de AT-AT, que comprende cuatro paneles angulares que se fijan alrededor de la estructura interna. Sin embargo, esta versión se desvía de ese estándar, integrando en su lugar paneles adicionales que suavizan los ángulos externos y consiguen una mayor precisión. En consecuencia, el nuevo cabezal parece más grande que los ejemplos anteriores, ya que el blindaje de los lados es menos profundo.
En el exterior se aprecian numerosos tacos expuestos, aunque el panel delantero es casi totalmente liso. En mi opinión, este contraste resulta un poco incómodo, pero la forma es estupenda y las costuras entre los distintos paneles tienen un aspecto excepcionalmente limpio. Además, me encanta el estrecho mirador, que está muy bien ensamblado utilizando soportes y taludes de 1×2 en lugar de depender de las pegatinas. De hecho, ¡este set no contiene ninguna pegatina!
Dos blásteres medios articulados están situados a ambos lados de la cabina, mientras que los famosos cañones láser pesados están colgados debajo. Las proporciones relativas entre estas armas son perfectas, y junto a los cañones láser se han colocado perfectamente dos tiradores con resorte. El modelado del blindaje es igualmente impresionante, sobre todo detrás de los cañones medianos, donde las placas en cuña están dispuestas en capas para crear la textura adecuada.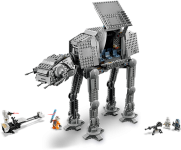 75288 AT-AT
¡Ofertas!
Lego Star Wars
Los caminantes AT-AT son tradicionalmente controlados por dos conductores y un oficial que comanda el vehículo. En los modelos anteriores sólo cabían dos minifiguras, pero este AT-AT ofrece espacio suficiente para tres personajes y varios paneles de control impresos. Esta alteración parece sutil, pero ha requerido algunos cambios drásticos en el diseño y el resultado es excelente, manteniéndose cerca del material original.
No cabe duda de que el interior sigue siendo estrecho y la colocación de las minifiguras en su interior puede resultar a veces difícil. Sin embargo, esta configuración interna representa una mejora con respecto a los modelos anteriores y me complace especialmente que el diseñador haya encontrado suficiente espacio para incorporar los controles básicos que rodean a las minifiguras.
Los volantes Technic de color gris azulado componen el cuello acanalado que conecta la cabina y el compartimento de la tropa. Esta técnica de construcción es ingeniosa, aunque quedan visibles varios elementos antiestéticos en el interior de los volantes y también hay piezas Technic expuestas hacia la parte trasera de la cabina. Por desgracia, ocultar esas piezas habría obstruido la escotilla de acceso que se abre.
Las versiones anteriores del AT-AT incluían ángulos pronunciados alrededor del compartimento de la tropa, estrechándose bastante hacia la parte delantera y trasera. Este modelo presenta la misma estética angular que impregna la tecnología imperial, pero las formas parecen más sutiles, de ahí que toda la sección de la carrocería se haya alargado. Este diseño se corresponde exactamente con el de la película y la variedad de superficies tachonadas y lisas resulta aquí perfecta.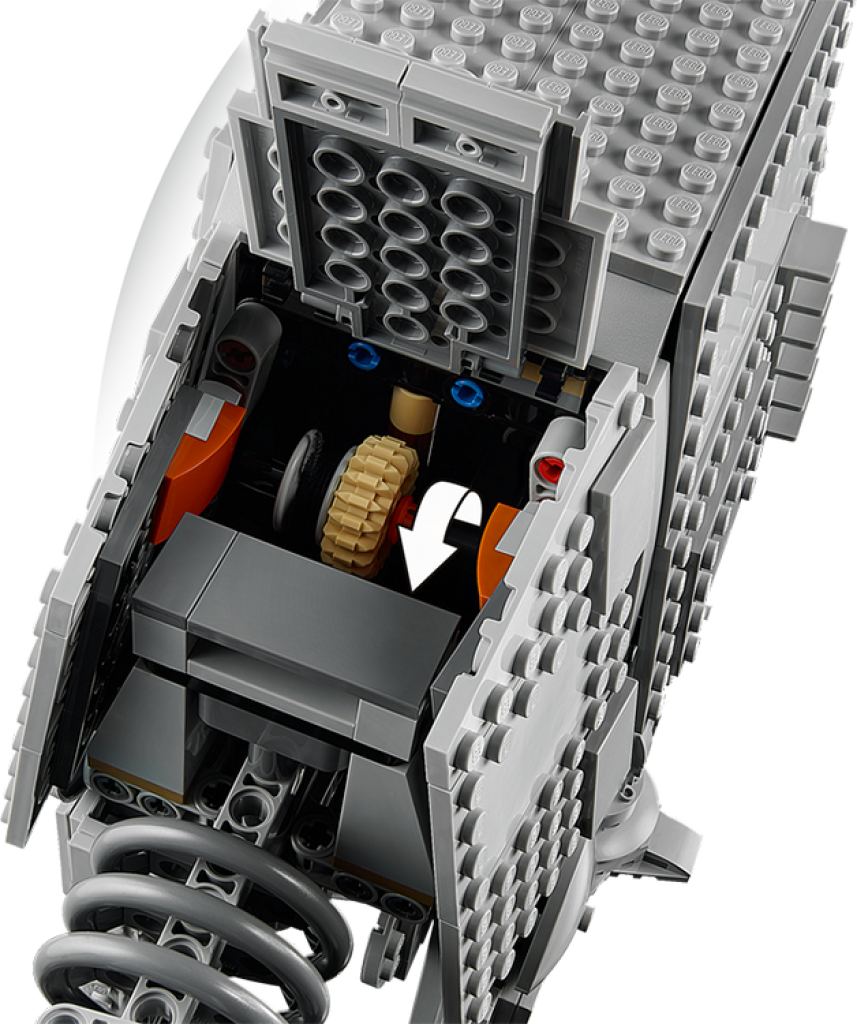 Esta combinación es especialmente importante en cada lado, donde los vehículos en pantalla incluyen escotillas de acceso. Por lo tanto, las placas de 4×6 con doce espárragos se emplean aquí con gran efecto y me encantan los paneles de 1×2 que forman las escaleras exteriores. Además, los tirantes bajo el compartimento de la tropa parecen más precisos aquí que en modelos anteriores, con muescas empotradas entre las placas de cuña.
A pesar de su apariencia, las dos escotillas exteriores no pueden abrirse realmente. En su lugar, los paneles centrales del blindaje están conectados a vigas Technic en el interior, lo que les permite moverse hacia arriba y revelar el interior. Este vehículo es muy espacioso y contiene asientos de color azul arena para cinco Snowtroopers. Su inusual color hace juego con el AT-AT 4483 y con el libro de referencia Star Wars: Complete Vehicles, lo que resulta encantador.
Además de las tropas mencionadas, este compartimento ofrece espacio para un Blaster Pesado de Repetición E-Web. Estas poderosas armas se introdujeron durante la Batalla de Hoth, por lo que su alojamiento dentro de un AT-AT parece bastante sensato. Aprecio el uso eficiente del espacio aquí, aunque el E-Web está conectado de forma incómoda a su estante de almacenamiento y creo que el diseñador podría haber incluido puntos de fijación por encima de los asientos, ocupando esa zona vacía.
Se han producido varias representaciones de la Red Eléctrica, empezando por un ejemplo del Halcón Milenario 4504. Este modelo apenas se parece a otras versiones, ya que cuenta con una pieza de Aeroblade y tres pistolas de Alien Conquest que forman la base del trípode. Las patas deberían llegar mucho más cerca del cañón, pero el resto del blaster tiene buen aspecto, sobre todo cuando una cabeza de BB-9E recrea fielmente el supresor de flash.
El impresionante detalle continúa hacia la parte trasera del AT-AT, donde se ve el depósito de combustible cilíndrico. Las banderas angulares de color gris azulado oscuro que representan el blindaje en capas tienen un aspecto magnífico, pero creo que la sección redondeada de debajo debería haber incluido una mayor textura. Además, los huecos entre los paneles separados son relativamente visibles aquí, especialmente en la parte superior, donde no existe una placa de cuña adecuada para rellenar los estrechos huecos.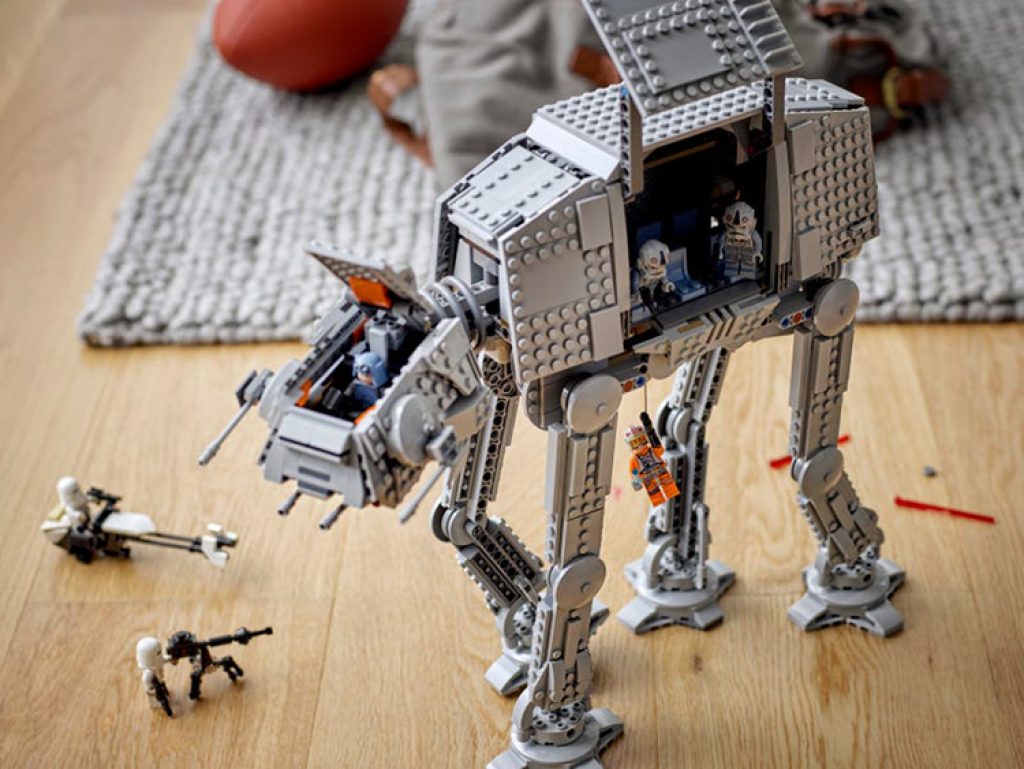 Los AT-AT pueden desplegar motos speeder para misiones de reconocimiento y este modelo incluye, por tanto, una moto speeder. La misma característica apareció en el AT-AT 4483 y la ubicación del garaje speeder se ha mantenido constante, dentro de la sección más trasera de la carrocería. La apertura de los paneles circundantes revela varios elementos Technic antiestéticos, pero permite desmontar fácilmente la moto speeder, lo que resulta perfecto para el juego.
Las motos speeder 74-Z han aparecido en numerosos sets de LEGO desde 1999, con diversos diseños. Este vehículo mide 12 cm de longitud, por lo que es más pequeño que el modelo más frecuente, que varió poco entre 2008 y 2013. La escala revisada parece más precisa al lado de las minifiguras y sigue incluyendo amplios detalles, sobre todo en torno a las paletas de dirección, que tienen la forma exacta.
Estos estabilizadores parecen más frágiles que los anteriores aceleradores, aunque siguen siendo lo suficientemente robustos para el juego. Hay espacio para que una minifigura se siente detrás del manillar y me encantan los pedales negros que reflejan los vehículos de la pantalla. Las minifiguras no pueden alcanzar los pedales, pero tienen un aspecto magnífico y el lingote de color tostado también es maravilloso, ya que representa un paquete de suministros. Esperemos que el mismo diseño aparezca con detalles en marrón rojizo, cuando el próximo set basado en Endor esté disponible.
Otra escotilla de apertura está situada hacia la parte delantera y alberga un engranaje Technic. Al girar este engranaje se despliega una cuerda desde la parte inferior del AT-AT, formando el cable de ascensión de Luke Skywalker. El cable ha aparecido en todos los modelos anteriores, aunque nunca se ha podido mover. Una vez más, el diseñador ha encontrado un uso para casi todos los espacios disponibles.
El cable de ascenso puede llegar cómodamente hasta el suelo y retraerse dentro del AT-AT, por lo que permanece completamente oculto cuando no es necesario. También hay una escotilla convenientemente situada junto al cable, lo que permite a Luke lanzar su detonador térmico al interior. Los actuadores simulados que flanquean estas funciones coinciden con el vehículo original, pero los elementos Technic brillantes a ambos lados son decepcionantes. Destacan sobre el blindaje gris azulado claro y, en mi opinión, son el aspecto más débil de todo el set.
Afortunadamente, los elementos Technic que necesariamente soportan las patas se han integrado muy bien. No se ven clavijas de colores y las vigas Technic están fijadas en el interior de cada pata, limitando su exposición. La distribución de placas y tejas en cada pata tiene un aspecto fantástico y los platos de 4×4 cubren las juntas. Lo ideal hubiera sido que estuvieran decorados para reflejar la película, pero puedo disculpar esa omisión.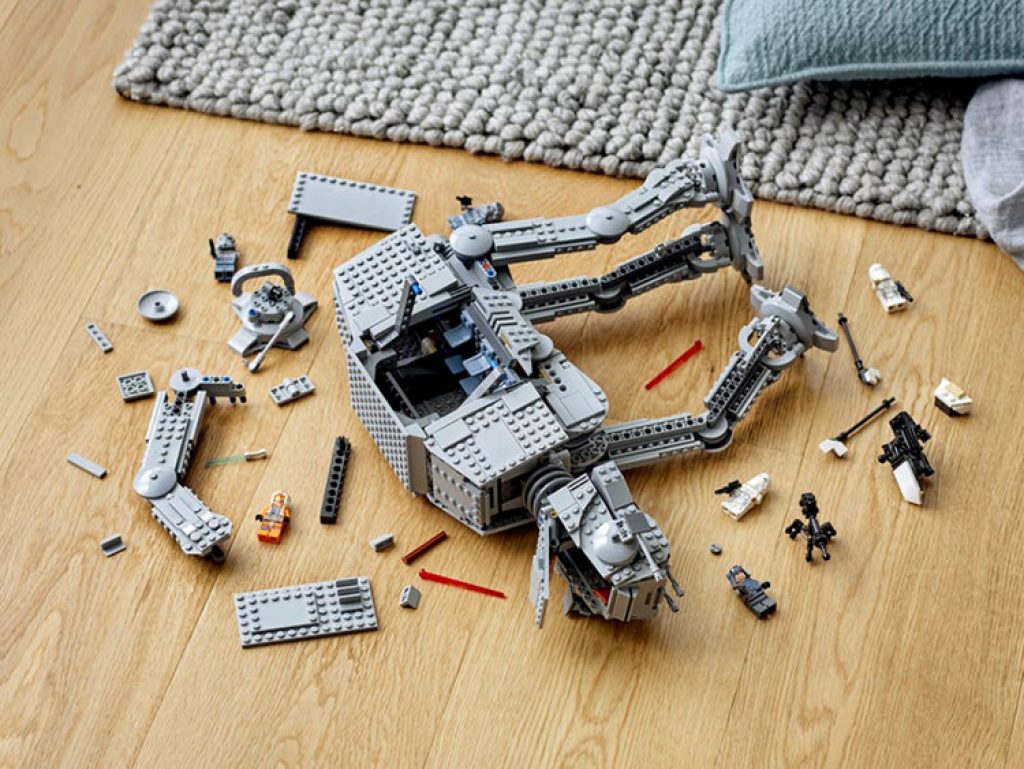 Cuatro enormes almohadillas para los pies soportan el peso del AT-AT y siguen siendo similares a los diseños anteriores. La estructura de los tobillos parece particularmente familiar, incluyendo ladrillos de arco de 1x6x2 que tienen un aspecto espléndido en comparación con la película. Los puntales que unen las almohadillas de los pies a las piernas parecen igualmente auténticos y me gustan las aletas de los dedos de los pies ampliadas alrededor de cada almohadilla, que garantizan una estabilidad total.
Conclusiones y reflexiones generales
Conclusiones y reflexiones generales
El majestuoso AT-AT imperial es probablemente el vehículo terrestre más célebre de todo el universo de Star Wars y el 75288 AT-AT merece un elogio similar. Esta maqueta es extremadamente fiel al material original y tiene un aspecto espectacular, con un detalle tremendo que supera con creces cualquier interpretación anterior del AT-AT. El interior también es excelente, con capacidad para numerosas minifiguras, modelos complementarios y funciones divertidas.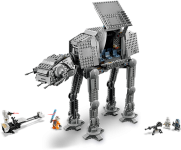 75288 AT-AT
¡Ofertas!
Lego Star Wars
La ampliación de la cabina ha sido especialmente acertada y el espacio interior se ha aprovechado con la máxima eficacia en todo el vehículo. Las minifiguras que lo acompañan son adecuadas, aunque más Snowtroopers habrían sido definitivamente bienvenidos y el AT-AT sigue siendo el foco indiscutible de este set. Además, creo que el precio de 139,99 euros o 159,99 dólares representa un valor razonable si se tiene en cuenta el tamaño y la calidad del AT-AT.