La idea original de Andrew Clark que proponía un set basado en los dibujos animados de los años 60 Los Picapiedra se publicó en LEGO Ideas a principios de 2017. Alcanzó los 10.000 apoyos en mayo de 2018 y pasó la revisión en octubre de ese año. Ahora, solo 4 meses después, el 24º set de Ideas, 21316 Los Picapiedra, llegará a las estanterías la próxima semana.
Echemos un vistazo detallado, y veamos cómo se compara con la presentación original.
Las mejores ofertas para 21316 The Flintstones
Las mejores ofertas para 21316 The Flintstones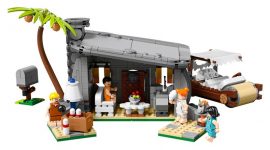 21316 The Flintstones
¡Ofertas!
Lego Ideas
| DETALLES | |
| --- | --- |
| Numero | 21316 |
| Nombre | The Flintstones |
| Tema | Ideas |
| Lanzamiento | 2019 |
| Piezas | 748 |
| Minifiguras | 4 |
Caja y contenido
Caja y contenido
La propuesta inicial de Andrew incluía la casa de Pedro y Wilma Picapiedra, su coche en un tramo de la calzada, junto con Barney y Betty Rubble y el icónico cartel de Bienvenido a Bedrock.
Los hijos de la pareja, Pebbles Flintstone y Bamm Bamm Rubble, también estaban presentes. Las actualizaciones posteriores sugirieron incluir a Dino, el snorkasaurio mascota de los Picapiedra.
La casa tenía un techo desmontable para revelar un interior detallado que incluía un televisor, un sofá, una mesa de centro y otros muebles.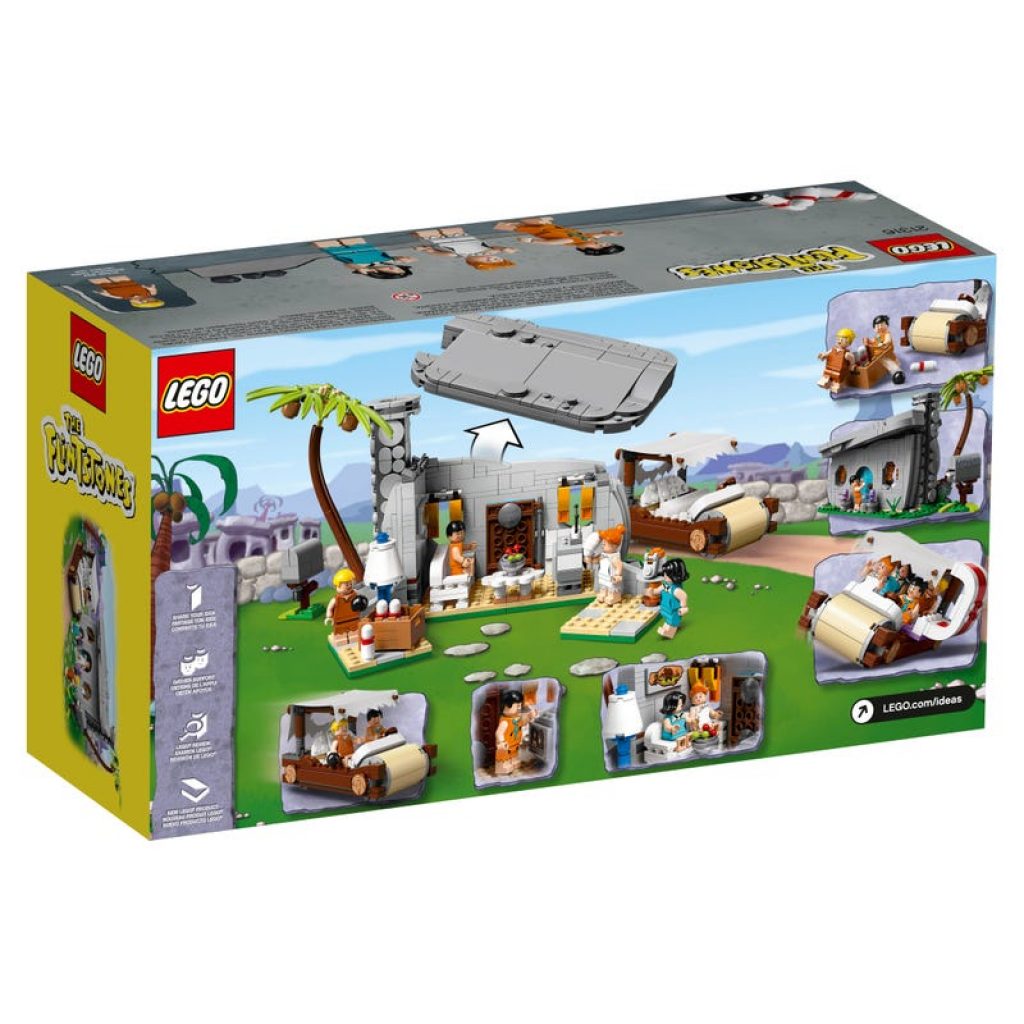 La caja tiene un tamaño extraño para un juego de Ideas, y con 11 cm es mucho más profunda de lo habitual. Afortunadamente, es una caja abatible que no se destruye al abrirla, a diferencia del último set de Ideas, el 21315 Pop-Up Book. Su formato rectangular ancho se eligió, presumiblemente, para poder exhibir eficazmente el modelo en la parte delantera.
Podemos ver enseguida que se han omitido varias cosas: el cartel de Bedrock, el camino de entrada, los niños y Dino. El resto, sin embargo, parece bastante fiel a la presentación original.
La caja parece ser más grande de lo necesario, ya que hay mucho espacio vacío en su interior. Las piezas están empaquetadas en 6 bolsas numeradas, lo que siempre agradezco.
El manual incluye información sobre Andrew; los diseñadores, Ricardo Silva y Crystal Fontan; y el dibujo animado.
Minifiguras
Minifiguras
Pedro y Wilma Picapiedra están vestidos exactamente como aparecen en la mayoría de los dibujos animados y tienen un aspecto espléndido. Las piernas son de doble molde y se han imprimido en la parte delantera para formar los bordes rugosos de sus ropas. Las figuras de Andrew tenían faldas de tela, pero limitan la posabilidad e impiden sentarse, así que esta es una solución mucho mejor.
Ambos torsos están impresos en el reverso y Wilma tiene una cabeza de doble cara. Supongo que Fred no podía tener una porque su barba incipiente se habría mostrado bajo la parte posterior de este pelo.

Barney y Betty Rubble tienen un aspecto igualmente excelente, con muchos de los mismos rasgos que la otra pareja. Barney es significativamente más bajo que Fred en los dibujos animados, por lo que es una pena que no se haya utilizado la nueva pierna de 3/4 de longitud para él.
Betty tiene una cabeza de doble cara, con un bostezo en el reverso.
Al ver las imágenes filtradas de las figuras hace unas semanas, muchas personas expresaron su decepción por el hecho de que no se imprimieran las narices distintivas de los hombres. Yo creo que la «nariz implícita», por encima de la barba, queda muy bien.
Construcción del coche
Construcción del coche
El coche de Fred es una robusta construcción de Technic, pero que aún consigue transmitir el aspecto de algo fabricado con madera y partes de animales.
Para los ejes se ha utilizado una baldosa redonda de 2×2 con una impresión de tronco, pero creo que parece demasiado grande. Una baldosa redonda de 1×1, como la utilizada en el original de Andrew, habría funcionado mejor.
Sin embargo, la nueva pieza de tela para el techo es muy superior a la solución de ladrillo de la propuesta de Ideas.
El techo se articula hacia atrás para que las minifiguras puedan sentarse. Los asientos son lo suficientemente amplios para que lo hagan sin que los brazos choquen.
Se proporciona un gigantesco estante de costillas, recién salido de 'Ed's Mammoth Ribs', que se puede sujetar en el lateral del coche. La placa de lavanda que se utiliza para sujetarlas parece un poco fuera de lugar, pero se sustituye fácilmente.
Construcción de la casa
Construcción de la casa
La casa de los Flinstsone está construida sobre placas base verdes sobre las que se aplican otras de color tostado para el interior. Dos secciones con bisagras en la parte trasera permitirán un fácil acceso al interior
Para empezar, la vivienda está construida a la manera tradicional de LEGO, con paredes planas y ángulos rectos. Las aberturas de las ventanas y las puertas están bordeadas con pendientes y arcos para darles un aspecto orgánico.
El lado derecho tiene una chimenea revestida con tejas redondas y curvas de diferentes formas y tamaños para darle un aspecto de roca. A ambos lados de la casa se han aplicado largos taludes curvos para dar al edificio un aspecto redondeado.
La palmera sobresale del suelo en ángulo y se curva con gracia hacia la casa.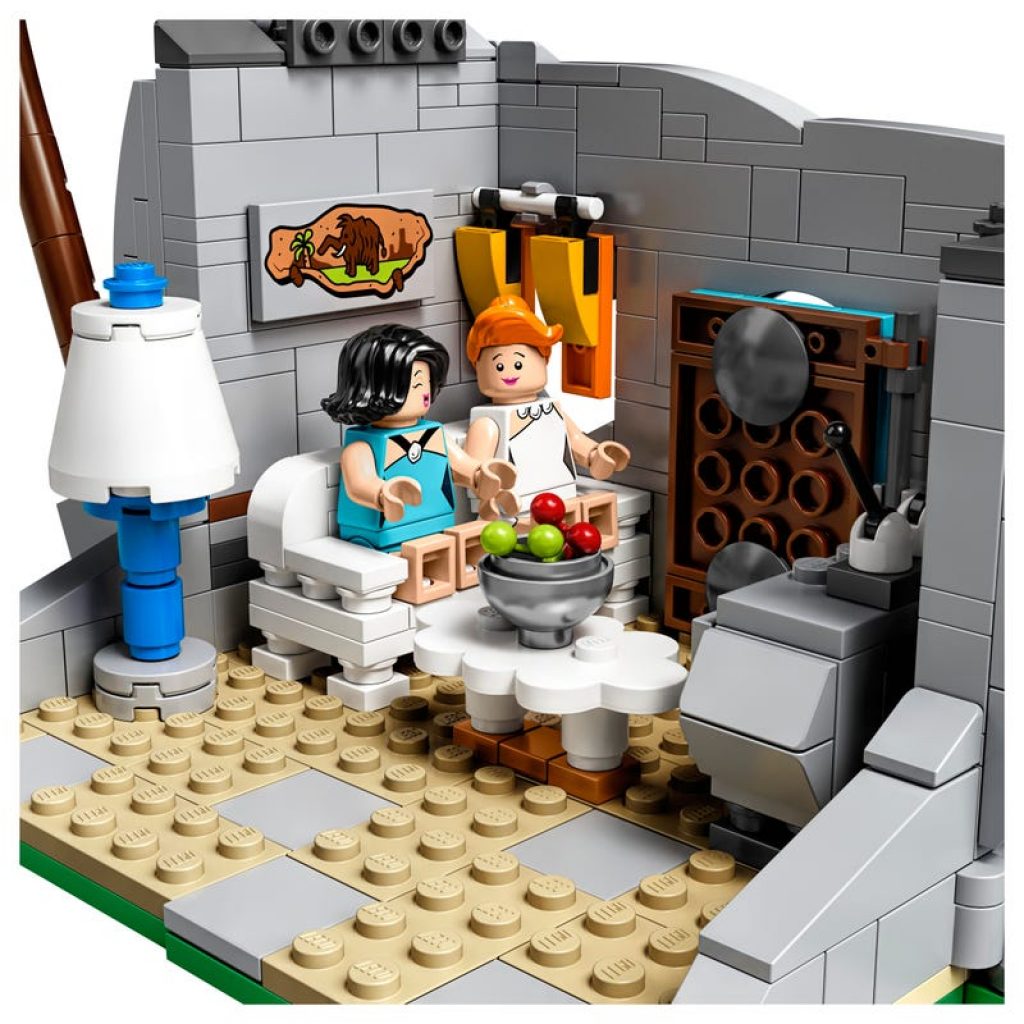 El interior está amueblado con un sofá, un televisor, un lavabo (junto a la ventana), una mesa de centro (un soporte para figuras coleccionables de Unikitty), una lámpara estándar y un teléfono. La imagen del televisor y el cuadro de la pared están impresos.
Los bolos son un pasatiempo popular en Bedrock, por lo que se ha proporcionado una caja con 3 bolos y una bola.
Finalmente, el techo está construido. Es una construcción robusta con curvas interesantes que tiene mucho mejor aspecto que el techo del modelo original de Andrew. Se ajusta de forma segura, pero se puede quitar con facilidad para dar acceso al interior.
En general, tiene un bonito aspecto redondeado y desigual, y el estampado de piel de animal de las cortinas naranjas queda fantástico. Las flores y las botellas de leche de la puerta principal le dan un aspecto muy hogareño.
Pero aún no hemos terminado de construir: todavía queda por hacer el buzón. Se encuentra en una pequeña placa verde. El ladrillo redondo de la parte superior está impreso. Personalmente no me gustan los subconjuntos separados como este; hubiera preferido que estuviera unido a la casa.
El modelo completo
El modelo completo
Tanto por dentro como por fuera, está repleto de detalles geniales, bonitas piezas e interesantes técnicas de construcción.
La jugabilidad se limita a sentar a Fred y Wilma en el sofá y quizás a jugar a los bolos, pero estoy seguro de que eso no es un gran problema para la mayoría de nosotros.
Conclusión
Conclusión
Creo que es un conjunto excelente que apreciarán sobre todo los fans de los dibujos animados, y 750 piezas por 55 euros/60 dólares no suena demasiado desorbitado.
Sin embargo, los conjuntos de ideas nos dan la oportunidad de considerar lo que se ha cambiado o lo que falta -o lo que podría haber sido- al comparar el conjunto de cajas con la presentación original. A menudo el artículo terminado supera las expectativas, pero en este caso no creo que lo haga.
Se han omitido muchos elementos que esperaba ver: el cartel de «Bienvenido a Bedrock», los niños y el dinosaurio mascota. El camino de entrada no es una gran pérdida dado que aporta poco a la estética o a la jugabilidad, pero creo que el cartel de Bedrock en particular sí lo es.
Por el contrario, se han mejorado muchos aspectos: el tejado en particular, el aspecto desplegable de la casa, y el coche se ve mucho mejor con su techo de tela.
Lo que nos han dado es estupendo, eso no se puede discutir, y si no conocieras la propuesta original, no habría mucho de lo que quejarse. Pero si lo estás, no puedes evitar sentir que podría haber sido mejor.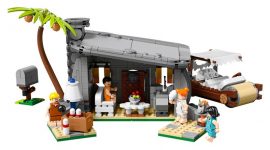 21316 The Flintstones
¡Ofertas!
Lego Ideas
También creo que es una pena que Barney sea una minifigura de altura normal dado que es notablemente más bajo que Fred, pero quizás LEGO pensó que por ser un adulto su minifigura debía tener piernas de tamaño normal de adulto como todas las demás.
En general, es un set excelente, pero que quizás podría haber sido un poco mejor.
Estará disponible a partir del 20 de febrero en shop.LEGO.com a un precio 59,99 euros.