A pesar de celebrar su vigésimo quinto aniversario durante 2019, Friends ejerce una influencia sostenida en la televisión moderna y la serie sigue siendo enormemente popular. 21319 Central Perk tiene un aspecto estupendo y, por tanto, debería resultar igualmente atractivo dada su aparente autenticidad.
Además, se incluyen siete impresionantes minifiguras, entre ellas los principales personajes de la serie de televisión y Gunther. Por estas razones, estaba deseando añadir este detallado set a mi colección y su coste de 64,99 libras o 59,99 dólares, que me parece excepcionalmente razonable, ofrece un incentivo adicional.
Las mejores ofertas para 21319 Central Perk
Las mejores ofertas para 21319 Central Perk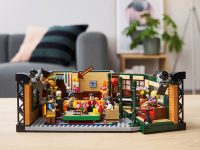 21319 Central Perk
¡Ofertas!
Lego Ideas
| DETALLES | |
| --- | --- |
| Numero | 21319 |
| Nombre | Central Perk |
| Tema | Ideas |
| Lanzamiento | 2019 |
| Piezas | 1070 |
| Minifiguras | 7 |
Caja y contenido
Caja y contenido
Los sets de LEGO Ideas suelen venir en cajas de cartón grueso con solapa. El 21319 Central Perk se ajusta a esta tendencia y creo que tiene un aspecto fantástico, ya que muestra este modelo junto a las minifiguras. Numerosas referencias a la serie de televisión están impresas en ambos lados, mientras que en el reverso de la caja se exponen detalles más pequeños de todo el conjunto.
Al abrir la caja se encuentran siete bolsas numeradas del uno al seis. Además, se incluyen cinco pegatinas, algo poco habitual en los sets de LEGO Ideas, aunque son fáciles de aplicar y se proporcionan algunas piezas nuevas impresas. El manual de instrucciones incluye 156 páginas, las primeras de las cuales están ocupadas por información sobre la serie de televisión Friends y sus personajes.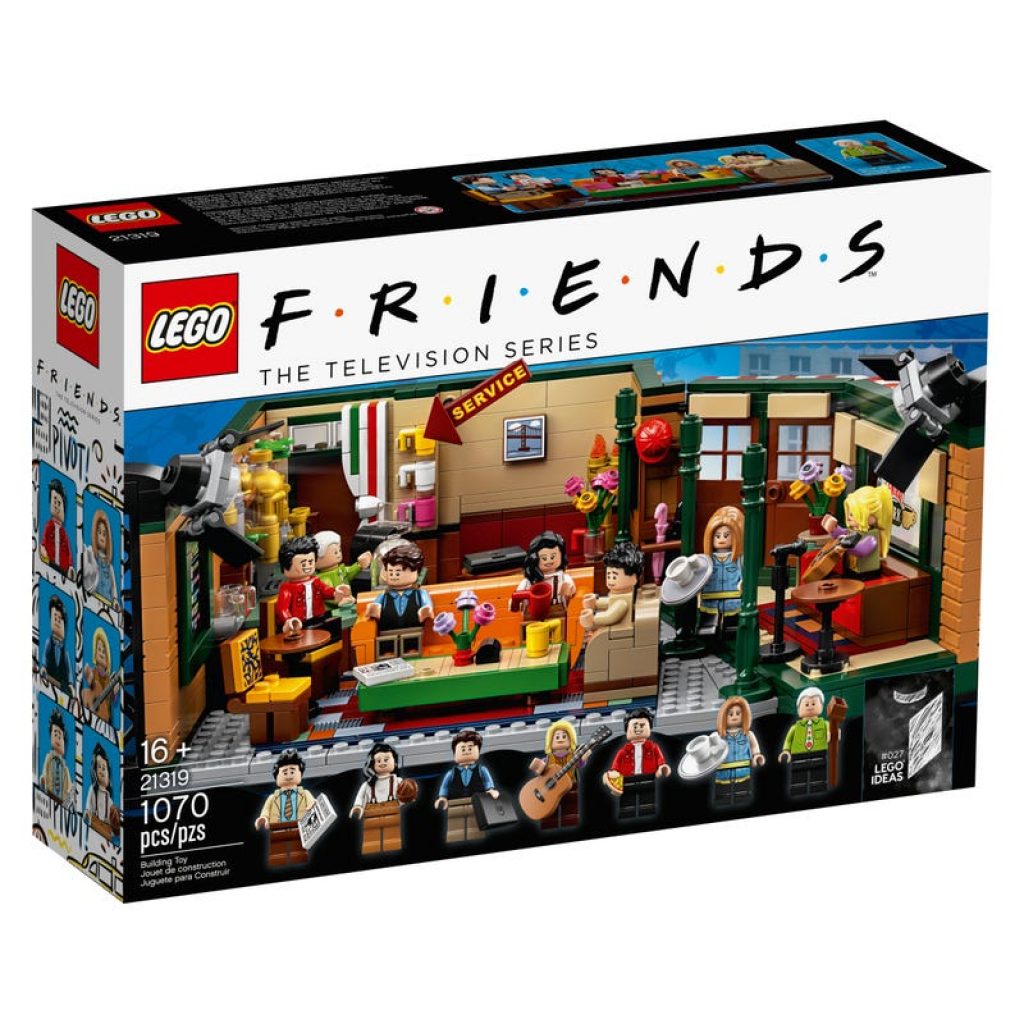 También se incluyen entrevistas con Aymeric Fievet, Milan Madge y Crystal Fontan, el diseñador de fans, el diseñador de productos y el diseñador gráfico, respectivamente. Su pasión compartida por Friends es indudable y me interesó especialmente leer los comentarios de Milan sobre las paredes inusualmente inclinadas que se adhieren al estudio de televisión original.
Minifiguras
Minifiguras
Friends se centra en seis personajes centrales, todos ellos incluidos aquí. Ross Geller cuenta con una cabeza exclusiva de doble cara que reproduce su aspecto en pantalla y transmite cierta personalidad, incluyendo expresiones de preocupación y sonrisa. La chaqueta de color canela y la corbata a rayas de Ross también se corresponden con la serie de televisión y puedo prever el uso de este excelente componente del torso en otros lugares.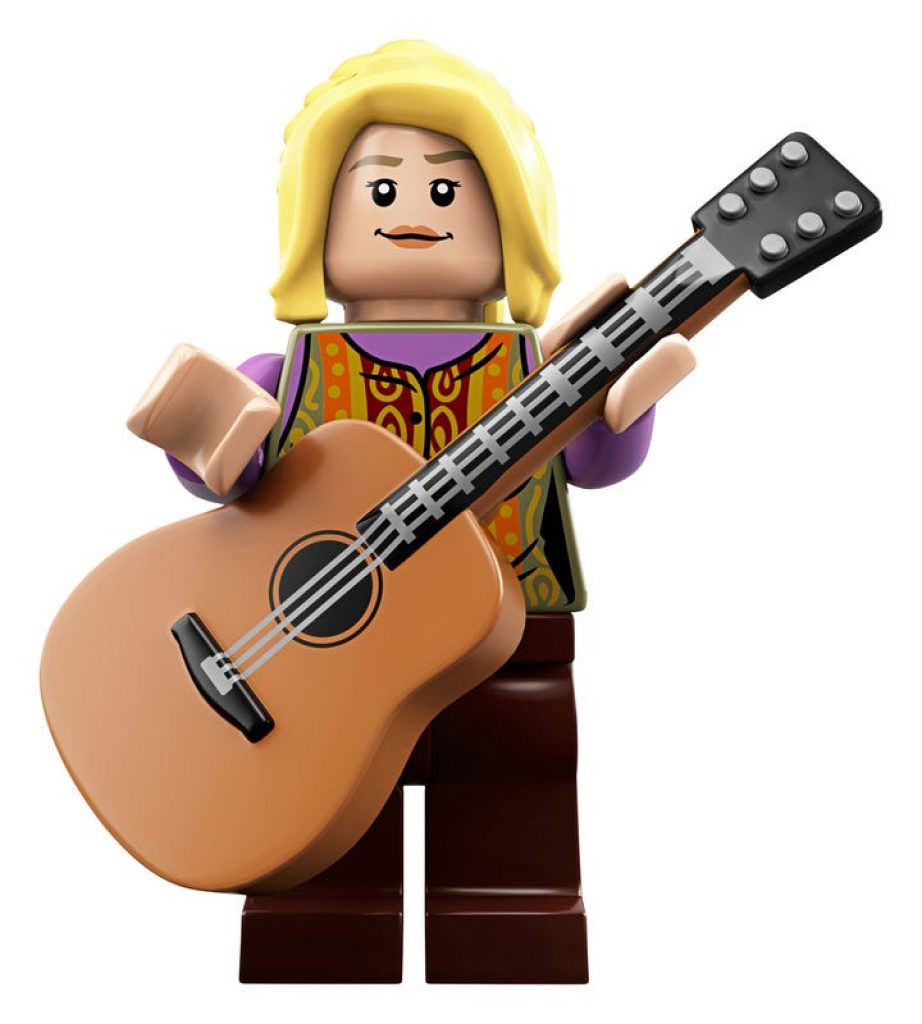 Rachel Green luce numerosos trajes a lo largo de la serie, pero esta minifigura se inspira en su atuendo de camarera. La blusa de color azul claro brillante queda muy bien, pero las piernas correspondientes parecen ligeramente desvaídas en mi opinión. Sin embargo, creo que el rasgo más notable de Rachel es su pelo y este elemento de turrón medio es perfecto. Fue creado inicialmente para el Veterinario de la Serie 17 de las Minifiguras Coleccionables, pero parece encajar aquí.
Esta interpretación de Chandler Bing parece bastante sencilla en comparación con la de Ross y Rachel, aunque su distintiva camisa azul y su chaleco negro son inmediatamente reconocibles. El pelo castaño oscuro también se ve bien, ya que sólo ha aparecido en tres ocasiones anteriores, mientras que la cabeza incluye dos expresiones. Una parece bastante neutra, pero la otra capta maravillosamente el desconcierto periódico de Chandler.
Lamentablemente, ni Rachel ni Monica Geller incluyen cabezas especializadas, lo que resulta bastante decepcionante porque LEGO ha producido sorprendentemente pocas cabezas de carne para personajes femeninos. No obstante, me gusta este diseño de doble cara y los tirantes de color turrón medio quedan muy bien en relación con la serie de televisión, aunque el color bronceado oscuro podría haber sido más preciso.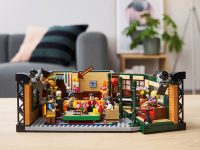 21319 Central Perk
¡Ofertas!
Lego Ideas
Joey Tribbiani presenta una cabeza sobresaliente, que demuestra su aplastante seguridad en ambos lados. Además, la camisa roja incluye algunas arrugas realistas y esta pieza de pelo con textura parece fiel al personaje en pantalla en mi opinión. Sin embargo, mi aspecto favorito de esta minifigura es su bolso marrón rojizo, presumiblemente haciendo referencia a la afición de Joey por los bolsos que se pone de manifiesto durante ¡La del bolso de Joey!
Mientras que la mayoría de estas minifiguras incluyen ropa relativamente genérica, Phoebe Buffay presenta un excéntrico chaleco estampado. Este diseño está basado en el episodio «The One With The Blackout», lo que parece apropiado ya que ese episodio presentaba la primera actuación de Phoebe en Central Perk. Además, aprecio esta cabeza de doble cara y el trozo de pelo rubio parece bastante fiel a su aspecto en la pantalla.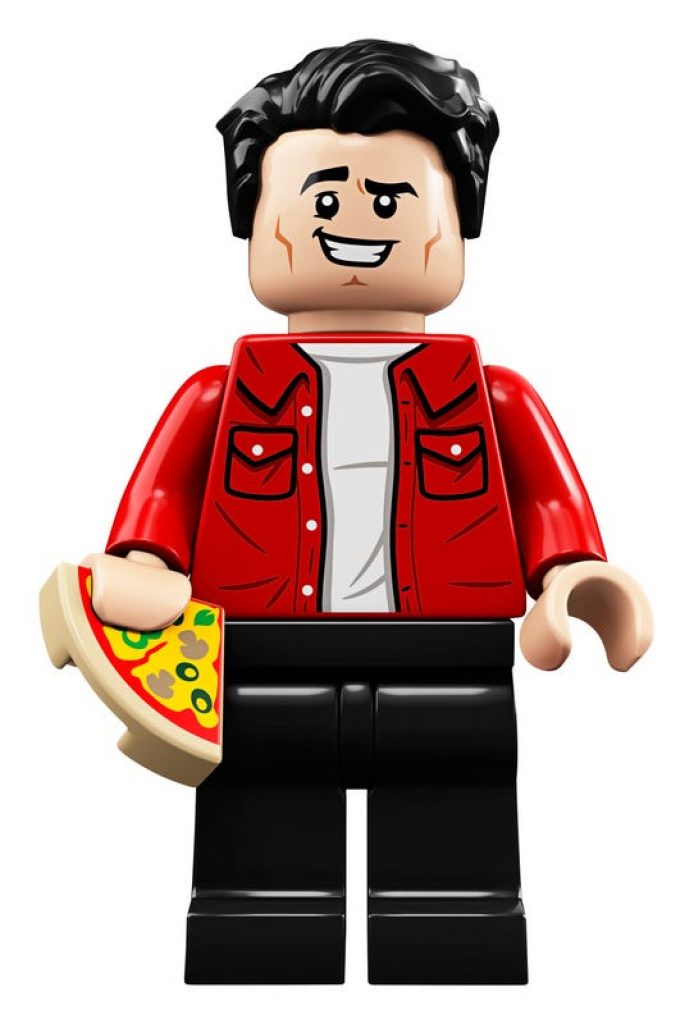 Cada minifigura incluye los accesorios adecuados, haciendo referencia a sus ocupaciones o al personaje de la serie de televisión. Rachel, por ejemplo, lleva un escudo de plata perlada que representa una bandeja para servir, mientras que Joey lleva una caja de pizza impresa con un trozo de pizza. También se incluyen la guitarra de Phoebe y el ordenador portátil de Chandler, además de varias tazas de colores y accesorios para la comida.
Gunther gestiona la cafetería Central Perk y, por tanto, acompaña a los personajes principales de este lugar. Esta minifigura lleva una llamativa camisa verde lima y una colorida corbata, lo que refleja su gusto por la ropa brillante durante la serie de televisión. Creo que el verde lima fue una elección de color perfecta, ya que este tono destaca cuando Gunther está detrás del mostrador.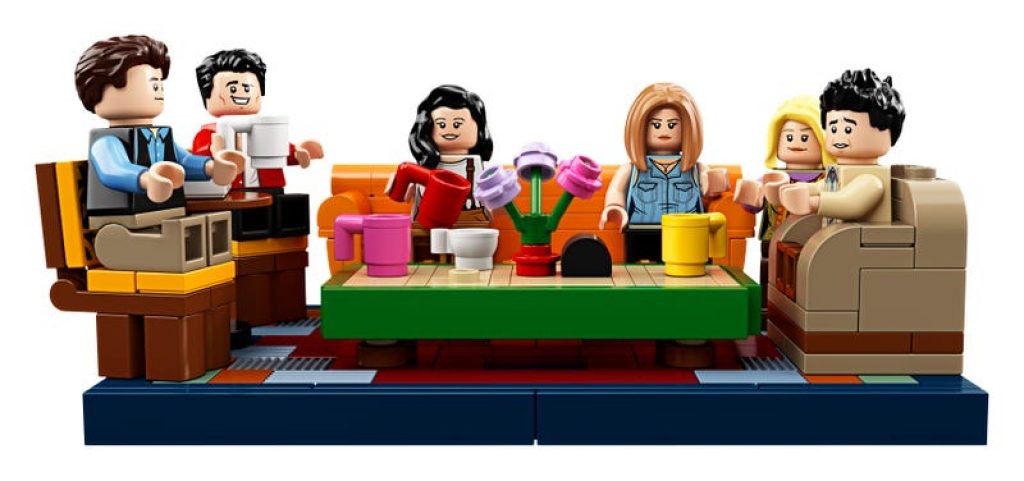 Además, la minifigura incorpora una pieza de pelo blanco que se asemeja vagamente al estilo de pelo de Gunther en la pantalla, aunque no representa sus entradas. Sin embargo, esta cabeza ha sido bien elegida, ya que ha aparecido anteriormente en las minifiguras de Luke Skywalker. En mi opinión, estas expresiones son bastante adecuadas para el personaje y Gunther viene con una escobon de color marrón rojizo.
El modelo completo
El modelo completo
El modelo 21319 Central Perk ha inspirado frecuentes comparaciones con el modelo 21302 The Big Bang Theory, lo que parece razonable dado que sus materiales de origen son equivalentes. Sin embargo, este modelo incluye muchos más detalles que su predecesor y es sustancialmente más grande también, midiendo casi 30 cm de ancho y 21 cm de profundidad. Las técnicas de construcción son también más elaboradas, sobre todo en lo que se refiere a las paredes en ángulo.
El Central Perk suele ser el escenario de las discusiones entre los personajes, de ahí que este interesante modelo se centre en un sofá naranja, un sillón, dos sillas con dibujos y la mesa central. Estos elementos aparecen constantemente a lo largo de la serie, aunque una silla suele permanecer contra la pared porque cuatro personajes pueden sentarse en el sofá. En esta versión sólo caben tres, pero tiene un aspecto maravilloso.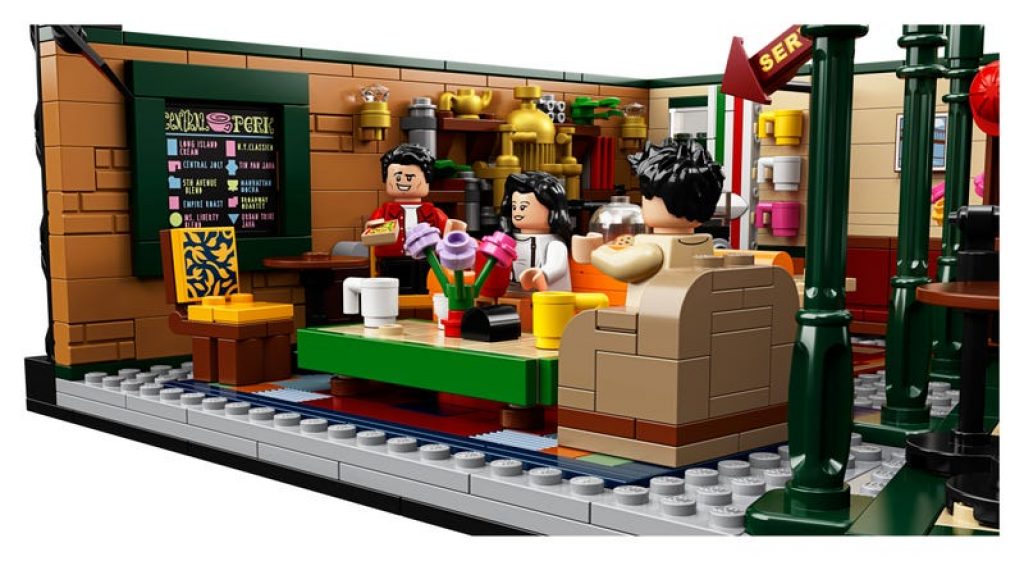 El diseñador ha incluido numerosos detalles divertidos de la serie de televisión, como algunas flores, un dispensador de servilletas negras y el cartel de reservado. Tanto la mesa como el sofá parecen irrealmente brillantes si se comparan con el material original, aunque me parece sensato, ya que Central Perk aparece bastante oscuro durante la serie, así que agradezco la introducción de más color en esta creación de LEGO.
Además, estos muebles se colocan sobre una impresionante alfombra construida lateralmente con ladrillos texturizados y ladrillos con tachuelas en el lateral. Esta estructura se encaja en la maqueta, elevando la alfombra y pareciendo así auténtica. Como alternativa, puede eliminar la zona de asientos y mostrarla por separado junto a otra sección de la cafetería que emplea técnicas de construcción similares, como se muestra a continuación.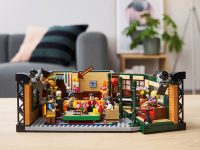 21319 Central Perk
¡Ofertas!
Lego Ideas
Inusualmente, esta estructura incluye dos luces de estudio que reflejan cómo se filmó realmente la serie de televisión. Se sostienen mediante rótulas y elementos de torre de celosía de 2x2x10, por lo que tienen un aspecto estupendo, aunque se pueden eliminar fácilmente si se prefiere. Varios detalles interesantes decoran la maqueta, incluido un atractivo tablero de menús que se ha simplificado en relación con la serie pero que incluye iconos realistas.
Gunther atiende a los clientes desde detrás de un mostrador angular. Está ingeniosamente montado con taludes de 1×2 que forman cada esquina y me encantan las baldosas de 1×2 transparentes que representan los estantes. En la encimera se utilizan placas angulares de color verde arena. Quedan muy bien, pero el verde oscuro o el tostado oscuro podrían haber sido más fieles al material de origen, reproduciendo potencialmente su textura jaspeada.
El contenedor de galletas también podría mejorarse, ya que su forma difiere de la serie de televisión. Sin embargo, la caja registradora tiene un aspecto maravilloso y la máquina de café expreso de color dorado perlado que hay detrás del mostrador es perfecta si se compara con su material de origen. Además, los dispensadores de gránulos de café de color plata perla están situados entre los estantes de color marrón rojizo y estos están cargados de accesorios detallados.
Además, más allá del mostrador hay una puerta de madera. A veces está cubierta por una cortina a rayas durante la serie, pero aquí la cortina está descorrida y tiene un aspecto excepcional. Me encantan las tazas vecinas que están fijadas en la pared, aunque deberían incluir luces de neón sobre cada taza. Aun así, omitir estas luces parece razonable dadas las limitaciones de escala y el cartel de servicio impreso tiene un aspecto brillante.
En la pared trasera se exponen muchas obras de arte diferentes durante Friends y este puente colgante tiene un aspecto estupendo. Sin embargo, habría sido preferible algo más distintivo y visualmente llamativo, quizá inspirado en un episodio concreto. No obstante, el banco rojo oscuro resulta bastante impresionante y la inclusión de un candelabro dorado, que apenas se ve en la pantalla, demuestra una fantástica atención al detalle.
Entre unas flores y un paragüero aparece un anuncio de la próxima actuación musical de Phoebe, Smelly Cat. Las paredes de esta sección de la maqueta están inclinadas individualmente, por lo que se corresponden exactamente con la serie. El diseñador también ha incluido un casco rojo sobre unos paraguas, inspirándose en el Central Perk del Warner Bros. Studio Tour.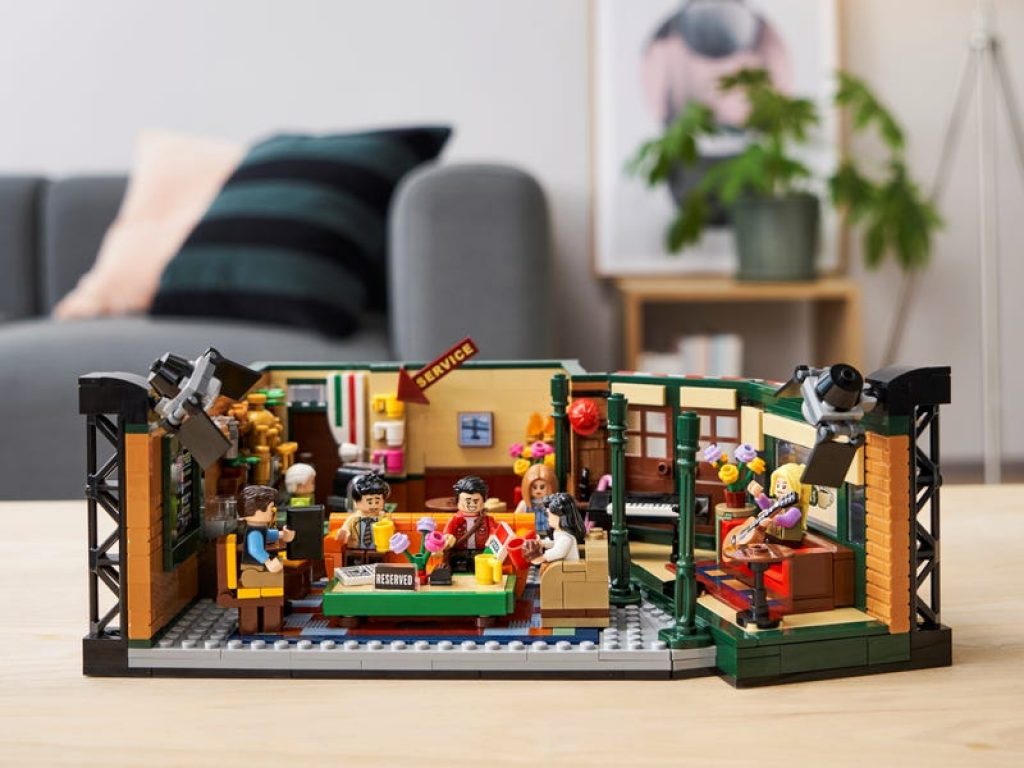 Phoebe suele interpretar sus canciones originales desde otra zona de asientos junto a la ventana. El sofá rojo se compara favorablemente con la serie de televisión y también me gusta el suelo elevado. Además, una serie de baldosas de color canela representan las persianas de las ventanas y las columnas de color verde oscuro, que no se han estrenado antes en este color, parecen auténticas. También hay accesorios musicales, como un soporte de micrófono y el teclado electrónico de Ross.
Aunque la acción se centra generalmente en el interior de un apartamento o de Central Perk, a veces también aparece el exterior de la cafetería. El diseñador ha dotado de detalles a esta sección del modelo, sobre todo incluyendo toldos a rayas rojas y blancas. El pavimento, de color gris azulado, es excepcionalmente estrecho, pero ofrece el espacio suficiente para que una minifigura pueda estar fuera.
La famosa marca de Central Perk está impresa en la ventana y todo este panel está construido lateralmente, encajando en el suelo por debajo. Se puede invertir el elemento de la ventana para mostrarlo. Además, se ha colocado otro póster fuera de la puerta, que hace referencia a la memorable actuación de Joey en un anuncio japonés de «Lápiz de labios para hombres», lo cual es divertido.
Desgraciadamente, los demás muros exteriores incluyen muy pocos detalles. No están pensadas para su exhibición y la visión de la maqueta desde estos ángulos revela ciertas técnicas de construcción que se utilizan con buen efecto en el interior. Por supuesto, este diseño también se corresponde con la disposición de filmación del estudio, ya que la cámara nunca mostraría Central Perk desde estos ángulos, de ahí que su aspecto desordenado parezca bastante adecuado.
Conclusiones y reflexiones generales
Conclusiones y reflexiones generales
LEGO Ideas ha producido algunos modelos extraordinarios y el 21319 Central Perk se encuentra sin duda entre mis diseños favoritos. Esta estructura tiene un aspecto maravilloso en la exposición, ya que reproduce innumerables detalles sutiles de Friends e incluye algunas referencias agradables. Además, creo que este modelo podría ser fácilmente la base de una cafetería genérica, atrayendo potencialmente a aquellos que no están interesados en la serie.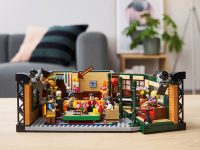 21319 Central Perk
¡Ofertas!
Lego Ideas
La selección de minifiguras es igualmente atractiva y este set ofrece un gran valor, ya que cuesta 64,99 euros o 59,99 dólares y contiene 1070 piezas. El tipo de cambio entre los precios americanos y europeos puede dejar algo que desear, pero estoy bastante satisfecho con este modelo. Por ello, 21319 Central Perk representa sin duda una excelente adición a la creciente gama de LEGO Ideas.
Espero que esta reseña le haya resultado informativa. Háganos saber si le gusta este artículo y comparta su opinión sobre el set en los comentarios a continuación.