76167 Armería de Iron Man suscitó un notable interés durante 2019, incluyendo varias espléndidas minifiguras exclusivas. El 76167 Iron Man Armoury complementa el set anterior, conteniendo algunos módulos de almacenamiento adicionales que complementan los producidos el año pasado.
Por desgracia, las minifiguras asociadas parecen algo decepcionantes en comparación con el set anterior. Aparece una nueva minifigura de Iron Man, lo cual es estupendo, aunque otras siguen ausentes del tema de los superhéroes de Marvel. No obstante, este set parece bastante interesante según las imágenes oficiales.
Las mejores ofertas para 76167 Armería de Iron Man
Las mejores ofertas para 76167 Armería de Iron Man
76167 Armería de Iron Man
¡Ofertas!
Lego Marvel
| DETALLES | |
| --- | --- |
| Numero | 76167 |
| Nombre | Armería de Iron Man |
| Tema | Marvel |
| Lanzamiento | 2020 |
| Piezas | 258 |
| Minifiguras | 5 (3 únicas en este set) |
Minifiguras
Minifiguras
Tony Stark ha aparecido en relativamente pocos sets fuera de su armadura de Iron Man, aunque su disponibilidad aquí parece apropiada. Esta minifigura cuenta con un atractivo postizo con una textura encantadora y me gusta la cabeza de doble cara, aunque la pantalla azul parece algo incómoda hasta que Tony se pone la armadura. Afortunadamente, el estampado alternativo está oculto bajo este postizo.
A pesar de su asombrosa riqueza, Tony suele llevar camisas sencillas mientras trabaja en su taller, por lo que esta minifigura presenta una prenda arrugada de color gris azulado claro. El torso se introdujo en la gama Jurassic World el año pasado, pero parece igualmente adecuado aquí y complementa los pantalones azul oscuro, aunque carecen de decoración.
76125 Iron Man Hall of Armour contiene la armadura clásica MK I y otra minifigura prototipo de Iron Man. Este ejemplo se inspira en la armadura MK II que apareció en la película original de Iron Man, y que consiste casi exclusivamente en componentes de plata perlada. El estampado de toda esta minifigura parece extraordinariamente intrincado y me encantan los remaches expuestos que reflejan el estado poco refinado de este traje prototipo.
Las minifiguras de Iron Man basadas en el Universo Cinematográfico de Marvel han presentado tradicionalmente cascos con placas faciales separadas. Esas piezas habrían sido apropiadas aquí. Sin embargo, esta minifigura emplea en su lugar el nuevo componente del casco, lo que resulta algo decepcionante, especialmente cuando se muestra esta armadura junto a otras con el casco correcto.

Los brillantes paneles de plata metálica que se imprimen en el casco, el torso y las piernas destacan, sin duda, y unos detalles similares decoran el Iron Man completo. Sin embargo, son casi invisibles entre una combinación tan elaborada de detalles en oro metálico, rojo oscuro y rojo. Esta minifigura ya ha aparecido en cinco sets anteriores y tiene un aspecto magnífico, muy parecido a la armadura que aparece en el nuevo videojuego de los Vengadores.
Ambas minifiguras incluyen cabezas trans-cargadas bajo los cascos y la segunda armadura también cuenta con un excelente pack de repulsores. Un accesorio similar apareció en 76107 Thanos: Ultimate Battle de 2019, pero esta versión parece más refinada que su predecesora, integrando pendientes curvas más pequeñas y manteniendo las cuatro unidades repulsoras articuladas. Las secciones superiores están ambas decoradas con pegatinas y esta figura lleva dos Power Blasts.
Los agentes de A.I.M. ya han aparecido en siete sets durante el año 2020, aunque a veces con equipos ligeramente diferentes. Sin embargo, estas dos minifiguras son completamente idénticas y llevan cascos de color gris oscuro perlado con aparatos de respiración a juego. Esta combinación de colores continúa en el torso y las piernas, y resulta maravillosa junto con los detalles en naranja amarillento.
La decoración del torso es excepcionalmente impresionante y muestra la marca A.I.M., mientras que la cabeza presenta un intimidante visor naranja. Por desgracia, estas dos minifiguras apenas se parecen a los numerosos robots de A.I.M. que aparecen en el nuevo videojuego de Los Vengadores, pero están muy detalladas. Aun así, creo que ampliar la selección de villanos dentro de la gama Marvel habría sido bienvenido este año.
El modelo completo
El modelo completo
Tony Stark posee una extraordinaria colección de coches, entre ellos su poderoso Ford Flathead Roadster, que inspiró la combinación de colores de Iron Man durante el Universo Cinematográfico Marvel. Este modelo parece bastante sencillo, pero se compara favorablemente con el vehículo original, ya que mide 10 cm de longitud y presenta una hermosa combinación de colores negro, naranja amarillento y rojo.
Lamentablemente, no se dispone de neumáticos auténticos de banda blanca, pero sus diferentes tamaños parecen realistas y me gustan los detalles del motor expuestos, incluidos los bloques de cilindros en ángulo. Las placas redondeadas de 1×2 en cada lado parecen especialmente efectivas, aunque los tiradores de tacos que representan los escapes son bastante incómodos. Creo que esta técnica de construcción podría funcionar bien en bólidos más grandes, pero aquí parecen fuera de lugar.
Las llamativas pegatinas de llamas están aplicadas en ambos flancos, complementando los elementos amarillos y anaranjados de las llamas detrás del motor. Las diferentes tonalidades de amarillo parecen ligeramente extrañas, pero en las pegatinas se aprecia una variación similar. Además, el interior rojo se corresponde exactamente con la lámina y contrasta con el negro exterior de la carrocería, con buen efecto.
Otra pegatina forma la matrícula, que también coincide con la del vehículo original, y me gustan los faros traseros de color rojo. La forma curvada aquí se ve muy bien, acentuada por la carrocería lisa. Sin embargo, el eje trasero está elevado, lo que crea una inclinación hacia delante y, en consecuencia, se desvía de la película. Esto sería difícil de resolver sin interferir con la mencionada curva.
Este set también contiene una caja de turrón mediana que está decorada con pegatinas en los extremos. Me gustan estas pegatinas y la caja tiene un aspecto estupendo, especialmente con varios accesorios colocados encima. Sin embargo, no hay nada guardado en el interior, lo que parece decepcionante. Algunas herramientas básicas o quizás los planos de la Expo Stark de Iron Man 2 habrían sido adiciones fantásticas.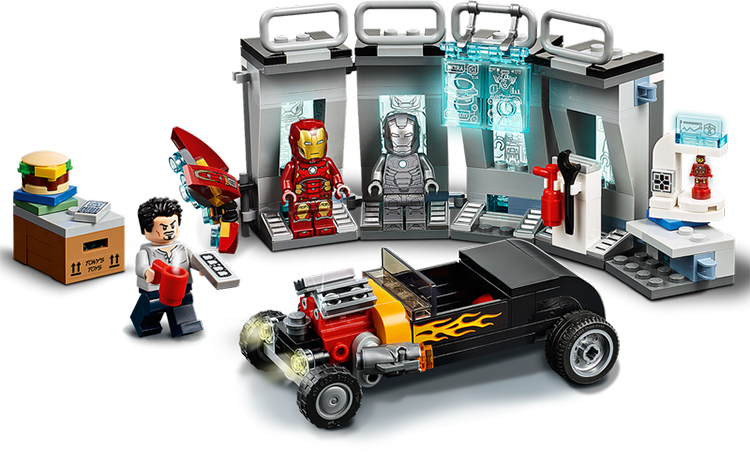 Al escapar de su cautiverio en Afganistán y regresar a suelo americano, Tony recoge una hamburguesa con queso. Por ello, se incluye una encantadora hamburguesa con queso, con piezas de colores que representan el queso, la lechuga y la hamburguesa. Además, una intrincada pegatina forma una junta de culata realista que hace referencia a Iron Man, durante la cual Tony retira este componente de su bólido.
El modelo principal está compuesto por cuatro compartimentos de almacenamiento de armaduras y una pequeña mesa. Estos cinco módulos están unidos mediante clips, por lo que sus ángulos relativos pueden ajustarse, lo que es maravilloso para su exposición. En el 76125 Iron Man Hall of Armour aparece exactamente el mismo diseño de los compartimentos de almacenamiento y ciertamente aprecio esta consistencia, aunque estas secciones incorporan pegatinas únicas.
La conexión de estos módulos con el 76125 Iron Man Hall of Armour proporciona un amplio espacio para diez minifiguras diferentes de Iron Man, una vez retirados los bastidores blancos de equipamiento. Tienen un aspecto notablemente impresionante cuando se exponen juntos y puedes unir las secciones separadas en ambos extremos. Además, puedes apilar los módulos retirando las barandillas de color gris azulado claro, lo que se asemeja más al almacén de armaduras de la «Bodega» de Iron Man 3.
Las rejillas plateadas de 1×2 se fijan en cada compartimento de almacenamiento, junto con detalles en azul arena y azul trans-luz. Me gusta esta combinación de colores y los paneles azul trans-luz que acompañan a las bahías de almacenamiento tienen un aspecto brillante, con varias pegatinas que muestran las armaduras de Iron Man. Sin embargo, su visibilidad parcial es decepcionante porque las partes de color gris claro ocultan algunos detalles agradables.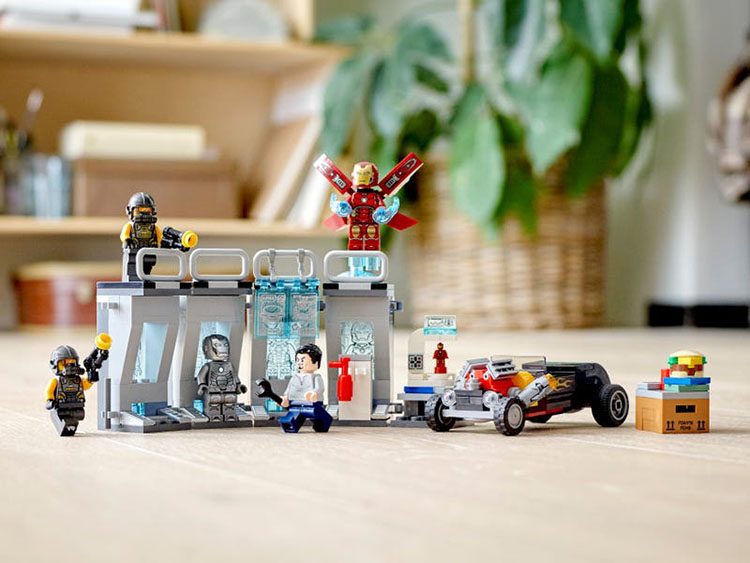 Afortunadamente, las pegatinas son más visibles cuando se ven desde atrás. Presentan la armadura 'Blazer' del 76166 Avengers Tower Battle, la minifigura War Machine del 76153 Avengers Helicarrier, el prototipo de Iron Man que aparece en este set y la armadura estándar 'Prime' que también está disponible aquí. Las pegatinas están muy bien detalladas y su estilo coincide con las producidas para el anterior set Hall of Armour durante 2019.
Se han aplicado dos pegatinas adicionales en las pantallas situadas sobre las bahías de blindaje, que hacen referencia a la hamburguesa con queso de Tony y al Ford Flathead Roadster. Las pantallas están montadas con brazos droides de color plata perla, que sólo se encuentran en la lancha de Sandy 80014. Su inclusión aquí se aprecia en consecuencia y el estante de herramientas blanco parece razonable, correspondiendo además con el 76125 Iron Man Hall of Armour.
76042 El Helitransporte de SHIELD presentó la primera nanofigura de Iron Man y aquí aparece otra versión, de pie dentro de una sencilla impresora 3D. Esta máquina blanca destaca sobre el entorno gris azulado del taller e incluye una baldosa impresa de 1×1 con botones en el lateral. Otra baldosa impresa representa un teléfono móvil y me gusta la placa de 2×2 situada debajo de la impresora, que presumiblemente representa los planos del prototipo de Iron Man.
Conclusiones finales
Conclusiones finales
La minifigura exclusiva del Prototipo de Iron Man, inspirada en la armadura Mark II, es sin duda mi aspecto favorito de este set. Siempre se agradecen las nuevas versiones del personaje y creo que este ejemplo tiene un aspecto tremendo, a pesar de no tener el casco correcto. La cantidad de minifiguras adicionales es fantástica, pero habría sido preferible otra minifigura exclusiva de Iron Man en lugar de la armadura estándar de color rojo oscuro y oro metálico que se ha impuesto en 2020.
76167 Armería de Iron Man
¡Ofertas!
Lego Marvel
También estoy satisfecho con el distintivo de Tony Stark, aunque los tiradores de las tachuelas parecen incómodos en mi opinión. Los compartimentos para guardar las armaduras son atractivos y complementan el 76125 Iron Man Hall of Armour. Además, 29,99 € parece razonable dada la selección de minifiguras y recomendaría este set para aumentar su homólogo de 2019.

76167 Armería de Iron Man – Marvel