Lego ha intentado recrear personajes a gran escala en múltiples ocasiones, incluyendo figuras CCBS y enormes creaciones como 76105 The Hulkbuster: ¡Edición Ultrón! El set 76206 Figura de Iron Man fusiona características exitosas de cada diseño anterior, lo que consigue un resultado más que interesante.
Las proporciones de este modelo parecen ciertamente razonables en las imágenes oficiales, mientras que la combinación de colores rojo oscuro y dorado metálico encaja a la perfección con la armadura Mark 43 de Iron Man en la pantalla. No obstante, el dudoso éxito de los anteriores personajes a gran escala presenta retos inevitables, que esperemos hayan sido superados.
¡Sigue leyendo!
Las mejores ofertas para 76206 Figura de Iron Man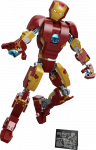 76206 Figura de Iron Man
¡Ofertas!
Lego Marvel
| DETALLES | |
| --- | --- |
| Numero | 76206 |
| Nombre | Figura de Iron Man |
| Tema | Marvel |
| Lanzamiento | 2022 |
| Piezas | 381 |
| Minifiguras | 0 |
Aunque no es perfecto, este modelo alcanza una notable precisión y proporciona un gran valor de juego.
Pros
Escala eficaz para jugar y exponer
Articulación predominantemente buena
Excelente modelado en la mayoría de las zonas
Colores precisos y uso inteligente de pegatinas
Contras
Escaso movimiento de los hombros
Diseño del casco
76206 Figura de Iron Man: El modelo completo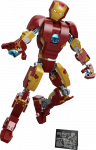 76206 Figura de Iron Man
¡Ofertas!
Lego Marvel
Teniendo en cuenta el precedente establecido por los modelos anteriores del personaje, ¡creo que Iron Man tiene un aspecto sorprendentemente bueno! La figura mide 25 cm de altura, aproximadamente igualando los diseños de Star Wars CCBS y superando a Iron Man 4529. Esta escala permite un detalle razonable y resulta absolutamente adecuada para jugar, sobre todo porque la figura es bastante robusta.
Además, la articulación es bastante amplia. La cabeza está conectada mediante una rótula, mientras que la cintura, las caderas, las rodillas, los tobillos, los codos y las muñecas también cuentan con articulaciones adecuadas. Sin embargo, es difícil crear posturas dinámicas, sobre todo porque la articulación de los hombros es limitada. La armadura del hombro tiene un aspecto estupendo, pero interfiere en el movimiento del hombro. Desgraciadamente, la posición que se muestra a continuación es la máxima en la que se puede levantar el brazo de Iron Man.
La razón de esta restricción se hace evidente al examinar el modelo más de cerca, ya que la coraza de los hombros y los brazos no están conectados. En su lugar, los brazos están unidos por debajo de su posición realista para alojar las rótulas de la hombrera. El diseño resultante es imperfecto, pero no resulta demasiado voluminoso y la inusual ubicación de las articulaciones de los hombros queda parcialmente oculta.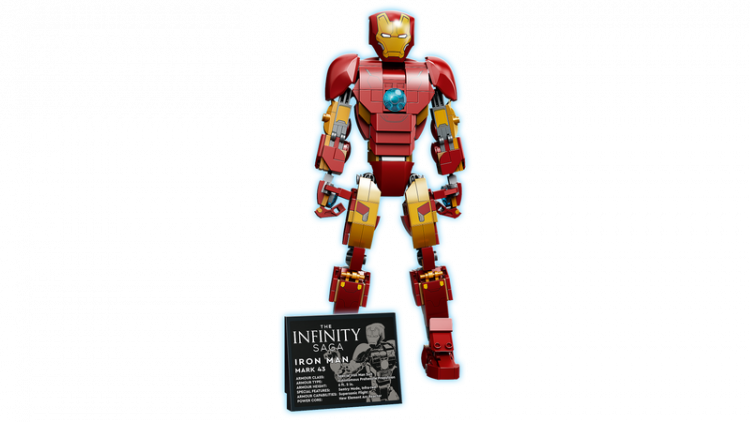 Se ha creado un nuevo elemento para representar la armadura de los hombros de Iron Man y su placa facial, lo que significa que ninguno de los dos es completamente exacto. Sin embargo. Creo que la impresión de esta placa facial consigue disimular varios compromisos, al coincidir con la armadura Mark 43 de Vengadores: Age of Ultron y con pequeños detalles plateados metálicos. Sin embargo, los laterales planos se notan y desmerecen el conjunto del modelo.
A ambos lados del casco y de ambos brazos hay pegatinas que representan la textura de la armadura. Aunque la presencia de pegatinas nunca es ideal, creo que se han empleado con eficacia, continuando la decoración en oro metálico. Los repulsores de las palmas también tienen un aspecto espléndido y están rodeados de dedos articulados, aunque cada mano sólo incluye tres dedos y un pulgar.
El torso incluye el conocido reactor de arco de Iron Man, representado por un deslizador 2×2 de color azul translúcido opalescente. Tiene un aspecto maravilloso y me encanta la armadura en capas que hay debajo, con reflejos dorados metálicos fijados con precisión a cada lado. Además, la integración de las pegatinas alrededor del reactor de arco es magnífica, complementando las baldosas vecinas y asemejándose mucho al material de origen.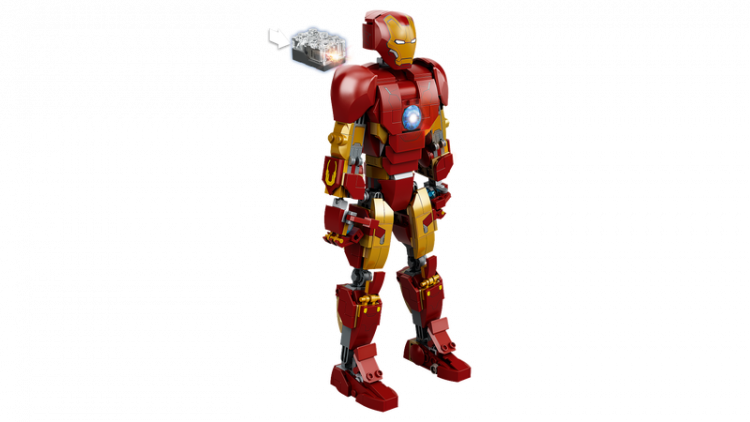 Detrás del reactor de arco hay un ladrillo de luz naranja que lo ilumina muy bien. Sin embargo, la luz que pasa a través de un trans-light blue opalescente no cambia su color, por lo que el tono naranja permanece. Actualmente, los ladrillos luminosos están disponibles en naranja y rojo, que son útiles, pero también aparecen en situaciones en las que otros colores serían más apropiados. Me gustaría una versión que emitiera luz blanca, ya que sería la más versátil.
Aun así, el ladrillo luminoso está perfectamente integrado, dejando visible únicamente el botón del reverso. La armadura que lo rodea también tiene un aspecto excelente, de nuevo con pegatinas que complementan los detalles en oro nacarado. El resultado no es absolutamente fiel al material original, pero ha superado mis expectativas, ya que las partes traseras de figuras como esta suelen estar menos detalladas.
El modelo incluye incluso repulsores desplegables, que ayudan a la estabilidad de Tony Stark durante el vuelo. Una vez más, los deslizadores de color azul translúcido opalescente tienen un aspecto fantástico y también aprecio las pegatinas bajo estas aletas articuladas, a juego con el diseño dorado de la pegatina entre ellas. En total, dieciocho pegatinas decoran la figura, pero no resultan intrusivas.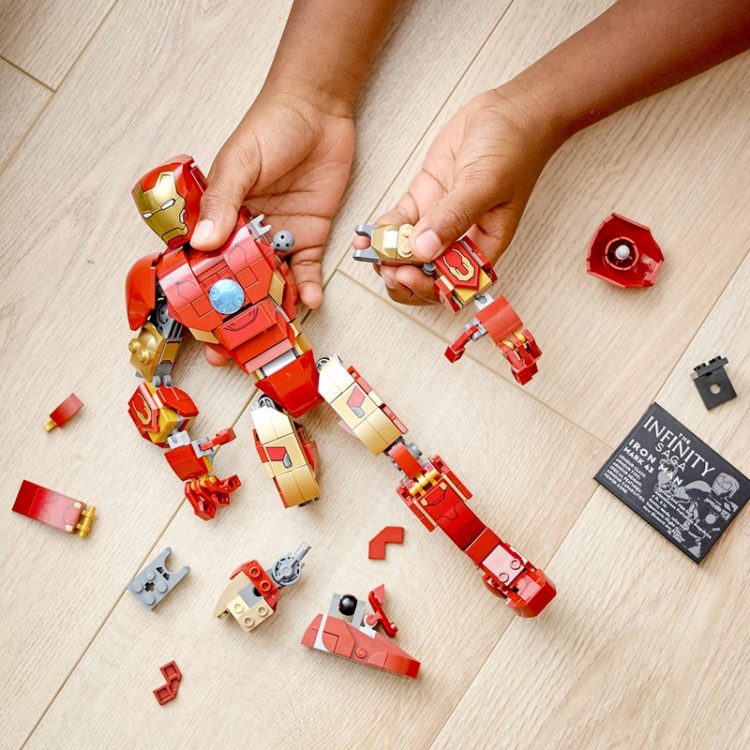 Otras piezas doradas metálicas adornan los muslos, incluidos los exclusivos taludes curvados en cuña de 1×2 y las baldosas de 2×2. Por desgracia, la combinación de colores entre las pegatinas de las baldosas y los elementos adyacentes deja mucho que desear. Además, el torso parece antinaturalmente estrecho por encima de las caderas, lo que constituye probablemente el problema proporcional más notable del modelo.
La parte inferior de las piernas no presenta estos problemas, con útiles articulaciones de rodilla protegidas por una armadura articulada. Los pies resultan igual de impresionantes, ya que son relativamente estrechos, en consonancia con el personaje de la pantalla, pero proporcionan una plataforma estable para la figura. La parte trasera de ambas piernas está repleta de detalles, como el espléndido uso de diferentes placas para simular las capas de la armadura.
Este set contiene una placa expositora, que se apoya en una escuadra de 2×2 y que quizás era un añadido innecesario. Sin embargo, el diseño coincide con el de otros sets de Superhéroes, incluido el 76105 The Hulkbuster: Edición Ultrón, por lo que muestra una coherencia excelente. Desgraciadamente, dicha coherencia se extiende a la información incorrecta que aparece habitualmente en placas similares, ya que la característica descrita «Infrarrojos» debería decir «Escaneado por infrarrojos».
Conclusión y reflexiones generales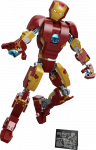 76206 Figura de Iron Man
¡Ofertas!
Lego Marvel
El set 76206 Figura de Iron Man ha resultado ser mejor de lo esperado, ya que muestra un nivel de detalle considerable y se asemeja mucho a la armadura de la pantalla. Tanto la combinación de colores como las proporciones parecen casi perfectas, sólo interrumpidas por una forma incómoda alrededor de las caderas. Además, estoy satisfecho con la articulación completa, a excepción de las molestas articulaciones de los hombros.
A pesar de estos defectos, la figura se ve bien en la pantalla y creo que la articulación es suficiente para jugar. Sin embargo, el precio de 39,99 € me parece bastante caro, sobre todo porque no se incluye ninguna minifigura. No obstante, el montaje ha superado las expectativas y sin duda merece ser tenida en cuenta por los fans de Marvel Super Heroes.
¡Y a ti, que te parece este impresionante set de Lego? Déjanos un comentario mas abajo 😀

76206 Figura de Iron Man – Lego Marvel