LEGO anunció sets basados en Minions: The Rise of Gru durante febrero de 2020, aunque sólo dos estuvieron disponibles poco después. Los tres productos restantes estarán disponibles de forma inminente, lo que se agradece, ¡catorce meses después de que la selección fuera desvelada originalmente!
El 75550 Duelo de Kung Fu ofrece un notable interés entre estos sets, ya que contiene versiones exclusivas de Otto, Kevin y Stuart junto a una excelente maqueta. Este colorido templo cuenta con magníficos detalles y varias piezas inusuales, incluyendo plátanos en cuatro colores distintos que parecen apropiados para los Minions.
Las mejores ofertas para 75550 Duelo de Kung Fu
Las mejores ofertas para 75550 Duelo de Kung Fu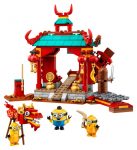 75550 Duelo de Kung Fu
¡Ofertas!
Lego Minions
| DETALLES | |
| --- | --- |
| Numero | 75550 |
| Nombre | Duelo de Kung Fu |
| Tema | Minions |
| Lanzamiento | 2021 |
| Piezas | 310 |
| Minifiguras | 3 |
Minifiguras
Minifiguras
Los innumerables personajes de los Minions han aparecido a lo largo de las anteriores películas de Despicable Me y Minions, aunque Otto es nuevo y aparece de forma destacada durante los tráilers de Minions: The Rise of Gru. Esta figura parece notablemente distintiva al lado de sus colegas, ya que mide tres tacos de diámetro y, por lo tanto, presenta unas proporciones inusuales, pero lleva el familiar mono azul.
La banda de doble molde y los azulejos redondos impresos de 1×1 que crean las gafas también coinciden con los demás Minions. Estos ojos decorados transmiten una gran personalidad, en combinación con la sonrisa impresa de Otto. Sin embargo, mi característica favorita es sin duda el pequeño componente de pelo que incluye una excelente textura y que podría resultar sorprendentemente versátil en otros lugares.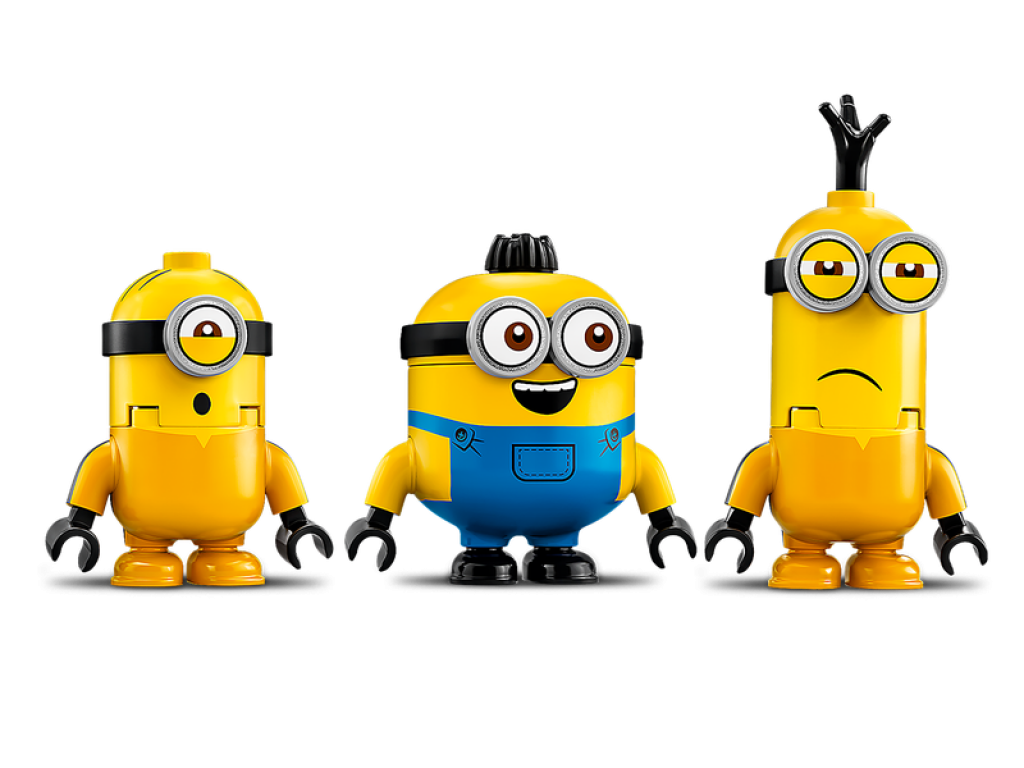 Kevin aparece de forma más constante durante la serie, luciendo varios trajes para adaptarse a diferentes situaciones. Este traje de combate, de color naranja amarillento, recuerda al atuendo de Bruce Lee en Game of Death y al traje clásico de La Novia en Kill Bill, sucediendo a Harumi de 71708 Gamer's Market en ese sentido. El diseño es sencillo, aunque ambos brazos están decorados con rayas negras.
Exactamente la misma ropa es la que lleva Stuart, con esas rayas que continúan en las piernas. Sin embargo, el componente de la cabeza es exclusivo, ya que contrasta con la forma de Kevin y presenta una expresión de sorpresa que difiere de otras figuras de Stuart. El ojo decorado también es exclusivo, a pesar de parecer casi idéntico a un elemento con el 75547 Minion Pilot in Training y el 75551 Brick-Built Minions and their Lair.
Los ojos entrecerrados de Kevin también son nuevos, acordes con esta situación de combate. Su expresión decidida y su mechón de pelo negro parecen excelentes, sobre todo porque este elemento incluye puntos de sujeción que coinciden con los tallos de las plantas de LEGO. Ninguna de las dos minifiguras cuenta con accesorios, pero hay varias armas disponibles para recoger en el templo.
El modelo completo
El modelo completo
El subterfugio es a menudo importante para las operaciones de los Minions, e imagino que los personajes son aquí un templo, tras disfrazarse de participantes en el festival. Por ello, se incluye un impresionante modelo de danza del dragón, con los colores rojo y naranja amarillento de la Danza del Dragón 80102. A pesar de su modesto tamaño, este dragón incluye algunos detalles brillantes, especialmente en la cabeza.
Las hojas doradas y las ranas forman acentos decorativos y me encanta la boca que se abre y que revela unos sencillos dientes en su interior. Las pegatinas aplicadas a lo largo del cuerpo también son excelentes, y recuerdan aún más al mencionado modelo de 2019. Además, el dragón integra tres rótulas que proporcionan una amplia articulación y las barras de 6L que hay debajo son perfectas para sostener esta marioneta.
La estructura del templo que lo acompaña también parece notablemente opulenta, casi a la altura de la reciente gama del Festival Tradicional Chino en este aspecto. Aprecio el esquema de colores brillantes y la arquitectura realista en combinación con los rasgos más caricaturescos, acordes con el universo de Despicable Me. La presencia de varios plátanos satisface este requisito.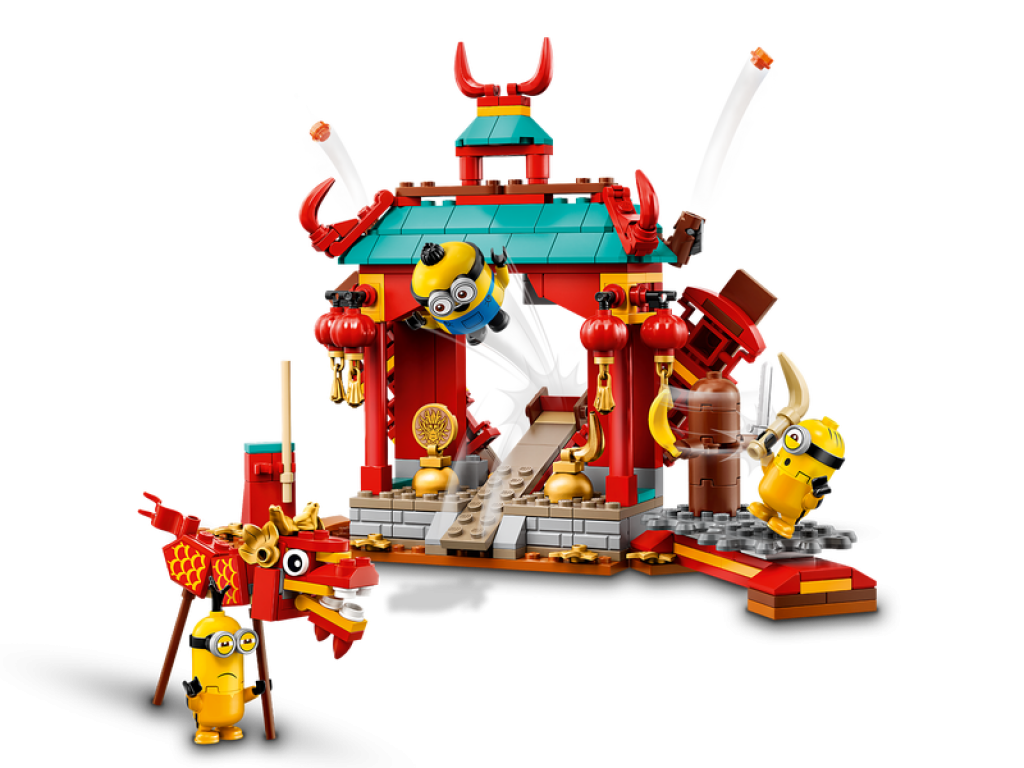 Las placas de color naranja oscuro forman la base del edificio, incluyendo una placa de 6×12 que es totalmente nueva y una placa de 6×6 que sólo aparece en el 21167 El bazar. Las hojas doradas dispersas también tienen un aspecto maravilloso y en su interior se han colocado dos intrigantes tesoros. El medallón decorado y el plátano dorado metálico son magníficos y puedo imaginar qué artículo puede atraer a los Minions.
Además, los elementos de la valla roja que crean una atractiva pared texturizada son razonablemente infrecuentes, ya que sólo aparecen en otros dos juegos. Este diseño tiene un aspecto magnífico y los intrincados detalles continúan en el tejado, donde los plátanos rojos representan los remates decorativos. Estas piezas sólo están disponibles aquí y contrastan maravillosamente con el tejado verde azulado. Los tradicionales faroles rojos también tienen un bonito aspecto, con borlas de oro perlado colgando debajo.
En el techo se han colocado dos tiradores de tachuelas que forman rudimentarios lanzadores de fuegos artificiales. Por lo demás, la parte trasera parece relativamente desordenada, con alfileres Technic azules cerca de la base y elementos macarrones de color gris claro que parecen incongruentes. Sin embargo, estas piezas son vitales para la función principal y centrar el detalle en la parte delantera fue definitivamente la decisión correcta.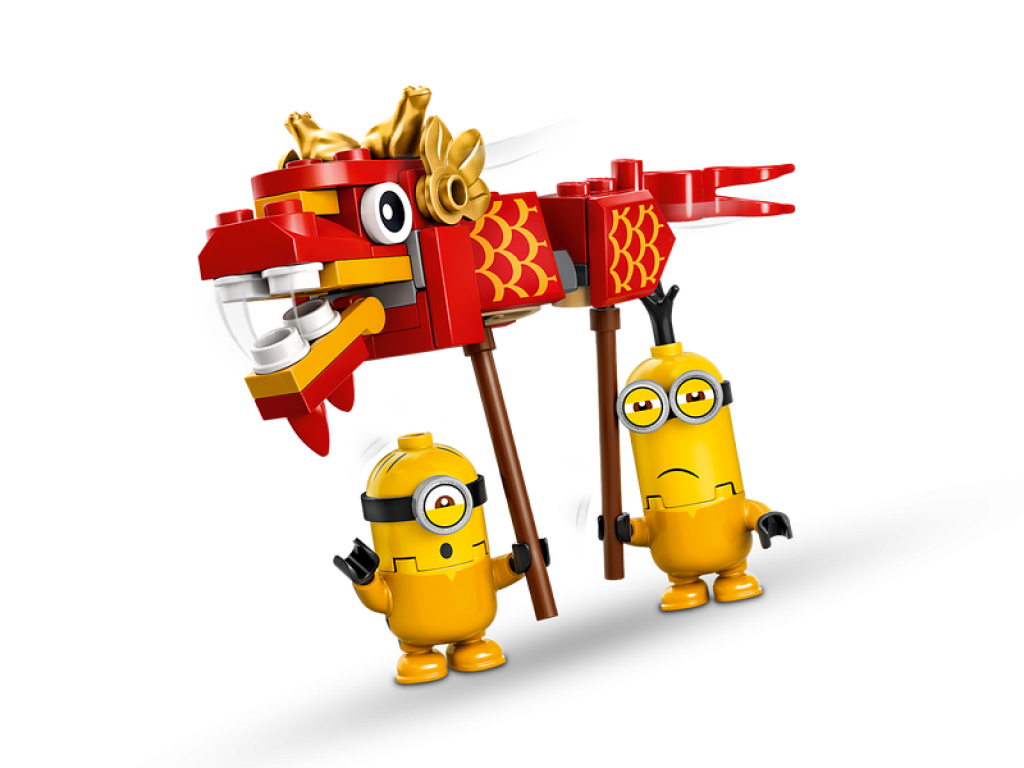 Al pulsar la placa de color tostado oscuro que se proyecta, los mencionados paneles de la pared se abren y lanzan a los personajes que se encuentran al otro lado. Esta función funciona con eficacia, aunque Otto puede desprenderse inadvertidamente del lanzador porque no hay puntos de sujeción. El espacio bajo la placa saliente también resulta algo incómodo y creo que toda esta estructura podría haberse disimulado mejor.
Mientras que el templo tiene un aspecto excepcionalmente elaborado, el estante de armas adyacente parece soso. Sin embargo, aprecio el esquema de color consistente entre las diferentes secciones y estas armas de color canela son espléndidas, integrando un plátano canela. Este elemento sólo ha aparecido de otra manera en el 4767 Harry and the Hungarian Horntail y en el 70435 Newbury Abandoned Prison.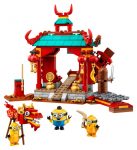 75550 Duelo de Kung Fu
¡Ofertas!
Lego Minions
Los engranajes splat de color gris azulado se colocan en el lado opuesto, creando dos plataformas interconectadas. Girar una plataforma hace que la otra se mueva, lo cual es de agradecer, aunque creo que incluir un dial para controlar estos engranajes podría haber sido beneficioso. Sin embargo, el muñeco de entrenamiento parece razonable, ya que sostiene una espada y otro plátano.
Conclusión y reflexiones generales
Conclusión y reflexiones generales
El 75550 Minions Kung Fu Battle ha superado mis expectativas, presentando un detalle considerable junto con numerosos elementos interesantes. Los diferentes plátanos parecen especialmente adecuados para estos Minions y puedo prever que los platos de color naranja oscuro también resulten útiles. Además, creo que este vibrante modelo podría adaptarse para complementar la gama del Festival Tradicional Chino.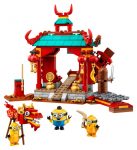 75550 Duelo de Kung Fu
¡Ofertas!
Lego Minions
Lamentablemente, una calidad tan impresionante se traduce en un precio elevado de 34,99 euros. En mi opinión, me parece demasiado caro, sobre todo porque el templo es relativamente insustancial. Sin embargo, se ofrece una atractiva selección de Minions y el modelo es agradable. Sin embargo, aconsejaría esperar a un descuento antes de considerar esta compra.

75550 Duelo de Kung Fu – Minions