LEGO ha desarrollado productos con varios duelos con sable láser, incluida la peligrosa batalla entre Ahsoka Tano y Maul. Por ello, el impresionante 75310 Duelo en Mandalore ha despertado una notable expectación, ya que ofrece a los dos famosos combatientes del encuentro.
Estas minifiguras son, sin duda, lo más destacado de este set, sobre todo porque Maul está disponible en exclusiva. Los modelos que las acompañan parecen menos interesantes, por desgracia, aunque me parece bien la bóveda mandaloriana que alberga a Maul. Además, el trono integra algo de arquitectura mandaloriana.
Las mejores ofertas para 75310 Duelo en Mandalore
Las mejores ofertas para 75310 Duelo en Mandalore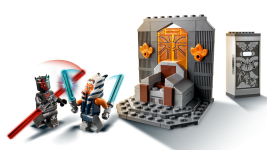 75310 Duelo en Mandalore
¡Ofertas!
Lego Star Wars
| DETALLES | |
| --- | --- |
| Numero | 75310 |
| Nombre | Duelo en Mandalore |
| Tema | Star Wars |
| Lanzamiento | 2021 |
| Piezas | 147 |
| Minifiguras | 2 (1 exclusiva del set) |
Minifiguras
Minifiguras
Tras su anterior aparición en el 75283 Armoured Assault Tank (AAT), Ahsoka Tano vuelve aquí y la minifigura no ha cambiado. Por lo tanto, se mantienen varias cualidades de la figura anterior, incluyendo una decoración precisa en el torso de Ahsoka. Esto incluye detalles en oro metálico y plata metálica que lucen maravillosamente, continuando a través de las caderas y las piernas.
La cabeza de doble cara presenta expresiones sonrientes y decididas que lucen magníficas junto a los precisos tatuajes faciales. Los montrales de Ahsoka también están adornados con gran detalle. Sin embargo, este elemento fue diseñado originalmente para Shaak Ti, por lo que el lekku parece demasiado largo para Ahsoka. Por lo tanto, se habría agradecido la introducción de un nuevo componente en este caso, sobre todo porque el elemento podría volver a ser necesario para una minifigura inspirada en el diseño de acción real del personaje.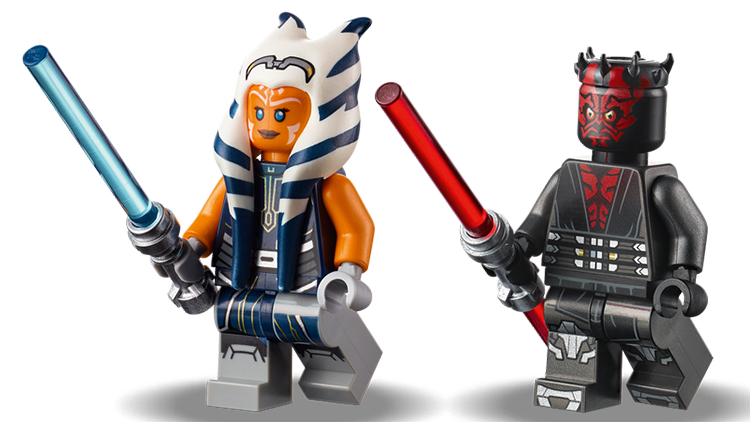 Desde 1999 se han lanzado numerosas representaciones de Maul y aquí hay otro ejemplo único, basado en la última temporada de The Clone Wars. Esta minifigura presenta un gran detalle, especialmente en el torso y las piernas mecánicas. Me encantan los diseños en plata metálica, que demuestran una precisión extraordinaria en comparación con el personaje de la pantalla.
Además, las correas metálicas que rodean la cintura de Maul tienen un aspecto magnífico, e incluso integran pequeños reflejos amarillos que coinciden con el material original. La cabeza también incluye una bonita decoración, que regresa de la minifigura de Amanecer Carmesí producida en 2020. Una expresión de enfado podría haber sido apropiada aquí, aunque los intrincados tatuajes de Maul lucen magníficos, como es normal.
Se proporcionan los sables láser gemelos de Ahsoka y el arma de doble hoja de Maul. Algunas personas han expresado su sorpresa por el hecho de que el sable láser de Maul carezca de la empuñadura alargada introducida con Monkie Kid, que podría haber sido efectiva aquí. Sin embargo, el equipo de diseño de Star Wars ha explicado que no se habló de ello porque el componente de la empuñadura existente se considera sinónimo de sable láser.
El modelo completo
El modelo completo
La resplandeciente sala del trono mandaloriano aparece con frecuencia a lo largo de Star Wars: The Clone Wars y en ella tienen lugar varios duelos de sables láser memorables. Este modelo se centra en el trono e incorpora varios detalles auténticos, a pesar de su modesto tamaño. Las formas angulares que rodean el trono se asemejan al material original y aprecio la combinación de colores.
Sin embargo, los reposabrazos son extremadamente grandes en comparación con el trono en pantalla y el respaldo debería estar integrado en la ventana. Estos compromisos son ligeramente decepcionantes, pero probablemente eran necesarios para acomodar el blaster que se encuentra bajo el asiento. Dudo que la duquesa Satine lo hubiera aprobado, aunque La amenaza fantasma revela que el trono de Naboo también contiene blasters ocultos.
Unas hojas naranjas decoran la pared, representando las luminarias que están presentes en la pantalla. Su forma consigue una gran precisión y estas piezas complementan la ventana trans-anaranjada que hay entre ellas. Dos pegatinas adornan la ventana, con el característico patrón mandaloriano que aparece en toda la sala del trono en la pantalla.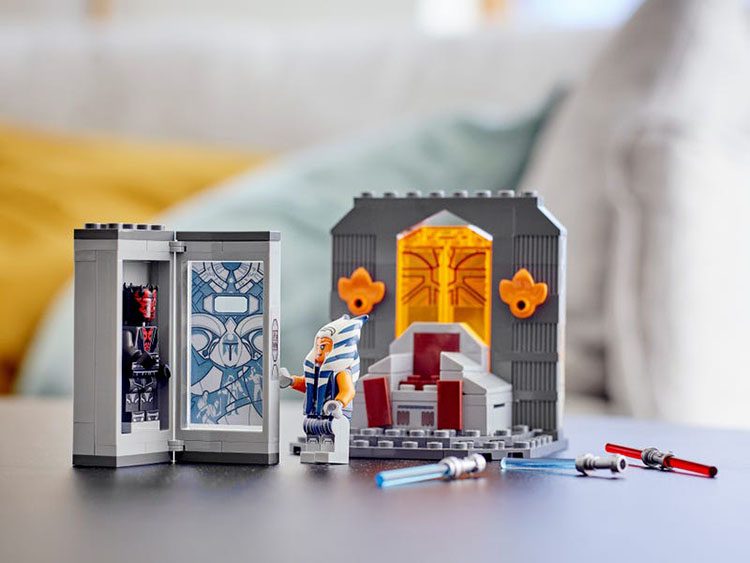 Por desgracia, esta ventana debería mostrar un diseño floral. Aunque eso habría sido bienvenido, entiendo el deseo de LEGO de capturar la distintiva decoración angular asociada a Mandalore. Además, la función de romper la ventana es excelente y se corresponde con la serie animada, cuando Maul rompe esta ventana.
Los mandalorianos han luchado en numerosas guerras contra los Jedi, empleando bóvedas seguras para albergar a los prisioneros que manejan la Fuerza. Una de estas cámaras se utiliza para encarcelar a Maul y esta interpretación tiene un aspecto fantástico, a pesar de consistir principalmente en marcos básicos de 1x4x6. Afortunadamente, una impresionante pegatina adorna la parte delantera, con un intrincado trabajo artístico y mostrando las minifiguras encarceladas a través de la estrecha ventana.
Al abrir la puerta se ve que hay espacio para Maul en el interior, aunque por lo demás la cámara está completamente vacía. La celda original incluye resaltes rojos alrededor del prisionero, pero recrearlos habría requerido pegatinas adicionales. Por esa razón, estoy impresionado con este diseño y el panel de control pegado en el lateral también incluye detalles atractivos.
Conclusiones finales
Conclusiones finales
Ahsoka Tano y Maul son sin duda lo más destacado de la 75310 Duelo en Mandalore y estas minifiguras son excelentes. Las intrincadas piernas de Maul son especialmente impresionantes y Ahsoka también se compara favorablemente con su homóloga animada, aunque un elemento montral ajustado habría mejorado aún más esta popular minifigura.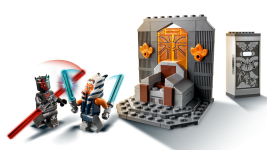 75310 Duelo en Mandalore
¡Ofertas!
Lego Star Wars
El entorno de la sala del trono ha superado mis expectativas, captando varios detalles reconocibles dentro de su limitado espacio. Además, la presencia de funciones variadas es magnífica y me encanta la bóveda mandaloriana, especialmente con Maul asomando por su ventana. El precio de 19,99 euros parece notablemente caro en función del tamaño de estos modelos, aunque el atractivo de las minifiguras de Ahsoka y Maul sigue siendo convincente.

75310 Duelo en Mandalore – Star Wars