El set 75267 Pack de Combate: Mandalorianos ha sido anunciado recientemente y ha suscitado una respuesta sorprendente. Las minifiguras tienen un aspecto magnífico y la moto de combate asociada también parece atractiva, en consonancia con el anterior 7914 Mandalorian Battle Pack y con Star Wars: The Clone Wars.
Estos personajes fuertemente blindados no son necesariamente los más apropiados para montar un ejército, dada su variada vestimenta. Sin embargo, su calidad individual es brillante y creo que este interesante Battle Pack debería ser extraordinariamente popular, basándose en las imágenes oficiales.
Las mejores ofertas para 75267 Pack de Combate: Mandalorianos
Las mejores ofertas para 75267 Pack de Combate: Mandalorianos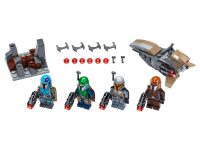 75267 Pack de Combate: Mandalorianos
¡Ofertas!
Lego Star Wars
| DETALLES | |
| --- | --- |
| Numero | 75267 |
| Nombre | Pack de Combate: Mandalorianos |
| Tema | Star Wars |
| Lanzamiento | 2020 |
| Piezas | 102 |
| Minifiguras | 4 (3 exclusivas del set) |
Minifiguras
Minifiguras
Se suministran cuatro coloridos guerreros mandalorianos, que se corresponden vagamente con los personajes de The Mandalorian. Estas dos minifiguras son presumiblemente femeninas, por el inusual diseño de sus viseras, que reflejan a Bo Katan de Star Wars: The Clone Wars. Cada casco incorpora una vestimenta de batalla realista y aprecio especialmente sus distintivos esquemas de colores brillantes.
Colores similares decoran la armadura del pecho. Sin embargo, estos personajes tienen un aspecto adecuadamente robusto en mi opinión, como si se hubieran sustituido partes de su atuendo. Los pliegues tienen un aspecto fantástico y me gusta que algunos tonos mandalorianos conocidos, como el azul arena y el azul oscuro, se hayan incorporado de forma novedosa. Las capas negras y marrones oscuras que las acompañan también tienen un aspecto maravilloso.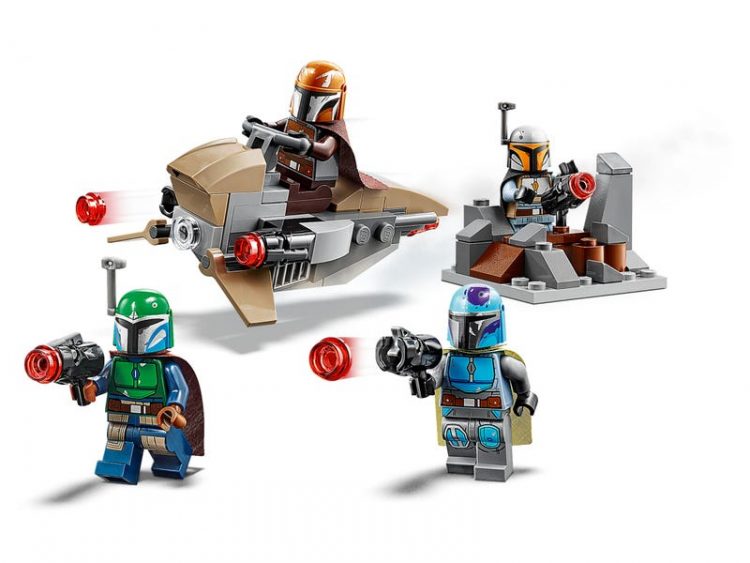 El tercer guerrero mandaloriano está decorado con colores más apagados. Sin embargo, su casco naranja oscuro es impresionante, con reflejos plateados metálicos y patrones que recuerdan a los Ojos de Jaig que ya han aparecido en el Capitán Rex. Por desgracia, las piernas de color marrón oscuro no están decoradas, por lo que contrastan con las otras minifiguras, aunque la armadura del torso de este mandaloriano está muy bien detallada.
La cuarta minifigura mandaloriana es mi favorita. Su armadura azul oscuro tiene un aspecto magnífico, especialmente en combinación con los diseños morados y los daños realistas en el casco. También estoy encantado con la armadura pectoral que cubre ambos lados del torso y la protección de las piernas, que no coincide, me parece perfecta. Este resuelto guerrero también luce una capa verde oliva.
Debajo de cada casco hay cabezas negras, que perpetúan la atmósfera misteriosa que rodea a la cultura mandaloriana. Las minifiguras empuñan pistolas de tachuelas, lo que resulta algo decepcionante dado su variado arsenal en pantalla, aunque estas armas proporcionan un gran valor de juego y los puntos de sujeción parecen ideales para su modificación.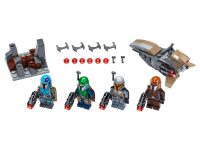 75267 Pack de Combate: Mandalorianos
¡Ofertas!
Lego Star Wars
El set completo
El set completo
Las naves en picado de clase Balutar se introdujeron durante Star Wars: The Clone Wars y aparecieron en el 7914 Mandalorian Battle Pack. Esta nave comparte numerosas similitudes con su predecesora, incluidas las banderas angulares que forman las aspas estabilizadoras, pero su esquema de colores es distintivo y el modelo actualizado parece significativamente más sustancial. Creo que esto puede atribuirse a su mayor anchura.
Los tiradores se sitúan en ambos flancos y me gustan las rejillas del radiador conectadas debajo de estas armas. Además, el conductor puede sentarse cómodamente detrás del manillar. El motor parece bastante sencillo, pero esta pieza trans-roja tiene un aspecto razonable y las diferentes inclinaciones de color gris azulado claro y bronceado oscuro hacia la parte trasera transmiten la edad de este vehículo.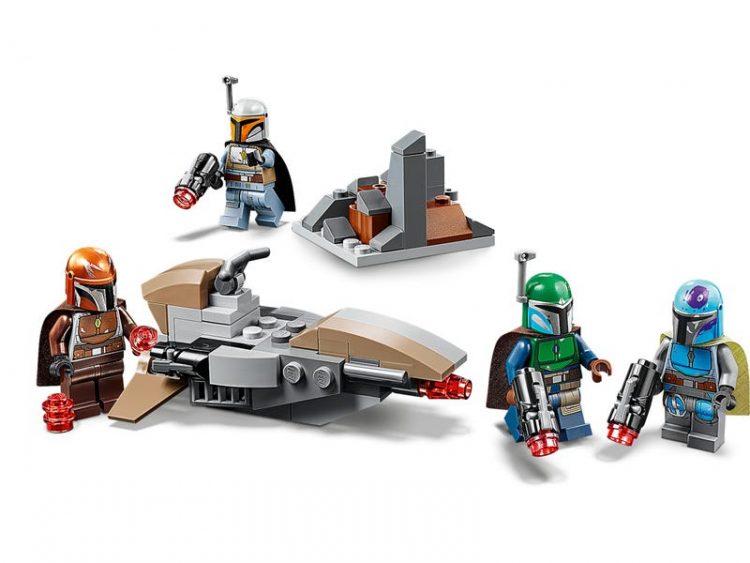 Por desgracia, el modelo secundario parece bastante soso. Estos escombros incorporan una textura interesante y los colores son totalmente apropiados, pero habría sido preferible algo más identificable, siguiendo la torreta del 7914 Mandalorian Battle Pack. Sin embargo, los escombros ayudan a comunicar el entorno ruinoso de los mandalorianos.
Al dar la vuelta a la estructura, se descubre un espacio para que las minifiguras defiendan su posición. Aquí se pueden acoplar dos tiradores, lo que permite a un guerrero mandaloriano subir a la moto de agua mientras otro se pone a cubierto y vigila que no se acerquen los enemigos. Sin embargo, este modelo es excepcionalmente aburrido en mi opinión.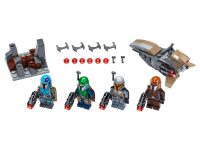 75267 Pack de Combate: Mandalorianos
¡Ofertas!
Lego Star Wars
Conclusiones finales
Conclusiones finales
Las minifiguras son sin duda la característica más importante de cualquier Battle Pack y el 75267 Pack de Combate Mandalorianos incluye cuatro magníficos ejemplos. Cada minifigura está excepcionalmente detallada y sus coloridas armaduras realmente destacan, especialmente al lado de los modelos que las acompañan, en los que predominan los tonos terrosos. Además, contrastan con el mandaloriano homónimo del 75254 Asaltador AT-ST.
Me ha impresionado esta moto de asalto de clase Balutar, pero los escombros son bastante decepcionantes. No obstante, la selección de minifiguras es maravillosa y no dudaría en recomendar este Battle Pack, incluso a cualquiera que tenga un interés limitado en la serie de televisión The Mandalorian o en la gama reciente de Star Wars.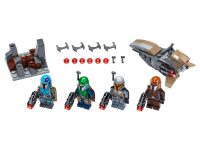 75267 Pack de Combate: Mandalorianos
¡Ofertas!
Lego Star Wars
Espero que esta reseña os haya resultado informativa. Háganos saber si le gusta este artículo y comparta su opinión sobre el set en los comentarios a continuación.

75267 Pack de Combate: Mandalorianos – Star Wars