El amenazante Trexler Armoured Marauder fue introducido durante The Mandalorian, combinando armadura pesada y armas. Este vehículo comparte varias similitudes con el destacado Transporte de Tropas Imperial, asegurando la uniformidad dentro del formidable ejército imperial.
Numerosas funciones distinguen al 75311 Imperial Armoured Marauder de otros modelos comparables, especialmente teniendo en cuenta la escala. Además, el vehículo parece excepcionalmente fiel al material original y proporciona un excelente valor de juego, lo cual es importante, apoyado por una impresionante colección de minifiguras.
Las mejores ofertas para 75311 Merodeador Blindado Imperial
Las mejores ofertas para 75311 Merodeador Blindado Imperial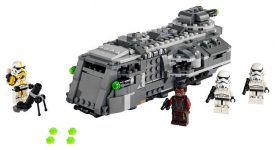 75311 Merodeador Blindado Imperial
¡Ofertas!
Lego Star Wars
| DETALLES | |
| --- | --- |
| Numero | 75311 |
| Nombre | Merodeador Blindado Imperial |
| Tema | Star Wars |
| Lanzamiento | 2021 |
| Piezas | 478 |
| Minifiguras | 4 (4 exclusiva del set) |
Minifiguras
Minifiguras
Greef Karga ya apareció en 75292 The Razor Crest, pero esta minifigura está basada en su aparición durante la segunda temporada de The Mandalorian. Esta cabeza presenta, por tanto, un vello facial más grueso, aunque sólo se ofrece una expresión. No obstante, el diseño es magnífico y el torso y las piernas siguen siendo muy detallados.
Estas túnicas ornamentadas se corresponden con el aspecto actualizado de Karga, que incluye cierres dorados en ambos hombros y amplios detalles en el chaleco. La asimetría también funciona bien, reflejando la propensión de Greef Karga a la acción. Esta minifigura incluye una pistola blaster estándar en lugar de sus anteriores pistolas gemelas, lo que coincide con la segunda temporada.
Moff Gideon envía a numerosos soldados para recuperar a Grogu en Tython, incluido un soldado de asalto de artillería. Estos especialistas en artillería se distinguen por los reflejos amarillos que adornan su armadura y la minifigura capta estos detalles maravillosamente, sobre todo en el casco, donde aparecen detalles brillantes. Por desgracia, la impresión de mi casco está ligeramente descentrada.
Los acentos amarillos continúan en esta minifigura y el exclusivo pauldrón amarillo tiene un aspecto fantástico. Los brazos decorados habrían sido magníficos, aunque creo que el Stormtrooper parece atractivo sin ellos. En su espalda se imprimen algunos proyectiles explosivos, que se corresponden con el personaje en pantalla pero que parecen algo extraños sin ninguna profundidad.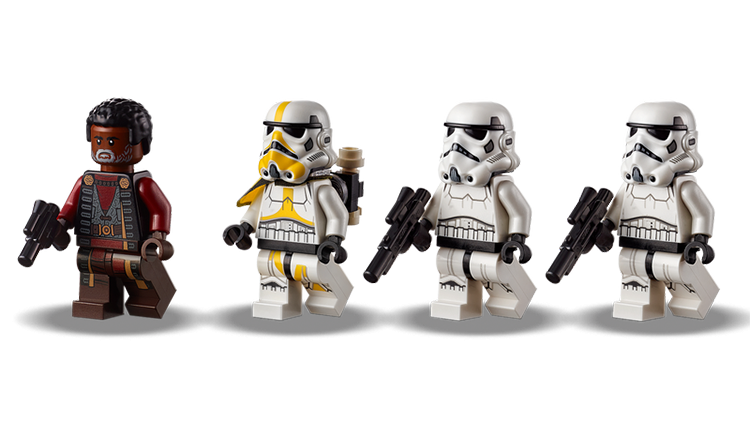 Afortunadamente, también se proporciona una mochila separada que se asemeja mucho a la clásica mochila de supervivencia de los Sandtrooper. Las empuñaduras de los sables láser blancos representan las bombas, mientras que el mortero parece auténtico, a pesar de su sencilla construcción. El arco de disparo puede ajustarse ya que tanto la placa base como el bípode son articulados, lo que refleja el arma original.
También se incluyen dos Stormtroopers estándar. Sus cascos de doble molde han resultado ciertamente controvertidos, pero están excepcionalmente detallados, incluyendo numerosas ventilaciones y otros acentos. Extrañamente, los reflejos grises azulados presentes en el reverso de los cascos de los Stormtrooper no están presentes en el casco del Stormtrooper de Artillería, como se ha demostrado anteriormente.
Aunque los cascos se modificaron significativamente durante 2019, esta armadura ha permanecido constante desde 2014. Los detalles de la sección del vientre parecen especialmente intrincados y el detonador térmico de la espalda parece perfecto, como siempre. La decoración de las piernas también parece razonable, aunque termina de forma bastante abrupta por debajo de las rodillas.
Desde 2020 han aparecido varias cabezas bajo los cascos de los Stormtrooper, que han sustituido a los diseños de los Clone Trooper que se utilizaban anteriormente. En este caso hay dos cabezas completamente nuevas, que tienen un aspecto magnífico, sobre todo porque la Stormtrooper femenina parece muy malvada. A juego con otros soldados, ambas minifiguras están equipadas con rifles blaster.
El modelo completo
El modelo completo
El poderoso Trexler 906 Armoured Marauder, con su armadura y armamento, tiene un aspecto impresionante en forma de LEGO. El modelo mide 20 cm de longitud y tiene una forma magnífica, si se compara con el vehículo original. Además, el exterior parece apropiadamente robusto, combinando elementos de color gris azulado claro y oscuro con gran efecto.
El Trexler Marauder carece de ventanas alrededor de la cabina, y en su lugar presenta estrechos huecos desde los que el conductor puede ver su entorno. Esta interesante característica se reproduce aquí, mientras que los cañones láser de la parte delantera están visibles en la pantalla. Sin embargo, mis detalles favoritos son, sin duda, las baldosas angulares de 2×2 fijadas en cada lado, ya que aparecen formas idénticas en el transporte real.
Se puede acceder fácilmente al interior abriendo los paneles de la parte delantera y del techo, lo que revela el único asiento que hay en el interior. La consola de control impresa está ingeniosamente conectada al panel frontal y este componente sigue siendo bastante infrecuente, ya que sólo aparece en cinco sets anteriores. Sin embargo, el diseño es espléndido y me encanta la facilidad con la que se puede colocar la minifigura conductora en el interior.
Los personajes suben al vehículo a través de las puertas situadas a ambos lados durante The Mandalorian y esas puertas se incluyen aquí. Se abren en dos mitades, lo que refleja el material original, y el espacio entre ellas puede albergar otra minifigura sentada. Esto se agradece, aunque falta un compartimento para las armas y se habría agradecido algún clip.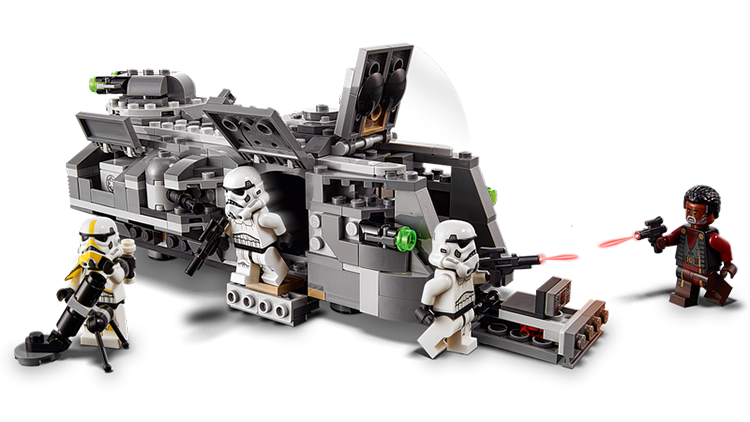 En el techo aparece otra escotilla, aunque este ejemplo es más cosmético que funcional. No obstante, hay espacio suficiente para colocar aquí una minifigura cuando la escotilla está abierta, como si estuviera al mando del transporte. En el interior de esta escotilla hay una importante placa de 1×2 con barandilla lateral que impide que la tapa se cierre demasiado.
Al abrir el panel que hay detrás de esa escotilla se descubre aún más espacio para las minifiguras, con dos asientos más. Esta sección es relativamente inaccesible en comparación con las de la parte delantera, pero colocar las minifiguras en su interior sigue siendo bastante fácil. No obstante, en mi opinión, habría sido beneficioso algún método para eliminar toda esta zona de asientos interiores.
Las secciones que sobresalen en ambos flancos se asemejan mucho al vehículo de la pantalla y me encanta cómo se aprovechan, dando cabida a dos cajas decoradas. Este elemento se introdujo con el 75290 Mos Eisley Cantina y presenta un texto aurebés que dice «CARGO». Además, los cañones láser se sitúan junto a estas cajas de almacenamiento, girando libremente sobre plataformas giratorias de 2×2, lo que a veces resulta irritante.
Cada cañón láser lateral debe incorporar dos cañones, aunque el cañón único presenta una textura excelente. La torreta dorsal, en cambio, incluye cañones de pernos que se integran perfectamente y los visores traseros tienen un aspecto estupendo, a juego con los de la parte delantera. Una vez más, la combinación de piezas de color gris azulado claro y gris azulado oscuro resulta atractiva, con motores de color azul transiluminado a su alrededor.
Al girar los cañones láser externos también se gira la estación de control que se encuentra debajo, ya que están conectados mediante un panel de pared de 5x4x2 transparente. El funcionamiento es notablemente sencillo pero ingenioso, aunque esta torreta no puede girar por completo para evitar que las minifiguras queden atrapadas en su interior. Sin embargo, si se separa el tapón de debajo de la torreta se elimina cualquier restricción.
Conclusiones finales
Conclusiones finales
La apariencia, la funcionalidad y las minifiguras son las consideraciones más importantes para cualquier modelo de Star Wars, desde mi punto de vista. El 75311 Imperial Armoured Marauder satisface definitivamente los tres factores, sobre todo en lo que respecta a las funciones que están absolutamente repletas dentro de este modesto vehículo. Dispone de numerosos asientos para las minifiguras y las torretas giratorias también son divertidas.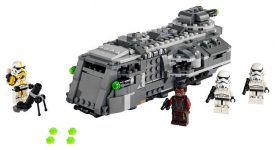 75311 Merodeador Blindado Imperial
¡Ofertas!
Lego Star Wars
Además, la selección de minifiguras es satisfactoria. Greef Karga y el Stormtrooper de Artillería están disponibles en exclusiva aquí, mientras que los Stormtroopers estándar son útiles para poblar el transporte. Por supuesto, el Mythrol habría sido otra fantástica inclusión, pero creo que estas cuatro minifiguras son suficientes, dado el razonable precio de o 39,99 euros. Sin duda, recomiendo esta adición al ejército imperial.

75311 Merodeador Blindado Imperial – Star Wars