Desde el año 2000 se han producido numerosas representaciones del impresionante vehículo de Boba Fett, que varían drásticamente en escala y apariencia. Cada nueva versión ha proporcionado características únicas y el último modelo, la nave estelar de Boba Fett 75312, ofrece una innovación continua.
Este atractivo vehículo es notablemente más pequeño y, en consecuencia, menos costoso que sus equivalentes modernos, igualando a ejemplos como el 75300 Imperial TIE Fighter desde esa perspectiva. Sin embargo, sigue teniendo un gran nivel de detalle y funcionalidad, junto con una impresionante minifigura de Boba Fett basada en el Mandaloriano.
Las mejores ofertas para 75312 Nave Estelar de Boba Fett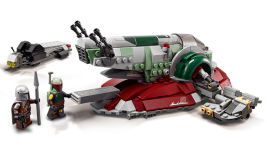 75312 Nave Estelar de Boba Fett
¡Ofertas!
Lego Star Wars
| DETALLES | |
| --- | --- |
| Numero | 75312 |
| Nombre | Nave Estelar de Boba Fett |
| Tema | Star Wars |
| Lanzamiento | 2021 |
| Piezas | 593 |
| Minifiguras | 2 (1 exclusiva del set) |
Minifiguras
Minifiguras
Tras su emocionante reaparición en The Mandalorian, una minifigura actualizada de Boba Fett se ha convertido en algo extremadamente deseable y este diseño tiene un aspecto maravilloso. Al recuperar su famosa armadura, Fett repara los daños y eso se refleja aquí al eliminar los arañazos de plata metálica, al comparar esta minifigura con su detallada predecesora.
Este personaje también presenta una vestimenta más oscura bajo su armadura, desviándose aún más de la minifigura anterior. La inclusión de la tela que se superpone a esta armadura es ciertamente efectiva y aprecio la conservación de ciertos rasgos distintivos, incluido el emblema plateado metálico en el pecho de Boba. Lo ideal sería que el casco y la armadura pectoral mostraran colores coherentes, aunque esta disposición coincide con los diseños anteriores.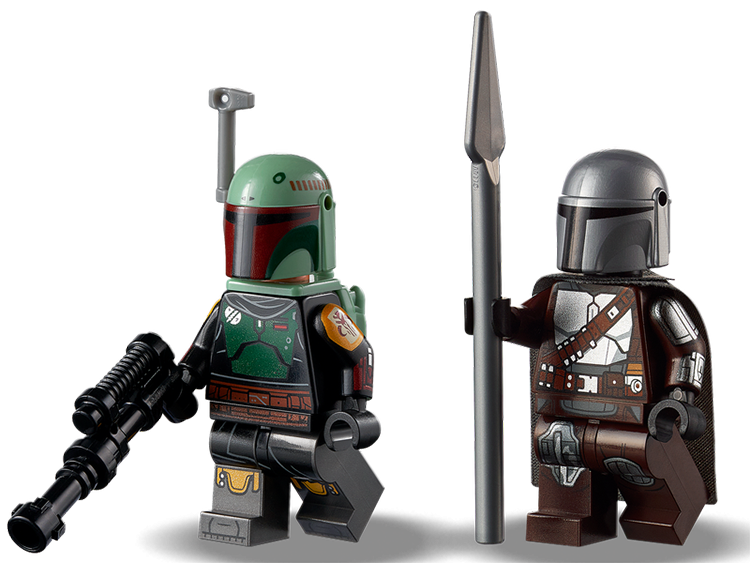 Los dos brazos están adornados con un gran nivel de detalle, lo que garantiza una mayor fidelidad al material original. Din Djarin también incluye brazos impresos y esta minifigura es, en consecuencia, idéntica a la variante de 75299 Trouble on Tatooine, producida durante el mes de enero. El intrincado sello de Mudhorn tiene un aspecto especialmente atractivo y me encanta el lanzador de pájaros silbantes montado en la muñeca de Djarin.
El plateado metálico es el color perfecto para la armadura beskar del mandaloriano, con acentos metálicos que decoran también las bolsas y las correas del torso. Desgraciadamente, el casco plateado perlado resulta incómodo junto a la impresión plateada metálica. Además, me decepcionó bastante la ausencia de una cabeza exclusiva bajo este casco, ya que la cara del personaje ha sido revelada. Sin embargo, la cabeza con cicatrices de Boba tiene un aspecto magnífico.
Boba Fett incluye un jetpack verde arena, mientras que Din Djarin lleva una capa gris azulada oscura. Esto coincide con los mandalorianos de la pantalla, aunque la capa impide a Djarin llevar su propio jetpack, que se omite. Sin embargo, se suministran armas adecuadas con cada personaje, incluyendo la preciada lanza beskar y el distintivo rifle blaster de Boba.
El modelo completo
El modelo completo
El 75222 Traición en la Ciudad de las Nubes contenía un interesante modelo del Esclavo I, que mantenía los detalles de los diseños anteriores al tiempo que reducía el tamaño. Esa creación atrajo una merecida atención y la 75312 Boba Fett's Starship se inspira definitivamente en el modelo anterior, aunque tanto la escala como el detalle han aumentado un poco. La nave resultante parece impresionante.
La comparación de esta versión con la 75243 Slave I – Edición 20º Aniversario y el ejemplo de la 75222 Betrayal at Cloud City revela sus similitudes. El nuevo diseño combina los atributos de esos modelos anteriores, y mide 20 cm de longitud, lo que es mucho más pequeño que el conjunto de 2019. Sin embargo, los detalles se han mantenido intactos, diferenciándose de otros modelos recientes de escala reducida que priman el tamaño razonable sobre los detalles intrincados.
LEGO ha producido varios modelos del Slave I y la réplica del capó redondeado del motor ha resultado a menudo difícil. Esta creación combina varias pendientes de cuña con un efecto razonable y hace un buen uso de los ladrillos de cuña 3×3 que también aparecieron en el modelo anterior. También se aprecia un cierto desgaste de la batalla, que se corresponde con la nave en pantalla.
La rampa de embarque no puede albergar minifiguras. Sin embargo, debajo de la rampa hay un espacio de almacenamiento preciso al que se puede acceder fácilmente, revelando un excelente bloque de carbonita en su interior. El bloque es significativamente más pequeño que el elemento único producido para Han Solo en carbonita, que ha acompañado a varias versiones anteriores del Esclavo I.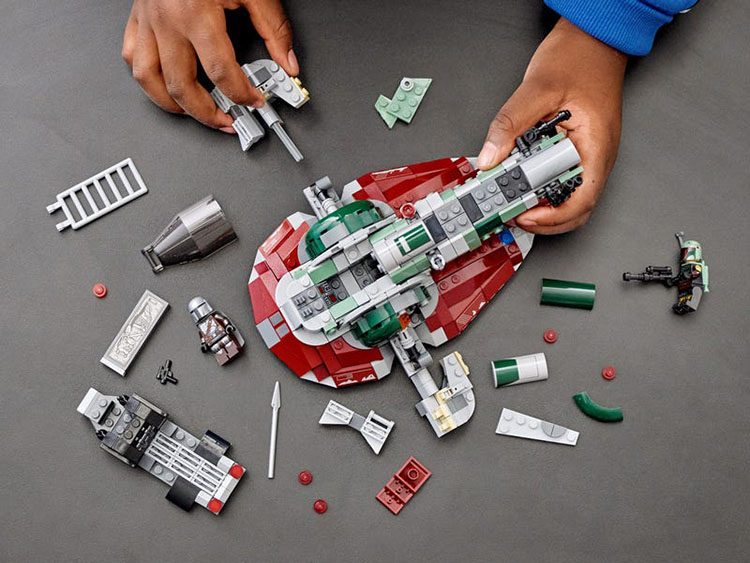 No obstante, este ladrillo de 1x2x5 tiene un aspecto magnífico y complementa al 75292 The Razor Crest, que contiene dos bloques de carbonita similares. Este ejemplo aprisiona a un imponente guardia gamorreano y parece inmediatamente reconocible, a juego con la minifigura correspondiente. Lo ideal hubiera sido que esta pieza estuviera impresa, aunque creo que la pegatina representa una excelente alternativa.
La importante pluma que se extiende por debajo de la cabina tiene aquí un ángulo preciso, en consonancia con otros modelos recientes del Slave I. Además, esta combinación de elementos de color gris azulado claro, verde arena y verde oscuro resulta fantástica cuando se compara con el material de origen, reproduciendo fielmente los colores desiguales de la carrocería que aparecen en la pantalla.
Las pegatinas se utilizan con moderación pero con éxito y esta estructura se siente absolutamente rígida. Sin embargo, los cañones láser son relativamente frágiles, lo cual es lamentable, aunque aprecio su magnífica articulación. No hay armas ocultas en el interior del fuselaje, pero hay dos tiradores de pernos situados debajo de la cabina, donde se encuentran un cañón de iones y un lanzador de misiles de conmoción en el vehículo original.
Los obenques estabilizadores de color verde oscuro protegen los soportes de las alas y su forma curvada parece perfecta, incorporando ladrillos de arco de 3×3 que nunca habían aparecido en este color. La carrocería junto a estos obenques también parece efectiva, recreando la estructura redondeada de la cabina. Creo que el elemento de la capota trans-negra funciona perfectamente a esta escala, aunque hay estrechos huecos cerca de los mencionados tiradores.
La cabina es espaciosa y puede alojar cómodamente a una minifigura en configuración de vuelo o de aterrizaje. El interior incluye una consola de control decorada e incluso hay espacio suficiente para la mochila propulsora de Boba Fett, lo que fue una agradable sorpresa. Sin embargo, el asiento no gira con las alas, a diferencia de las anteriores representaciones de LEGO del Esclavo I.
En su lugar, la minifigura puede colocarse sobre unos tacos vacíos y sentarse para volar. Esta disposición parece incómoda porque las piernas de Boba están especialmente cerca de la capota. Por supuesto, algunos compromisos son inevitables cuando se construyen modelos a esta escala y me impresiona que la minifigura pueda sentarse en dos posiciones diferentes, reflejando el material original.
LEGO proporciona ocasionalmente escaleras de embarque o carros de almacenamiento que acompañan a las naves más grandes. A veces son bienvenidos para jugar, pero la mayoría de los ejemplos son superfluos en mi opinión. El vehículo de embarque suministrado aquí debería ocupar definitivamente esa categoría, sobre todo porque a este famoso transporte se accede mediante una rampa de embarque convencional.
Sin embargo, la razón principal de esta inclusión es, en realidad, apoyar al Slave I en la exhibición, ¡como se demuestra a continuación! La opción de colocar este modelo en configuración de vuelo es bienvenida y me gusta cómo el soporte de exhibición se duplica para el juego, aunque un soporte de exhibición dedicado probablemente podría haber parecido más atractivo y logrado una mejor estabilidad.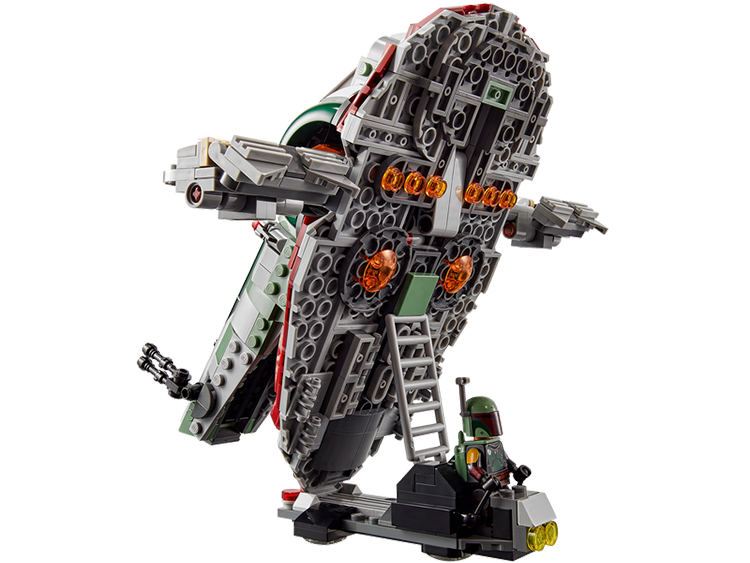 La estructura actual funciona, aunque no hay puntos de conexión seguros entre el soporte de exhibición y esta nave. En su lugar, la carcasa del motor se encaja en la base, mientras que la escalerilla se encuentra debajo de una baldosa invertida de 2×2 de color verde arena. Creo que el diseñador podría haber empleado un clip para sujetar la escalera aquí, mejorando así esta conexión entre el soporte y el vehículo.
Como es normal, las alas giran automáticamente cuando el Slave I pasa de la configuración de aterrizaje a la de vuelo. Este mecanismo es sencillo pero garantiza una precisión absoluta, sin afectar a la apariencia de cada ala. De hecho, los detalles son brillantes, con acentos de color naranja oscuro en el interior de los obenques estabilizadores y los flaps ajustables. Los detalles en color tostado también parecen auténticos.
Si se observa este modelo desde atrás, se aprecian continuos detalles, incluidas las góndolas de los motores, que están correctamente colocadas. Además, el detalle mecánico intrincado está presente, particularmente debajo de la rampa de acceso donde los elementos de balancín 2×2 crean una textura interesante. Sin embargo, la banda superior del motor está notablemente interrumpida por piezas de Technic.
Incluyen un excelente asa de transporte, a juego con la 75243 Slave I – Edición 20º Aniversario, que incorporaba una característica similar. El asa es más bien pequeña pero funciona perfectamente, incluso para manos adultas más grandes. Además, estoy satisfecho por la suavidad con la que este asa se pliega en el fuselaje, a pesar de obstruir una banda de motor precisa en el reverso.
Conclusiones finales
Conclusiones finales
El modelo 75312 Boba Fett's Starship consigue un equilibrio inusual entre escala y detalle, capturando numerosas características importantes de la nave en pantalla y reduciendo al mismo tiempo el tamaño. El modelo resultante ha superado sin duda mis expectativas, aunque me sorprende que se haya centrado en los detalles por encima del tamaño, ya que los modelos 75300 Imperial TIE Fighter y 75301 Luke Skywalker's X-wing Fighter invertían esas prioridades.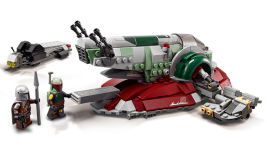 75312 Nave Estelar de Boba Fett
¡Ofertas!
Lego Star Wars
No obstante, este vehículo es atractivo y las minifiguras son igualmente impresionantes. Boba Fett atraerá sin duda una notable atención y me complace que ambos cazarrecompensas mandalorianos incluyan armas decoradas. El precio de 49,99 euros se antoja caro basándose únicamente en la escala de este Esclavo I, aunque creo que su calidad y esas minifiguras justifican el coste.

75312 Nave Estelar de Boba Fett – Star Wars