En la nueva serie de la Saga del Infinito aparecen minifiguras únicas. 76189 Capitán América contra Hydra contiene dos de estas figuras, que definitivamente parecen interesantes y provienen de Avengers: Age of Ultron. En consecuencia, se aprecian magníficas mejoras.
La motocicleta que la acompaña parece especialmente sencilla, lo que refleja la recomendación de edad para 4+. Sin embargo, creo que este modelo tiene un aspecto razonable y se suministran varios elementos inusuales. Además, las minifiguras por sí solas pueden ser suficientes para interesar a los coleccionistas de Marvel Super Heroes, sobre todo teniendo en cuenta el modesto coste de 8,99 libras o 9,99 dólares.
Las mejores ofertas para 76189 Capitán América contra Hydra
Las mejores ofertas para 76189 Capitán América contra Hydra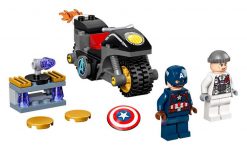 76189 Capitán América contra Hydra
¡Ofertas!
Lego Marvel
| DETALLES | |
| --- | --- |
| Numero | 76189 |
| Nombre | Capitán América contra Hydra |
| Tema | Marvel |
| Lanzamiento | 2021 |
| Piezas | 49 |
| Minifiguras | 2 (2 únicas en este set) |
Las minifiguras del Capitán América han cambiado desde que la gama Avengers: Age of Ultron, ahora cuentan con un arnés extraíble. Este componente muestra una decoración auténtica, con alas decorativas en cada lado. La cabeza de doble cara que hay debajo también tiene un aspecto excelente, e incluye una correa impresa que complementa el casco independiente.
El torso parece similar a su homólogo de 2015, en comparación. Este diseño ha permanecido consistente, con sólo sutiles refinamientos en la estrella plateada metálica del pecho del Capitán América y detalles mejorados en su cinturón marrón rojizo. Por desgracia, las piernas siguen siendo lisas, lo que sin duda resta valor a la minifigura, aunque aprecio los precisos guantes de color rojo oscuro.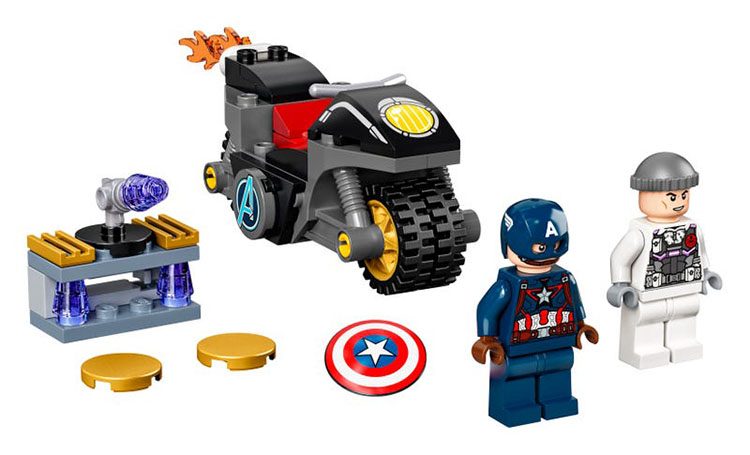 Se incluye un elemento alternativo de pelo de color turrón medio para sustituir el casco. La cara sonriente de Steve Rogers tiene un aspecto razonable y el personaje empuña su famoso escudo impreso, como es normal. Por desgracia, la decoración de mi escudo está descentrada, así que espero que este problema no se extienda demasiado, ya que el error es notable.
Aunque las alteraciones con respecto al Capitán América son relativamente menores, aparte de su gorro, el Agente de Hydra apenas se parece a su predecesor. Esta minifigura tiene un aspecto atractivo, con un camuflaje de nieve realista que parece perfecto para el entorno de Sokovia. Lo ideal sería que estos diseños continuaran en el torso y las piernas, pero la armadura del cuerpo incluye fantásticos detalles.
Me impresiona especialmente el patrón pixelado bajo la armadura pectoral del soldado, a juego con los guantes y el gorro de punto. Además, el siniestro símbolo de Hydra decora ambos lados del torso y la expresión facial de la minifigura parece apropiadamente malvada, tras sus dos apariciones anteriores con un libro de referencia de Harry Potter y el AT-AT 75288.
El modelo completo
El modelo completo
El Capitán América emplea con frecuencia motocicletas durante las misiones y este diseño se inspira libremente en el vehículo que aparece en Vengadores: La era de Ultrón. Los colores negros se corresponden con la Harley-Davidson de la pantalla y me gustan estas proporciones, que hacen un gran uso de los elementos destinados a las motocicletas 4+. Este chasis se introdujo en el 76172 de Spider-Man y Sandman Showdown, pero parece más efectivo aquí.
El vehículo mide casi 9 cm de longitud, sin contar las llamas trans-anaranjadas. A pesar de ser relativamente grande al lado de las minifiguras, esta es en realidad una de las motos más pequeñas de los Superhéroes y se beneficia de ese tamaño limitado en mi opinión. El Capitán América no parece ridículo cuando lo monta, a diferencia de ciertas creaciones anteriores que han abrumado a la minifigura.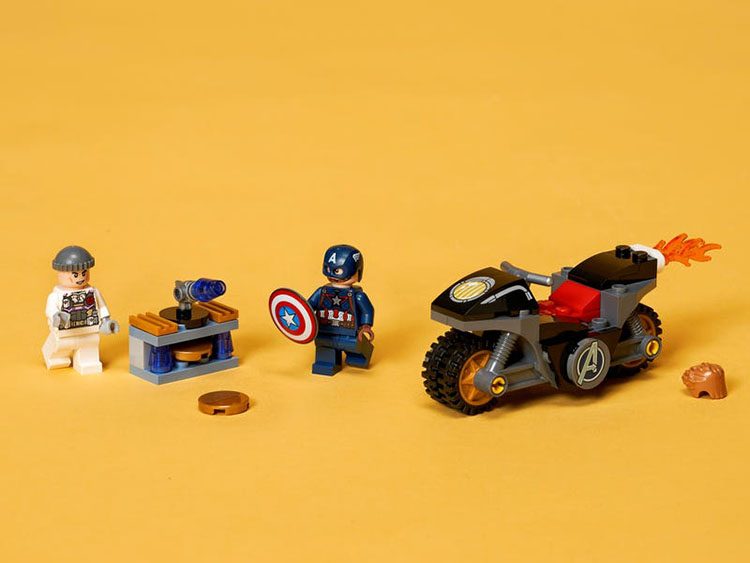 Los elementos impresos son siempre una característica atractiva de los conjuntos 4+ y esta motocicleta integra un talud de cuña decorado de 4×3, mostrando un faro amarillo. La forma parece atractiva aquí y también me gustan los emblemas impresos de los Vengadores en cada flanco. Además, el asiento rojo destaca muy bien sobre la carrocería apagada, proporcionando un amplio espacio para el Capitán América.
En la parte trasera se han colocado dos llamas trans-anaranjadas que denotan los escapes. El componente blanco que sustenta estas llamas tiene un aspecto estupendo y las nuevas e interesantes ruedas están disponibles aquí. Los neumáticos no pueden extraerse de sus cubos dorados, lo que parece poco habitual, reflejando evidentemente la recomendación de edad joven. Las clavijas amarillas de Technic tampoco son habituales, ya que regresan del 76172 Spider-Man y Sandman Showdown.
Vengadores: Age of Ultron presenta a los Vengadores mientras desmantelan la red de bases de Hydra, donde se utiliza la tecnología Chitauri. Por ello, este lanzadiscos cuenta con piezas de color oro perlado y transpúreo que distinguen a las armas Chitauri. Afortunadamente, el arma situada en la parte superior puede extraerse y ser llevada por separado por el agente de Hydra.
Conclusiones finales
Conclusiones finales
76189 Captain America and Hydra Face-Off fue desarrollado para niños pequeños y definitivamente parece apropiado para ese público. Ambos modelos son fáciles de montar y brillantes para jugar, sin comprometer demasiado su aspecto. Sin embargo, las minifiguras únicas son sin duda lo más destacado, ya que ambas tienen un aspecto maravilloso.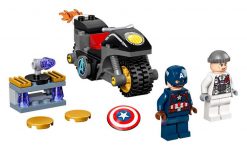 76189 Capitán América contra Hydra
¡Ofertas!
Lego Marvel
El Capitán América combina las mejores cualidades de los diseños anteriores y los modernos, mientras que el Agente de Hydra consigue una precisión mucho mayor que su equivalente de 2015. Por supuesto, una versión completamente diferente del Capitán América, quizás inspirada en Capitán América: El Soldado de Invierno, habría sido aún mejor. No obstante, este pequeño conjunto ha superado mis expectativas.

76189 Capitán América contra Hydra – Marvel