En 2017 se cumple el décimo año del tema y este hito se celebra con el lanzamiento de 10255 Gran Plaza de Lego Creator. El set contiene 4002 piezas y es, por lo tanto, el mayor Edificio Modular hasta la fecha, así como uno de los más impresionantes en base a la reacción excepcionalmente positiva que tuvo su anuncio en octubre.
Los edificios modulares ofrecen estructuras espectaculares, técnicas de construcción brillantes y una tremenda selección de piezas diferentes que representan tanto los principios fundamentales de los productos Lego como los aspectos más avanzados de su diseño en la última década.
¡Sigue leyendo!
Las mejores ofertas para 10255 Gran Plaza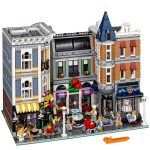 10255 Gran Plaza
¡Ofertas!
Lego Creator Expert
| DETALLES | |
| --- | --- |
| Numero | 10255 |
| Nombre | Gran Plaza |
| Tema | Creator Expert |
| Lanzamiento | 2017 |
| Piezas | 4002 |
| Minifiguras | 9 (8 exclusivas) |
10255 Gran Plaza: Caja y contenido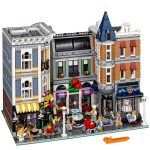 10255 Gran Plaza
¡Ofertas!
Lego Creator Expert
La caja es mucho más grande que la de cualquier edificio modular anterior y muestra el modelo sobre un fondo soleado con el logotipo de Creator Expert en la esquina. Se ha diseñado un icono único del décimo aniversario para el embalaje, que aparece tanto en la parte delantera como en la trasera de la caja, así como en la portada del manual de instrucciones.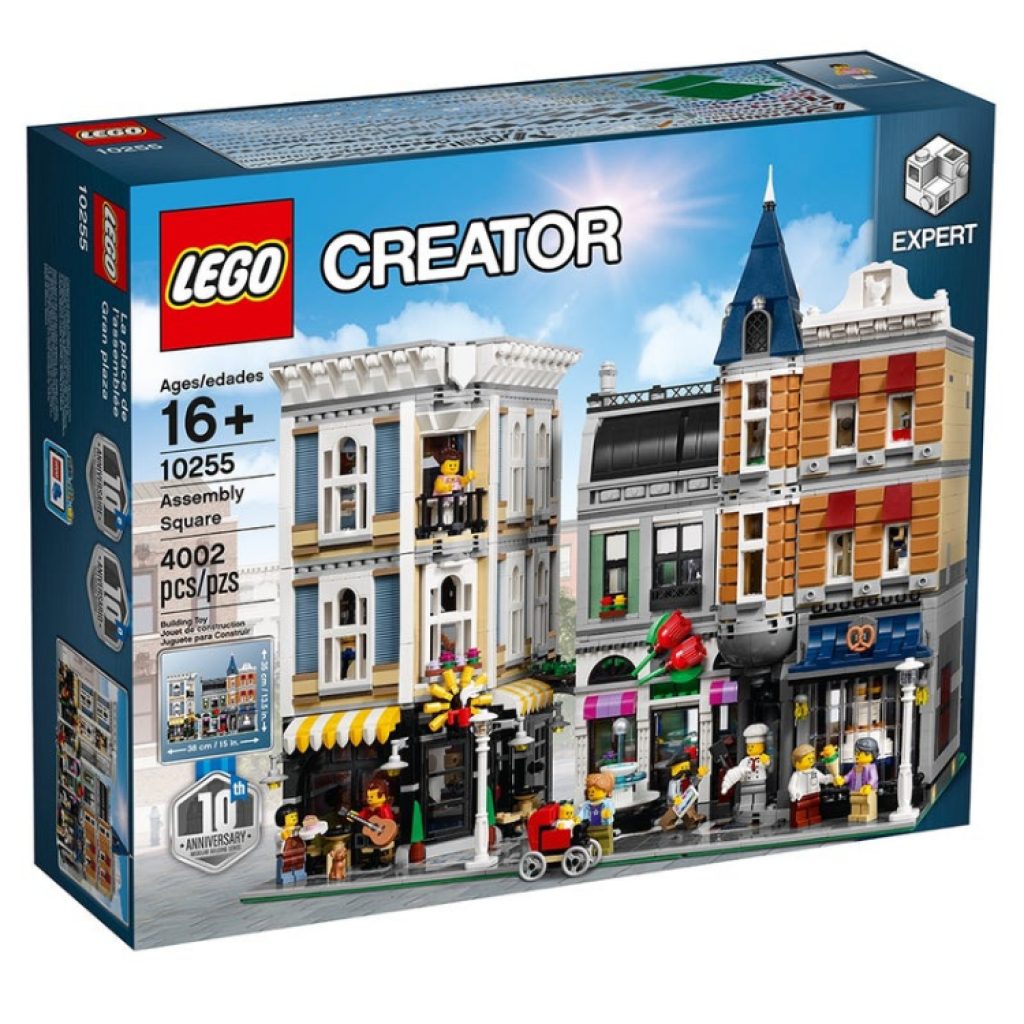 La parte trasera de la caja muestra muchos de los detalles que se pueden explorar y muestra los suelos desmontados para revelar un amplio interior. El 10251 Brick Bank y el 10246 Detective's Office se muestran a escala junto al 10255 Gran Plaza y es evidente que este set es mucho más sustancial que cualquiera de sus predecesores.
La caja contiene 34 bolsas divididas en seis números, así como una placa base de 32×32, una placa base de 16×32, una placa de 8×16 y un enorme manual de instrucciones de 308 páginas.
10255 Gran Plaza: Minifiguras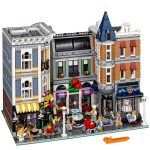 10255 Gran Plaza
¡Ofertas!
Lego Creator Expert
Se incluyen ocho minifiguras y un bebé. Todas comparten la misma cara sonriente y se dividen entre las que están diseñadas para cumplir un papel específico y las que son un poco más genéricas. El embalaje sugiere que la mujer de la derecha de la imagen inferior es una madre que ocupa un pequeño apartamento encima de la panadería.
El hombre que lleva una camisa de cuadros parece ser un músico y los otros personajes son un florista y un fotógrafo, siendo este último quizás un amigo del artista en el 10243 Parisian Restaurant. Cada minifigura tiene alguna impresión más en la parte posterior de su torso.

El dentista presenta un nuevo torso que lleva impreso el emblema de un diente y algún equipo dental, mientras que el barista lleva un delantal marrón. Este diseño ya se había visto en el 60097 City Square, mientras que la bailarina vecina luce un tutú blanco que se utilizó por primera vez en la decimoquinta serie de Minifiguras coleccionables.
La última minifigura trabaja como cocinero y viene con una toca, así como con una impresión en la parte delantera y trasera del torso. Este elemento se ha actualizado recientemente, por lo que sigue siendo poco común, ya que sólo aparece en otros tres sets por el momento.

También se incluyen un bebé y un perro. El bebé tiene un aspecto absolutamente adorable y esta versión sólo está disponible en el 60134 Fun in the Park – City People Pack, mientras que el perro, basado en un chihuahua, aparece en un total de cuatro sets.
10255 Gran Plaza: El modelo completado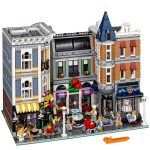 10255 Gran Plaza
¡Ofertas!
Lego Creator Expert
El Gran Plaza tiene un aspecto absolutamente espectacular cuando se completa, presentando un modelo colorido que está repleto de detalles y características arquitectónicas realistas. El conjunto es inusual entre los edificios modulares, ya que está dividido en tres estructuras, aunque dos de ellas comparten una medianera. Representan estilos de construcción distintos y la variedad de colores utilizados para el enlucido y la mampostería es muy agradable a la vista.
La parte trasera de la maqueta está mucho menos detallada que la delantera, como era de esperar, pero sigue teniendo un aspecto bastante razonable en general, con una bonita combinación de paredes azul arena, verde arena y bronceado que contrastan con una base verde.
También se incluyen dos modelos más pequeños que pueden colocarse en la acera en el exterior o llevarse al interior. La cámara está brillantemente diseñada, con fuelles detrás del objetivo y una gran bombilla de flash montada en un lado para replicar el estilo de los equipos fotográficos de principios del siglo XX. El trípode también está muy bien construido y el modelo hace uso de algunas piezas interesantes, incluyendo una parábola de plata perlada, tres conectores de bola de color gris azulado oscuro y una baldosa redonda de 1×1 con pasador que no ha aparecido anteriormente en negro.
El cochecito también está construido con algunas técnicas interesantes, ya que se utilizan soportes para formar una atractiva forma curva. Hay muchas cosas que el bebé puede ver mientras se le lleva por la plaza, entre las que destaca una encantadora fuente hecha con parábolas blancas y rematada con una esfera metálica plateada. Curiosamente, la fuente es la última sección de la maqueta que se construye, pero su base octogonal es una de las primeras.
Las farolas blancas son una característica constante de los Edificios Modulares y este conjunto incluye dos en el borde de la acera. Las baldosas de 2×2 forman gran parte de la zona peatonal, pero están acentuadas por una selección de placas de 1×1, así como por unas nuevas baldosas de 2×2 para las esquinas con una superficie angular que aparecen en cuatro colores diferentes y se entrecruzan maravillosamente para crear algunos patrones interesantes. Una cafetería bijoux ocupa el edificio de la izquierda y su diseño recuerda al del 10182 Cafe Corner, ya que los toldos están formados por rayas blancas y amarillas, mientras que sobre la puerta cuelga un cartel radial con una taza de café en el centro.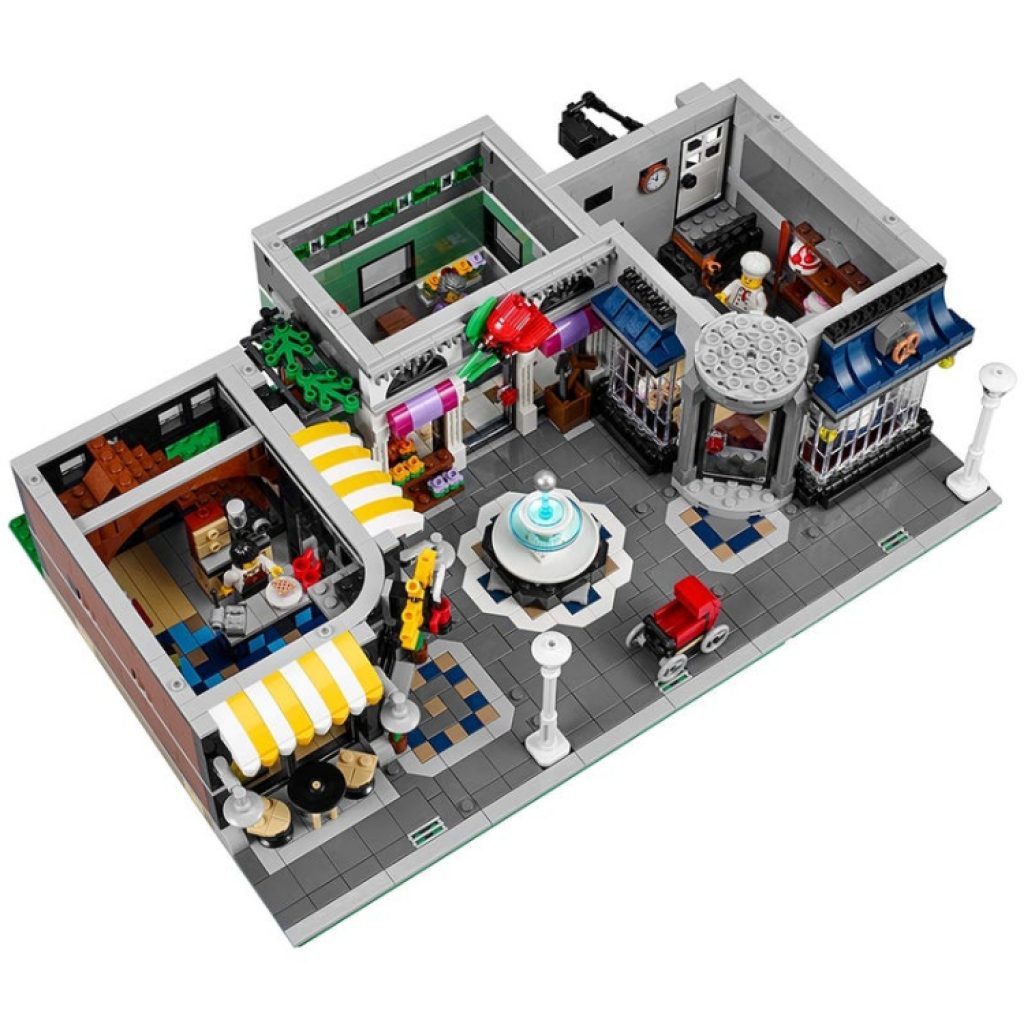 La alternancia de colores de los dientes que forman la cenefa del toldo y las mesas que hay debajo son impresionantes, con asientos curvados y un diseño de la mesa muy detallado a pesar de utilizar sólo tres piezas. Las plantas en maceta están situadas a ambos lados de la puerta y ésta se abre para revelar un interior igualmente detallado.
La cafetería contiene sólo dos mesas y tiene un aspecto muy acogedor, con un par de pantallas doradas en la pared, así como un suelo de madera y un diseño de mostrador decorativo. La caja registradora tiene un aspecto muy tradicional y la máquina de café que hay detrás del mostrador tampoco parece especialmente moderna, manteniendo los diseños rústicos que han dominado los demás Edificios Modulares. También se incluyen muchos accesorios, como tazas, platos y rebanadas de pastel que se imprimen en la nueva baldosa de cuarto de círculo de 1×1.
Una minifigura puede salir de la cafetería a través de una puerta trasera y esto nos lleva a un pequeño espacio exterior en el que hay una planta trepadora y un estrecho pasillo por el que se puede volver a la plaza. La pasarela está cubierta por una celosía de color gris oscuro perla y sobre ella crece algo más de vegetación, lo que me gusta mucho. Hay otra puerta oculta bajo la cubierta del pasillo que da directamente a un tramo de escaleras, mientras que la puerta marrón rojiza situada a la izquierda de la imagen inferior permite acceder a la floristería, que visitaremos un poco más adelante.
Los laterales de los edificios modulares son a menudo bastante antiestéticos y ese es ciertamente el caso aquí, ya que el mobiliario interior resulta en una mezcla de diferentes colores. La parte inferior no es demasiado problemática, ya que quedará cubierta si el modelo está unido a otro edificio, pero la parte superior podría ser visible si se coloca junto a algunos de los edificios modulares más pequeños, como el 10251 Brick Bank del año pasado. Sin embargo, esto es inevitable sin la adición de una capa extra de ladrillos y eso reduciría el espacio interior.
La vista desde la fachada es mucho más atractiva, con ventanas altas rodeadas de un enlucido azul arena que se forma con ladrillos de perfil de rejilla de 1×2 que aparecen por primera vez en este color. En el exterior de la ventana en ángulo se ha colocado una jardinera llena de flores, que se mantiene en su sitio gracias a unas plataformas giratorias situadas en la parte superior e inferior.
Cada piso está separado por una hilera de dentilados, formados con baldosas de 1×1 con medios círculos de color gris azulado claro. Su diseño es idéntico, salvo por la inclusión de un pequeño balcón en el nivel superior al que se accede a través de una puerta de cristal. Este está montado en un marco angular que es nuevo para 2017 y tiene un aspecto estupendo, al igual que el alero de piedra tallada que hay encima. En el interior hay aún más detalles.
En la primera planta hay una tienda de música con guitarras, tanto acústicas como eléctricas, así como saxofones y una batería. La guitarra acústica tiene un bonito estampado y es muy rara, ya que sólo ha aparecido como accesorio del Mariachi en la serie 16 de las Minifiguras coleccionables. El mostrador vuelve a estar coronado por una caja registradora de época y ésta incluye un par de nuevos elementos inclinados que presentan una superficie plana en la parte superior. Seguro que resultan útiles y también aparecen en blanco en otras partes del set.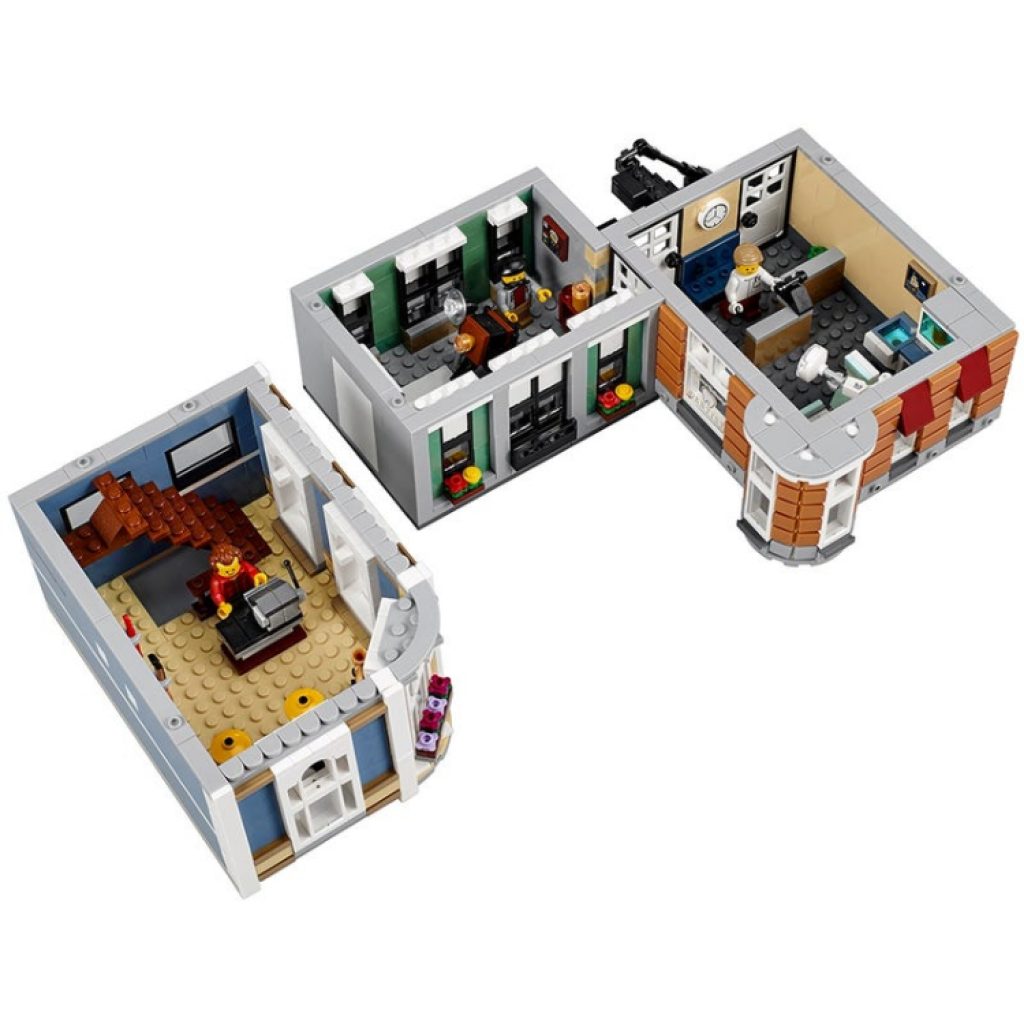 La planta superior está ocupada por un estudio de danza, que parece ser el más adecuado para el ballet, ya que hay un espejo montado en la pared con una barra de oro perlado fijada debajo. El elemento del espejo apareció por primera vez en la Oficina del Detective 10246 y es realmente reflectante, por lo que me complace verlo incluido en otro Edificio Modular. Junto a la escalera hay un piano vertical, probablemente el mejor modelo de este instrumento, lo cual es mucho decir, ya que se han diseñado muchos antes. Me encantan los tres pedales que hay bajo el teclado y la alternancia de teclas blancas y negras, con el uso de piezas de rejilla que se ha convertido en el estándar para los pianos de LEGO en los últimos años.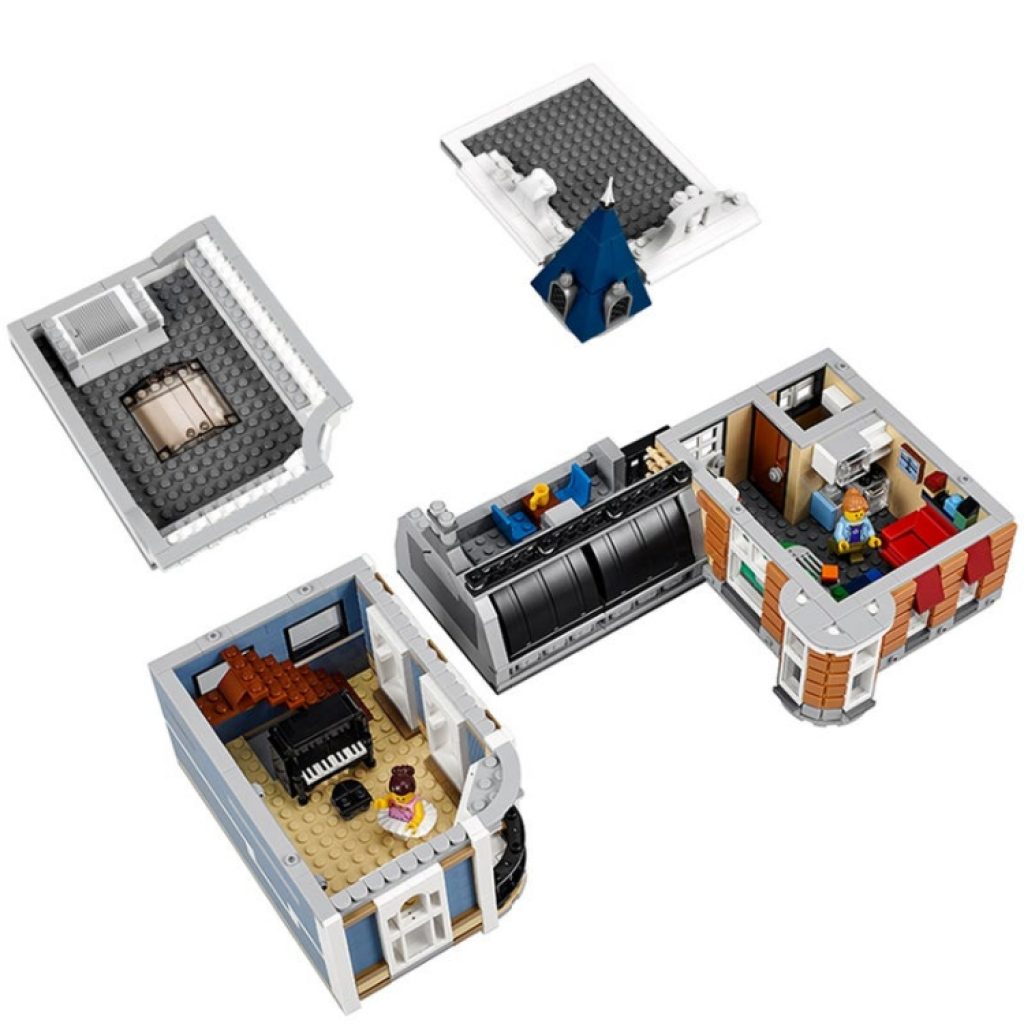 Al techo se accede por una tercera escalera que conduce a una escotilla que se abre. Esta se forma utilizando una técnica que puede ser familiar para algunos, ya que los mismos elementos representan una escotilla en una de las construcciones alternativas para 31026 Bike Shop & Cafe. Una claraboya permite la entrada de mucha luz en el estudio de danza que se encuentra debajo y la azotea presenta un trabajo de piedra tallada en los bordes, con una forma curva especialmente atractiva en la esquina.
El siguiente edificio es el más pequeño, sobre todo cuando se ve desde la fachada. Encima de la puerta hay un par de grandes flores y está decorada con un pomo en forma de flor que me encanta. Las flores parecen tulipanes y cada una viene acompañada de una hoja verde brillante, representada por una garra que aparece por primera vez en este color. Fuera de la tienda hay estantes con plantas y los toldos rosas contrastan con el blanco de la pared de la planta baja.
El nivel superior tiene paredes de color verde arena, pero sólo se ve una pizca de este color, ya que las ventanas son muy grandes y el techo está dominado por dos palas que forman una forma curva.
La vista lateral es menos atractiva. Al igual que el lateral de la panadería, hay algunas manchas de color extrañas, pero no se pueden ocultar fácilmente, ya que la floristería no está conectada a ningún otro edificio en este lado. Afortunadamente, los colores están dispuestos en grandes bloques, por lo que no quedan demasiado mal.
Hay pocos detalles en la parte trasera de la floristería. La ventana de la planta baja puede abrirse, por lo que podría ser una oportunidad para que los ladrones del set del año pasado hicieran otro intento de robo. La sección de la pared por encima de la ventana se puede quitar fácilmente para acceder al interior, ya que tiene un techo bastante alto, por lo que de otro modo sería difícil de alcanzar.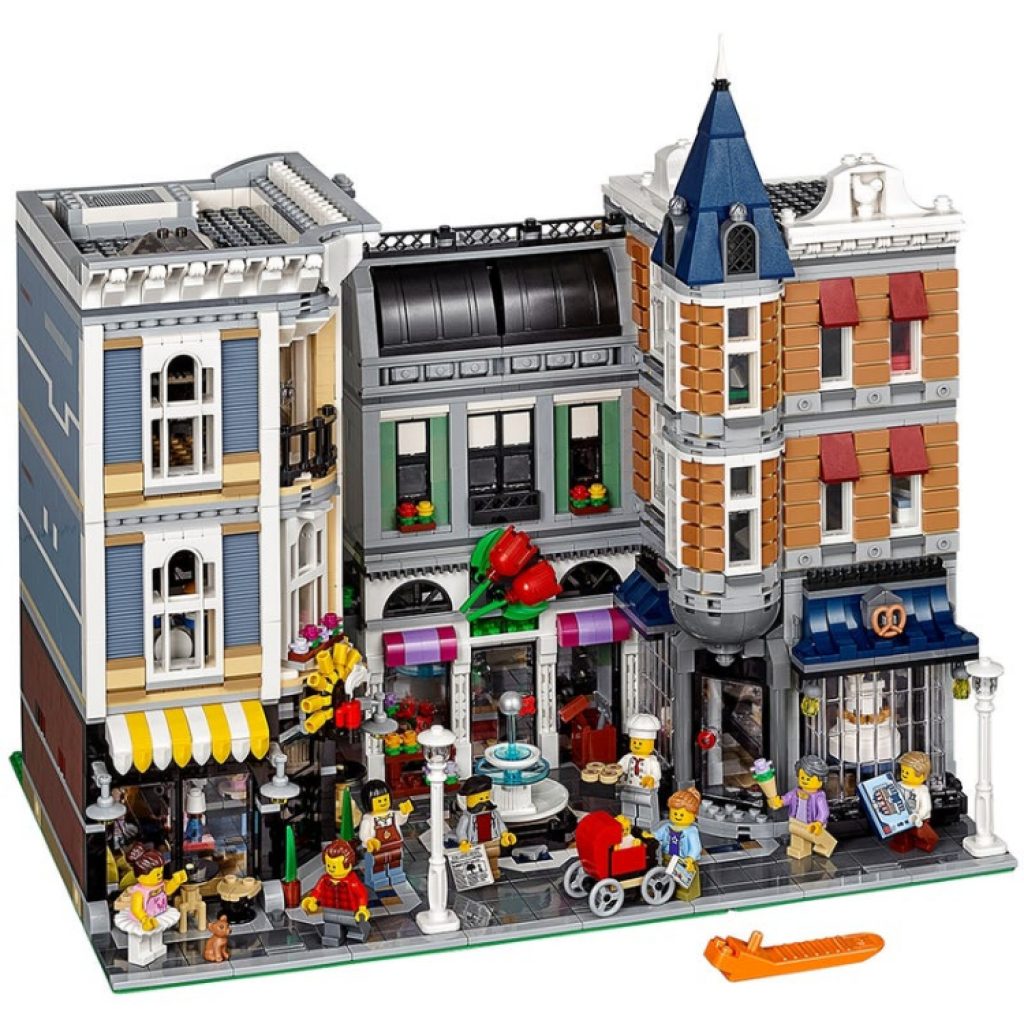 El interior es bastante detallado, con una muestra de flores en la esquina, así como algunos ramos preparados en la pared trasera. Hay una pequeña planta debajo de una campana en el mostrador y un empleado puede acceder a la caja registradora levantando la tapa de madera. El propietario parece tener un loro, ya que un pájaro nuevo con una mezcla de plumas azules, verdes y amarillas está sentado en una percha junto a la puerta lateral.
El siguiente piso está ocupado por un estudio fotográfico, que quizá sea la habitación menos amueblada de todo el conjunto, aunque la encantadora cámara de la que hablamos antes lo compensa con creces. Me gusta el rollo de papel blanco contra la pared y las ventanas superiores blancas son también un gran detalle, ya que representan persianas parcialmente recogidas.
La terraza de la azotea está muy bien detallada, con una pequeña cocina al aire libre y algunos equipos que están pegados a la pared. Me gusta esta zona, pero las sillas azules me parecen bastante llamativas, por lo que habría preferido un color más neutro que estuviera más en consonancia con la estética tradicional del resto del modelo. También debo mencionar que el tallo de la planta de color naranja oscuro sólo ha aparecido una vez en el 21128 The Village.
A la terraza de la azotea se accede por una serie de escaleras que bajan a la panadería, pasando por el dentista en el camino. Estas escaleras tienen un aspecto estupendo y también son muy prácticas, ya que permiten disponer de mucho más espacio en el interior, que puede ser ocupado por muebles y minifiguras más detallados. Me gusta mucho el estilo de hierro forjado y también aplaudo el uso de los relativamente nuevos elementos de conexión de barras para formar los pasamanos.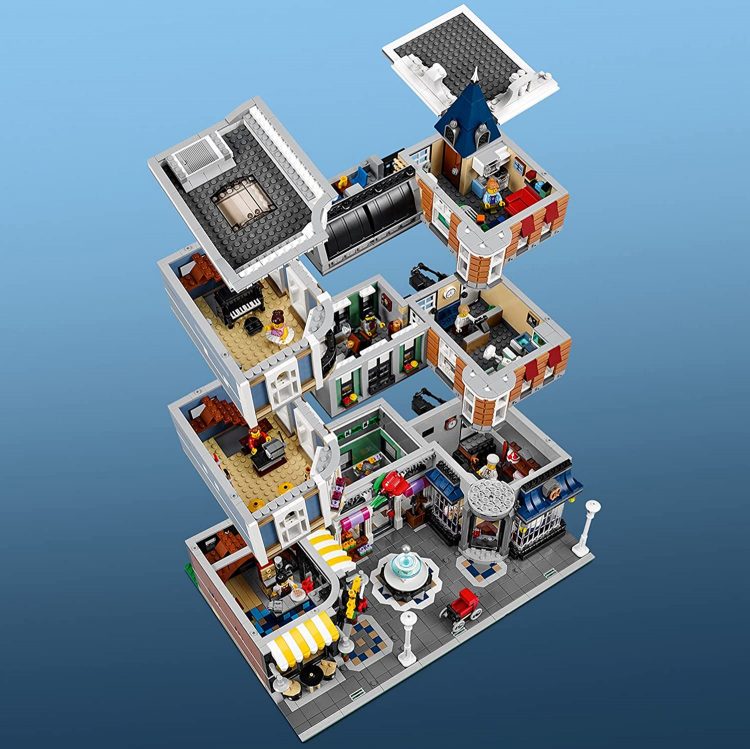 Al igual que en el otro extremo, la pared lateral tiene un aspecto bastante desordenado y los parches de color gris azulado oscuro y blanco de la parte superior son especialmente irritantes, ya que quedan al descubierto cuando se unen a algunos de los otros Edificios Modulares. Como siempre, se puede conectar utilizando un par de clavijas Technic en la base y se alinean perfectamente, por lo que se puede unir a cualquiera de los once Edificios Modulares lanzados en la última década.
La fachada de la panadería es uno de mis aspectos favoritos de todo el set. Las ventanas se crean con persianas enrollables y cada una de ellas está coronada por un tejado inclinado de color azul oscuro. Un pretzel identifica el edificio como panadería, aunque no hay pretzels en su interior, lo que resulta algo irónico. Las luminarias a ambos lados de la ventana utilizan elementos de soplete de acetileno, lo que es una brillante demostración de que casi todas las piezas se pueden reutilizar dependiendo de la propia imaginación.
Otro de los nuevos marcos angulares de la puerta se utiliza para la puerta principal de la panadería, aunque éste está fundido en negro para que sea coherente con los colores oscuros del revestimiento de la puerta. Un escalón curvo conduce a la puerta y ésta se abre hacia el exterior, pasando justo por debajo de la parte inferior invertida de la torre bartizada.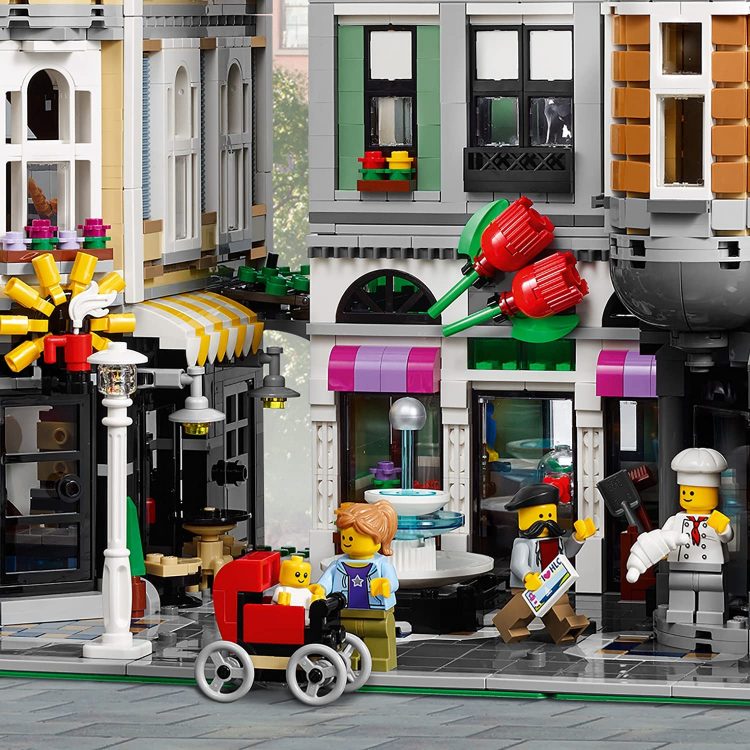 El interior está densamente amueblado con un gran mostrador, algunas estanterías, un horno y un par de expositores que se muestran en las ventanas. El diseño rústico tiene un aspecto estupendo y me gusta la abundante distribución de pasteles y postres, que aportan un toque de color en contraste con las paredes grises. La tarta de boda es especialmente impresionante, ya que utiliza un elemento de turbina Technic para los pisos inferiores e incluso incluye un par de figuritas para representar a los novios en la parte superior.
La pastelería también esconde el único elemento de juego real que se encuentra en el set. Al empujar un émbolo verde en la parte trasera se descubren unas galletas en una bandeja dentro del horno. Se trata de un pequeño elemento de juego, pero su activador es bastante obvio y desvirtúa el aspecto de la maqueta cuando se ve desde atrás.
La puerta es abatible y hay una paleta enganchada a la pared para mover los alimentos dentro del horno o colocarlos en la encimera.
En la siguiente planta se encuentra la consulta de un dentista, que puede verse desde el exterior, donde la ventana lleva impreso el emblema de un diente, así como la frase «previene el amarilleo», en referencia a la tendencia de las piezas blancas de Lego a decolorarse con el tiempo. Las baldosas de color carne medio oscura recrean la mampostería y están puntuadas por placas de puente 1×2 de color gris claro para proporcionar algo de textura adicional.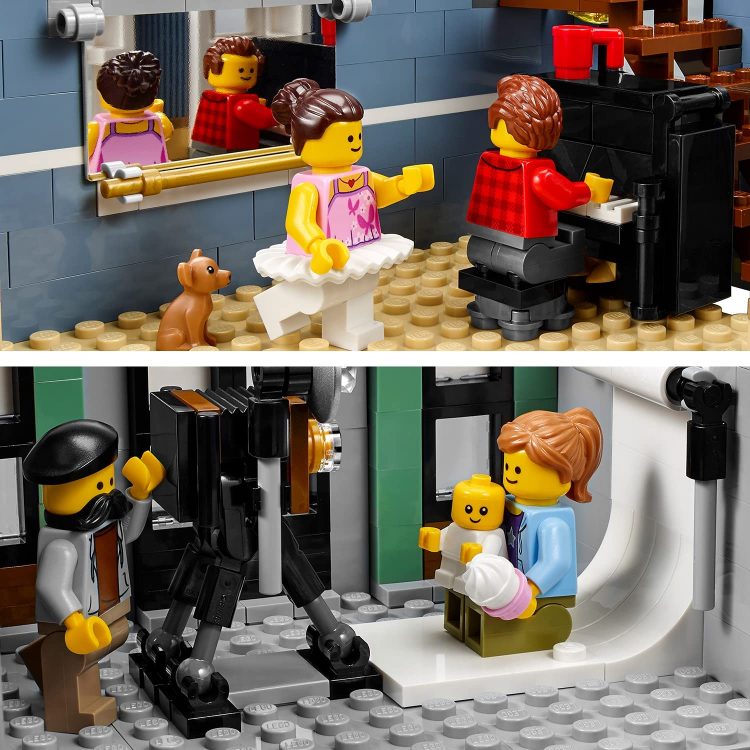 El bartizán es sin duda mi parte favorita de todo el modelo. Presenta una hermosa forma y hace uso del nuevo y extremadamente atractivo ladrillo con tacos en dos lados adyacentes, lo que permite montar taludes de 1×1 en una configuración de esquina, como se ejemplifica aquí. Esto será muy útil para otras creaciones, pero se le da un uso excelente en este modelo, ya que la combinación de colores queda fantástica y la torre bartizada no se parece a nada de lo que se ha visto en los demás edificios modulares.
Las pendientes de color azul oscuro forman el pináculo y dos ventanas de celosía decorativas están dispuestas alrededor de la base del tejado. El remate blanco de la parte superior hace juego con la cantería tallada a ambos lados y hay un relieve esculpido en la parte delantera en el que aparece una gallina.
El interior de la oficina del dentista es completamente abierto, lo que es bastante inusual, ya que la zona de espera tiene una vista perfecta del sillón dental. Afortunadamente, hay material de lectura en un estante frente al mostrador de recepción que, con suerte, distraerá a cualquier minifigura nerviosa. Encima del mostrador hay un teléfono para que los habitantes de la ciudad puedan llamar con antelación y pedir una cita.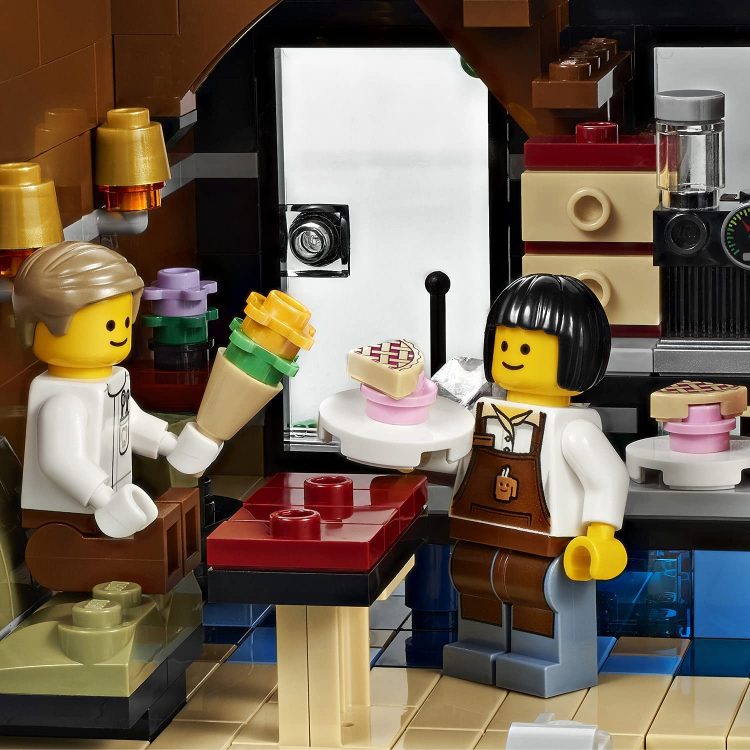 La última zona que se explora es también una de las más interesantes. En la segunda planta se encuentra un estudio que, obviamente, es el hogar de un AFOL que lleva varios años coleccionando, ya que se exponen varios sets, entre los que destacan el 10182 Cafe Corner, el 10190 Market Street y el 10185 Green Grocer.
Estos están dispuestos en un estante sobre el sofá cama y esto realmente funciona ya que se puede plegar en diferentes configuraciones, aunque no se incluyen almohadas por lo que parece un poco simple cuando se pliega para formar una cama. También hay una pequeña cocina que se completa con un horno, un fregadero y algunos armarios, uno de los cuales es probablemente una nevera. Detrás de la cocina hay un pequeño cuarto de baño con una cisterna de alto nivel y una cadena de tracción, diseñado de forma muy parecida a la del cuartel de bomberos 75827.
El ocupante ha construido un trazado de tren que parece presentar el tono naranja del 10233 Horizon Express, así como un túnel y una zona de agua alrededor de la cual discurre la vía. También están exhibiendo el 10181 Torre Eiffel en la esquina y la caja del 10182 Cafe Corner está apoyada en el sofá cama. Está impreso en una baldosa de 2×3 y tiene un aspecto estupendo, celebrando adecuadamente el décimo aniversario de Edificios Modulares en mi opinión. También puedes ver el 10220 Volkswagen T1 Camper Van y el 10242 MINI Cooper MK VII en un estante cerca de la puerta trasera.
10255 Gran Plaza: Preguntas Frecuentes
A continuación hemos recopilado las preguntas que más nos hacen nuestros usuarios sobre este set:
¿Cual es la edad recomendada para este set?
Lego recomienda este set a partir de los 16 años por estar enfocado a un público más adulto y por la dificultad de construccion.
¿Cuantas piezas tiene este set?
Tiene un total de 4002 piezas e incluye 9 minifiguras de las cuales 8 son exclusivas de este set.
¿Cual es el precio de este set?
El PVP de salida son 299,99€. En estos momentos, se puede encontrar por 20€ menos en Amazon a través de nuestros enlaces.
Conclusión y reflexiones generales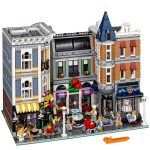 10255 Gran Plaza
¡Ofertas!
Lego Creator Expert
Se trata de un conjunto tremendo. El set 10255 Gran Plaza es sin duda un aspirante al título de mejor set de edificios modulares de Lego. Es tan detallado como cualquiera de los otros e incluye una impresionante selección de piezas nuevas, así como un montón de características arquitectónicas interesantes.
El pequeño tamaño de los edificios puede molestar a algunas personas, pero es bastante típico de muchas ciudades europeas y creo que tiene un aspecto brillante. La punta del bartizán alcanza los 35 cm de altura, por lo que este modelo es más alto que muchos edificios modulares anteriores y quedará espléndido en la exposición. El precio de 300 euros es razonable, por lo que no dudaría en recomendar este conjunto. Tanto si eres un ferviente coleccionista de la gama como si nunca has comprado uno.
¿Y a ti, que te parece este set de Lego Creator? ¿Te ha gustado tanto como a nosotros? Déjanos un comentario.

10255 Gran Plaza – Creator Expert