Tras el gran éxito del 21319 Central Perk, es previsible que el 10292 Apartamentos de Friends alcance una popularidad comparable. Esta atractiva maqueta incluye dos lugares emblemáticos de la serie cómica, con fantásticos detalles y a juego con el ya nombrado 21319 Central Perk.
Innumerables referencias a la famosa serie de televisión se distribuyen por ambos apartamentos, recordando algunos episodios memorables y aportando una magnífica variedad a la maqueta. Además, se suministran siete espléndidas minifiguras para poblar estos apartamentos, inspirándose en las apariciones clásicas de cada personaje.
¡Sigue leyendo!
Las mejores ofertas para el set 10292 Apartamentos de Friends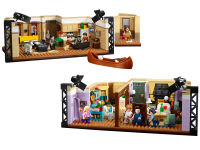 10292 Apartamentos de Friends
¡Ofertas!
Lego Icons
| DETALLES | |
| --- | --- |
| Numero | 10292 |
| Nombre | Apartamentos de Friends |
| Tema | Icons |
| Lanzamiento | 2021 |
| Piezas | 2048 |
| Minifiguras | 7 (7 exclusivas del set) |
| Instrucciones de construcción | Descargar PDF |
10292 Apartamentos de Friends: Construcción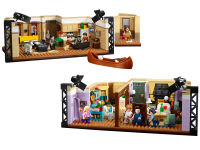 10292 Apartamentos de Friends
¡Ofertas!
Lego Icons
En ocasiones, los envases de los sets para mayores de 18 años resultan atractivos, mientras que en otras ocasiones son bastante sosos. Desgraciadamente, este diseño pertenece a esta última categoría, pues carece de la vitalidad asociada a Friends. Es comprensible que se busque la uniformidad entre las distintas series, aunque preservar dicha uniformidad puede restar valor a su aspecto individual.
Por supuesto, el contenido es mucho más importante: diecisiete bolsas numeradas del uno al quince. El manual de instrucciones que lo acompaña contiene 292 páginas, incluyendo información de bienvenida sobre los respectivos apartamentos de Monica y Rachel y de Chandler y Joey y sus habitantes. Las explicaciones de múltiples detalles referenciales también están repartidas por todo el manual, lo que no es habitual.
Se incluyen diecisiete pegatinas con diversos detalles interesantes reconocibles de la serie de televisión. Incluyen tres diseños de pizarra diferentes, aunque sólo se puede colocar uno en la puerta a la vez. Por supuesto, los juegos para mayores de 18 años suelen incluir numerosos elementos impresos, por lo que estas pegatinas pueden resultar decepcionantes, aunque son fáciles de colocar.
10292 Apartamentos de Friends: Minifiguras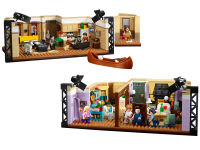 10292 Apartamentos de Friends
¡Ofertas!
Lego Icons
El set 21319 Central Perk contenía los seis personajes principales y aquí hay disponibles diferentes versiones. Chandler Bing luce su sencilla chaqueta y corbata de «The One with the Cat», que parece razonable, aunque el marrón rojizo fue sin duda la elección de color equivocada. Sin embargo, estoy encantado con esta cabeza de doble cara, que incluye una excelente cara sonriente.
A pesar de parecerse mucho al diseño anterior, Joey Tribbiani también presenta una cabeza actualizada, ya que su ceja levantada ha cambiado de lado. Su colorido atuendo también resulta atractivo y hace referencia a «The One Where No One's Ready», en la que Joey luce una serie de prendas de Chandler. La minifigura resultante tiene un aspecto absolutamente magnífico, aunque el pañuelo rojo no aparece en pantalla.
Entre estos seis personajes, Monica Geller es la única minifigura que conserva la pieza de la cabeza de 21319 Central Perk. Creo que este elemento de pelo negro debería haberse actualizado y la cara sonriente de Monica parece torpe, con la boca desplazada por debajo de los ojos. Sin embargo, el componente exclusivo del torso está muy bien detallado y procede de «The One with All the Candy».
Rachel Green luce varios trajes emblemáticos a lo largo de la serie, que marcan tendencia. Sin embargo, este jersey blanco y esta falda a cuadros son algunos de los ejemplos más reconocibles, y la minifigura tiene un aspecto excelente. Me encanta el estampado rojo y blanco en las piernas, que también continúa en los laterales y en el torso. A diferencia de Mónica, la cabeza de Rachel es única y presenta dos sonrisas.

Aunque estos dos apartamentos pertenecen a los personajes mencionados, Ross Geller los visita con frecuencia y sin duda pertenece a este lugar. La minifigura lleva pantalones de cuero que aparecen durante «The One with All The Resolutions» y su excesiva estrechez queda muy bien expuesta por la decoración del torso. Las expresiones faciales de Ross también tienen un aspecto espléndido y esta minifigura incluye el contenedor de polvos que se relaciona con los pantalones de cuero.
Mientras que varias minifiguras están vestidas con atuendos particularmente memorables, Phoebe Buffay tiene un aspecto inusualmente soso. Su jersey rosa hace juego con «Aquel en el que Phoebe huye», pero habría sido preferible un diseño alternativo. Sin embargo, el componente de pelo rubio luce brillante, tras su introducción con Sally de 71024 Disney Collectable Minifigures Series 2.
Se proporciona una impresionante selección de accesorios, incluido un elemento de pincel actualizado que ahora cuenta con más pintura. Mónica lleva una batidora de color gris azulado claro, reflejo de su carrera culinaria, mientras que Rachel incluye una taza de café. En todos los apartamentos hay objetos adicionales que hacen referencia a episodios y momentos concretos.
Janice Hosenstein acompaña a las seis protagonistas, con un elemento capilar apropiadamente espectacular. Este elemento se diseñó originalmente para Bellatrix Lestrange, pero aquí luce magnífico, reflejando los elaborados rizos de Janice. La singular cabeza de doble cara tiene un aspecto igualmente adecuado, mostrando expresiones dramáticas a ambos lados y transmitiendo una personalidad perfecta.
Este llamativo atuendo tiene su origen en «El libro de la biblioteca de Ross», con un detallado estampado de leopardo y forro de piel. Los brazos de doble molde para representar las mangas cortas habrían sido bienvenidos aquí, ¡aunque creo que este diseño fue una buena elección entre los innumerables atuendos extravagantes de Janice! La figura lleva un bolso magenta, que refleja vagamente el episodio.
10289 Ave del Paraíso: Preguntas Frecuentes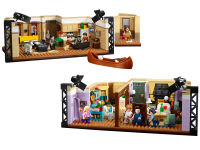 10292 Apartamentos de Friends
¡Ofertas!
Lego Icons
Al igual que el 21319 de Central Perk, estos apartamentos evocan los platós convencionales donde se rodó Friends. Sin embargo, su disposición irregular refleja la ubicación en pantalla y, por tanto, parece exacta, ya que miden 64 cm de ancho. Las variadas profundidades resultantes producen una huella interesante, por lo que creo que la estructura parece más atractiva cuando se muestra en ángulo, como se muestra a continuación.
Aunque se aprecia la disposición auténtica, la maqueta parece difícil de mostrar en esta configuración. Afortunadamente, ambos apartamentos pueden desconectarse fácilmente del pasillo y lucen brillantes junto al exitoso conjunto de Ideas, especialmente con estructuras de celosía consistentes a cada lado. Además, sus tamaños a juego son atractivos, aunque Central Perk parece notablemente más colorido.
El apartamento de Chandler y Joey es ligeramente más pequeño que la residencia vecina, ya que mide 29 cm de ancho, lo que coincide exactamente con el 21319 de Central Perk. El lugar es reconocible al instante y contiene múltiples muebles realistas, que aportan bienvenidas salpicaduras de color brillante frente a las monocromáticas tarimas de turrón medio presentes en todo el decorado.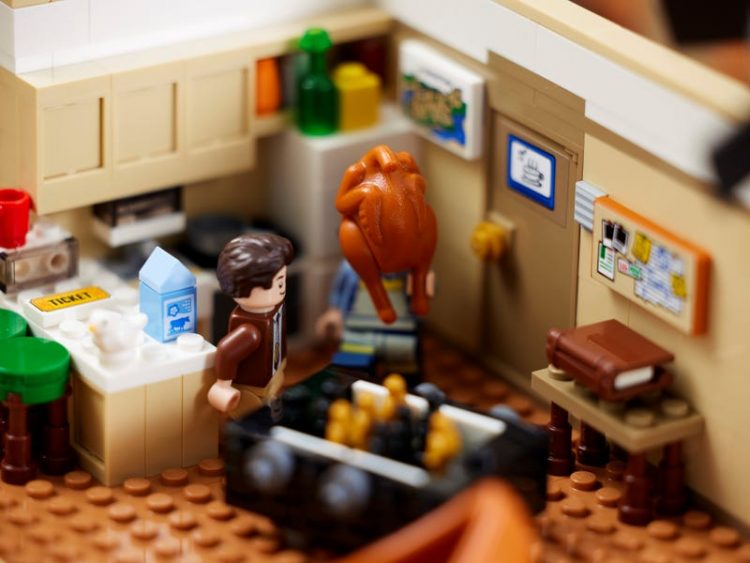 El apartamento está decorado con numerosas pegatinas, varias de ellas alrededor de la entrada. La pizarra azul se introdujo durante la tercera temporada y se mueve con bastante regularidad, aunque la posición de la puerta es habitual. Este sketch de la taza de café humeante se origina durante «The One with All The Resolutions» y se suministran dos pegatinas adicionales. Permanecen en la hoja de pegatinas anterior y hacen referencia a «El de Chandler en una caja» y «El del Yeti».
El tablón de anuncios con pegatinas hace referencia a Emily, la pareja de Ross durante las temporadas cuatro y cinco, junto con las iniciales «A.W.», que pertenecen al escenógrafo Anderson Ward Grubb. Esta zona también incluye la enciclopedia de Joey de temas que empiezan por «V», mientras que una baldosa impresa de 1×1 en gris azulado claro representa el omnipresente interfono junto al tablón de anuncios.
La cocina, que se parece mucho al material original, está decorada con especial detalle y colorido. El sencillo frigorífico-congelador tiene un aspecto estupendo y los electrodomésticos vecinos están correctamente colocados, incluidos los fogones y el microondas. Además, la caótica disposición de los diversos accesorios refleja el habitual desorden de la casa de Chandler y Joey.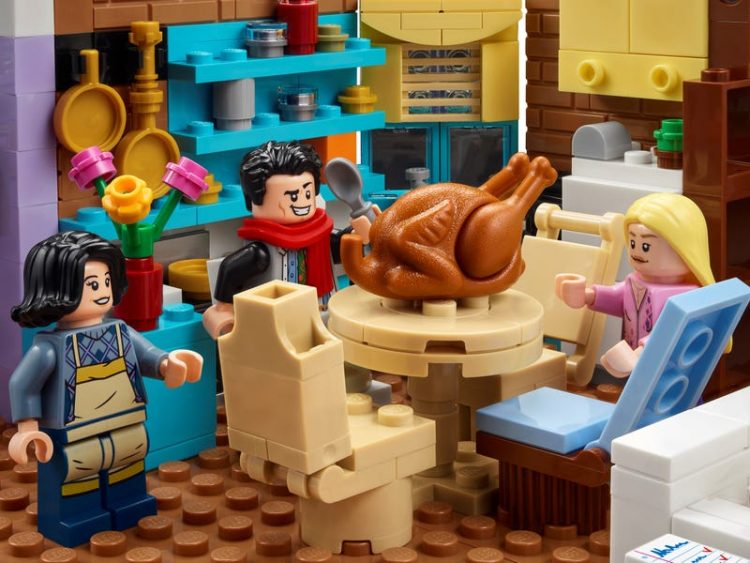 Naturalmente, el destacado póster de Manhattan está presente junto a la nevera, captando notables detalles del póster original. Los armarios texturizados también parecen auténticos, a pesar de su incapacidad para abrirse y de su gama de colores relativamente apagados. Afortunadamente, los taburetes verdes garantizan un contraste de colores continuo y el pato también está presente, aunque representado por un pájaro Lego estándar.
Después de destruir la mesa de la cocina durante «El de la docena de lasañas», Chandler y Joey compran un futbolín como dudoso sustituto. Este modelo tiene un aspecto espectacular, con todo lujo de detalles dada su diminuta escala. Me gustan las filas de jugadores en dorado perla y negro contra la superficie de juego verde, mientras que el marco hace un uso excelente de los ladrillos con tachuelas en los laterales.
A lo largo de la serie de televisión se producen frecuentes reorganizaciones del mobiliario. La diana de dardos es a veces especialmente escurridiza, apareciendo aquí junto a la cocina. Este elemento tiene un aspecto brillante y el póster de boxeo de los canguros también incorpora suficientes detalles, aunque la inclusión de una escritura cirílica precisa a lo largo de la parte superior habría mejorado aún más el diseño.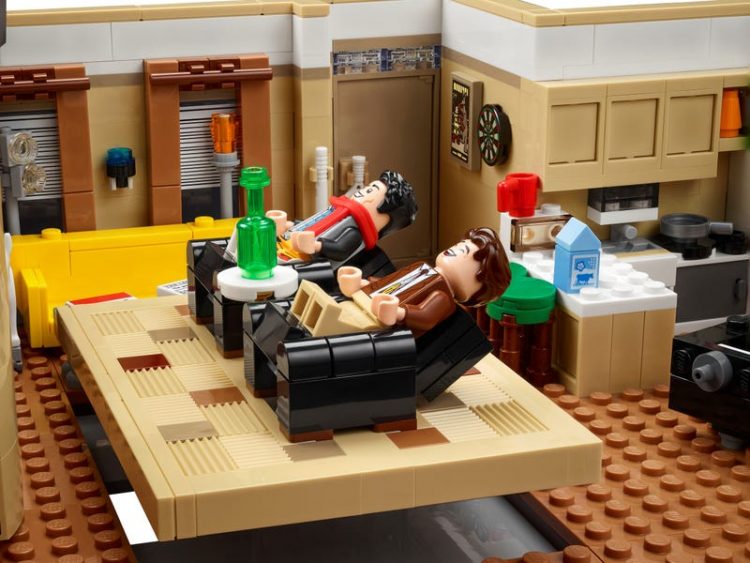 La entrada al cuarto de baño incluye una raqueta de tenis, mientras que el palo de hockey adyacente hace referencia a «La del gato», cuando Joey se queda encerrado dentro de su propia unidad de entretenimiento. Este sofá amarillo también aparece de forma destacada a lo largo de la serie y su vivo color resulta encantador aquí. La mesa de cristal también resulta atractiva, combinando los colores adecuados.
Las ventanas están situadas detrás del sofá, con pegatinas que representan las persianas. Su color blanco resulta bastante inusual en contraste con las ventanas transparentes, aunque las estrechas cortinas complementan muy bien las persianas. Lo ideal sería que hubiera un radiador detrás del sofá, pero el espacio correspondiente está completamente cubierto, por lo que se ha excluido.
Sin embargo, la infame estatua del perro de cerámica, llamado Pat, está incluida debajo de un póster que ha sido muy bien adaptado de la serie de televisión. Su estilo gráfico parece exacto, pero el cartel se refiere ahora a Billund, en lugar de a Nueva York. La puerta del dormitorio de Chandler también está correctamente colocada, junto a una escultura vertical que suele verse al otro lado de la puerta.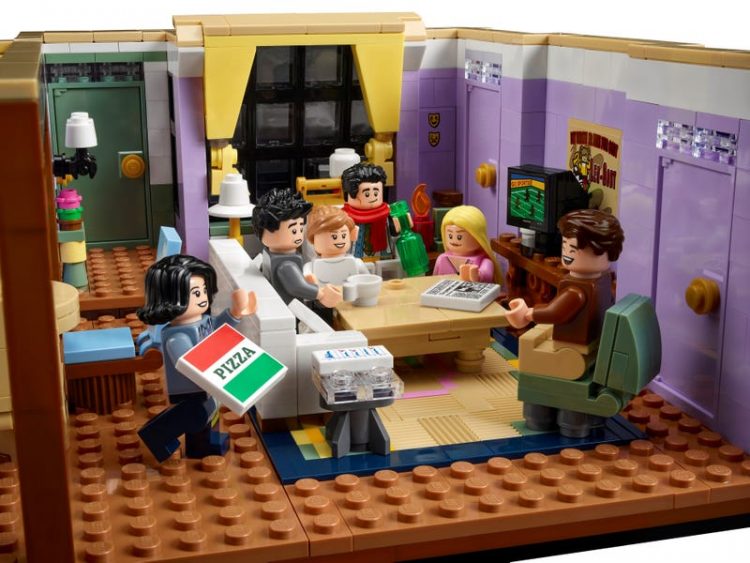 Chandler compra un enorme centro de entretenimiento para el apartamento durante la cuarta temporada, flanqueado por dos altavoces Martin Logan Aerius. Esta estructura parece exacta y la televisión muestra a Joey en el papel del Dr. Drake Ramoray. Además, el receptor y los reproductores de discos que lo acompañan están integrados con acierto, aunque debería aparecer otra estantería encima del televisor.
21319 Central Perk contiene una atractiva alfombra que se construye lateralmente y soporta el mobiliario predominante. Este modelo incorpora la misma técnica de construcción, creando una magnífica alfombra texturizada que recrea definitivamente el aspecto de su homóloga en pantalla. El patrón se ha simplificado, pero estos ladrillos de rejilla de 1×2 evocan un diseño apropiado.
Las sillas reclinables parecen apropiadamente cómodas e incorporan la única función que se encuentra en este conjunto, reclinarse juntas. Su mecanismo está conectado a través de la alfombra y funciona perfectamente, a pesar de desviarse un poco del material de origen. Lo ideal sería que el asiento se deslizara hacia delante al reclinarse el respaldo, aunque incluir este detalle podría afectar a la apariencia exterior.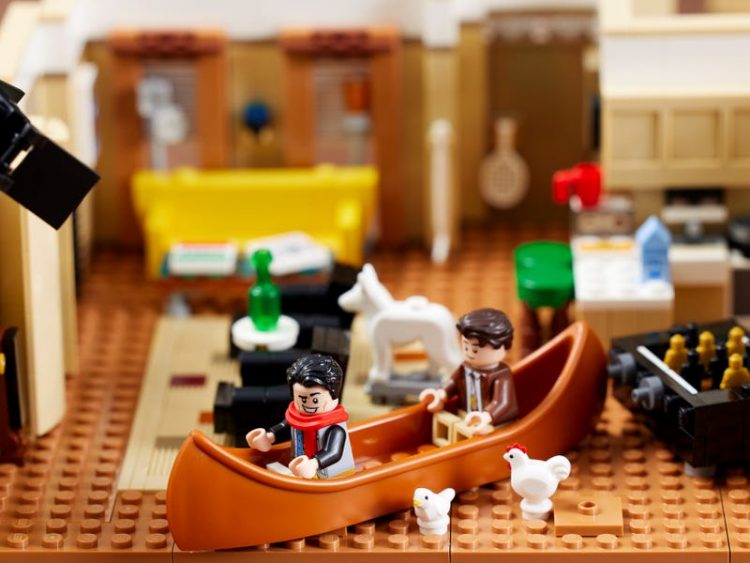 Tras el robo de sus muebles, Chandler y Joey se quedan sin nada más que una canoa. Esa canoa se incluye en consecuencia, ocupando el espacio vacante junto a la alfombra. Este componente no había aparecido nunca en naranja oscuro y difiere de la canoa que aparece en pantalla, aunque agradezco su inclusión. El gallo que ocupa el apartamento, conocido como Chick, también aparece dentro de la canoa.
Aunque las puertas están colocadas correctamente alrededor del apartamento, no se incluyen habitaciones adicionales. En su lugar, el exterior está completamente sin decorar, lo que quizá resulte decepcionante, aunque coincide con el set de rodaje original y con el 21319 de Central Perk. Afortunadamente, estas antiestéticas paredes quedan predominantemente ocultas al mostrar ambos apartamentos.
Los apartamentos de Chandler y Joey y de Monica y Rachel están divididos por un estrecho pasillo. El pasillo parece especialmente soso entre las estructuras vecinas, aunque su presencia era necesaria y esos colores terrosos se corresponden con la serie de televisión. Sin embargo, en esta zona hay restos de una tarta de queso caída, ¡procedente de «La de todas las tartas de queso»!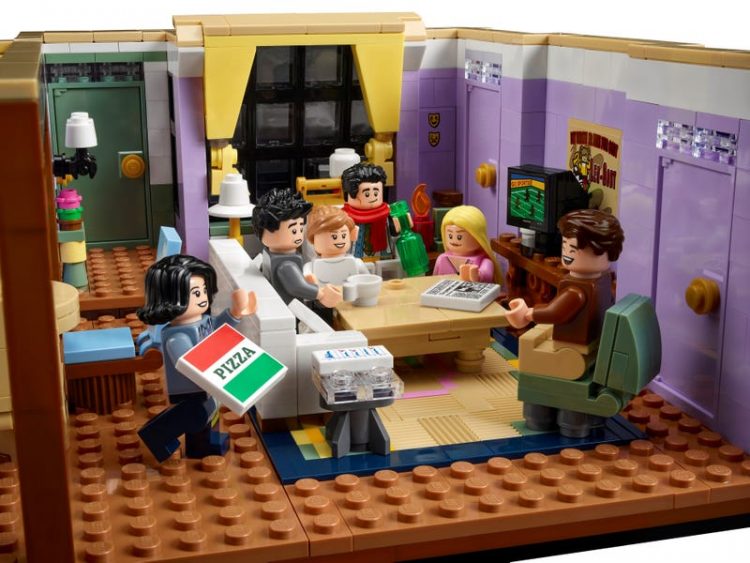 Aquí hay otra persiana con pegatinas, encima de un radiador marrón rojizo. Ambos son visibles en la pantalla, pero el radiador podría haberse mejorado, ya que parece muy básico en comparación con el diseño del 21319 de Central Perk. Además, si se hubiera incluido el listón alrededor de las paredes, se habría introducido otro elemento visual que podría haber anulado la sordidez.
En contraste con el pasillo, el apartamento de Monica y Rachel incluye un colorido fantástico y, por tanto, refleja la ubicación en pantalla. Esta residencia mide casi 31 cm de ancho, superando por poco el apartamento de los chicos en tamaño, lo que parece coherente con la serie de televisión. Sin embargo, los suelos de color turrón medio son compartidos entre ellas, representando la madera dura.
Las paredes de color lavanda del interior de este apartamento son maravillosas y aquí aparece otro azulejo a rayas de 1×1, que representa de nuevo el interfono. Por supuesto, el marco ornamentado que rodea la famosa mirilla está montado en la puerta. Desgraciadamente, la combinación de colores entre el adhesivo y la puerta lavanda es terrible, lo que resulta frustrante porque estos problemas deberían poder resolverse fácilmente.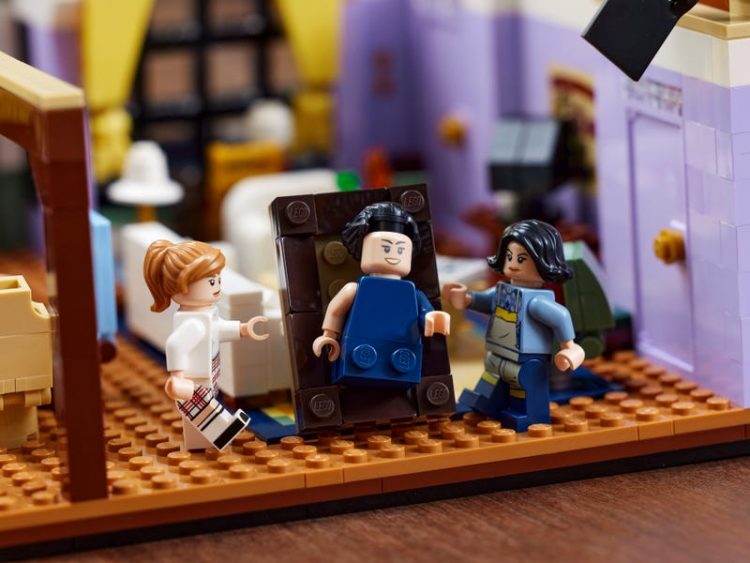 La espectacular cocina de Mónica contiene varias estanterías y armarios de color azul medio, muy parecidos a los del material original. Es cierto que los colores son exagerados, pero eso mantiene una coherencia impresionante con el 21319 de Central Perk, donde los tonos apagados se iluminan de forma similar. Las sartenes de oro nacarado también lucen espléndidas, junto con otros accesorios de cocina.
Además, las cortinas de color amarillo claro brillante y el armario alrededor del fregadero se comparan favorablemente con la ubicación original, mientras que el frigorífico está perfectamente situado. Varios imanes suelen adornar el frigorífico en pantalla, por lo que me sorprende que aquí no se haya incluido ninguna pegatina. No obstante, este electrodoméstico tiene un aspecto estupendo y me encanta el brillo de la cocina, que integra varios azulejos plateados metálicos de 1×2 y 1×3.
La mesa de comedor es bastante sencilla, aunque las sillas que la rodean son únicas, lo que coincide con su representación más habitual en la pantalla. Los diferentes colores y diseños son preciosos, aunque la mesa central está ligeramente desplazada, lo que resulta incómodo desde ciertos ángulos. Hubiera preferido una disposición más sencilla, sobre todo porque podría ocupar menos espacio.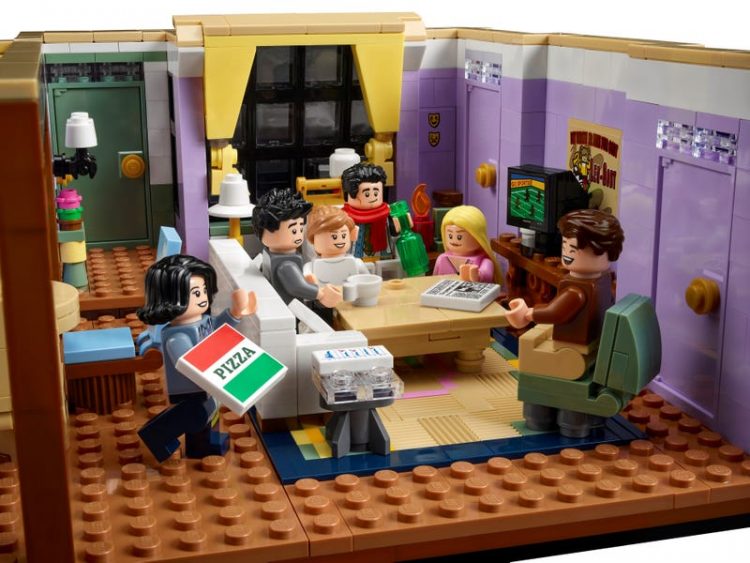 Sin embargo, la viga de madera que atraviesa el apartamento de Mónica queda perfecta y la elegante mesa, donde se exhibe una flor, también se corresponde con la serie de televisión. Además, tanto la puerta del baño como la lámpara están colocadas adecuadamente, justo al lado de la misteriosa puerta verde arena que nunca se abre entre la primera y la octava temporada.
Afortunadamente, la enigmática puerta puede abrirse aquí, revelando el caótico armario de Monica donde se encuentran varios objetos no deseados. Entre ellos, dos cajas, un taburete y una cabeza de color aguamarina que presumiblemente representa una pantalla de lámpara. El armario de la pantalla parece mucho más desordenado, pero en mi opinión, el hecho de proporcionar relativamente pocos objetos era suficiente para este modelo.
Aparte de sus escabrosas paredes, la característica más reconocible del apartamento de Monica y Rachel es probablemente la espectacular ventana. Está conectada en ángulo, por lo que encaja con la serie, y me gustan estas cortinas de color amarillo claro brillante, que complementan las de la cocina. Dos precisas máscaras teatrales también decoran esta pared, aunque la zona alrededor del escritorio podría haberse ampliado.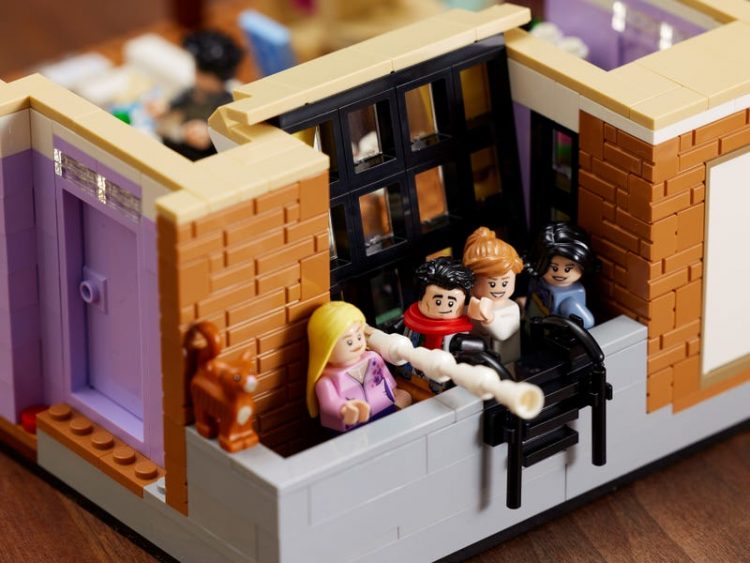 El balcón me parece igual de restrictivo, sin espacio para los muebles de jardín que suelen estar presentes. Además, no me gusta el panel blanco que queda expuesto aquí, sobre todo porque el ladrillo de turrón medio del balcón tiene un aspecto estupendo. Sin embargo, mi detalle favorito es sin duda la escalera de incendios de hierro forjado, que hace un uso ingenioso de los elementos de embutido negro para garantizar un realismo absoluto.
Dos referencias están presentes aquí, incluido el gato que ataca a Ross cuando se dispone a invitar a Rachel a una cita durante la primera temporada. También se incluye el frágil dispositivo para pinchar, que consta de cuatro piezas de telescopio conectadas y tiene su origen en «The One with the Giant Poking Device» de la tercera temporada. Estos sencillos añadidos mejoran materialmente el conjunto.
Las puertas lavanda de los dormitorios de Monica y Rachel flanquean el televisor negro. Este televisor muestra el partido de fútbol americano de «The One with the Rumour» y puede resultar útil en otros lugares, ya que el fútbol americano rara vez se reconoce en los sets de LEGO. Sin embargo, el armario de color naranja oscuro y marrón rojizo que hay debajo tiene un aspecto aún mejor, con una textura fantástica y colores complementarios.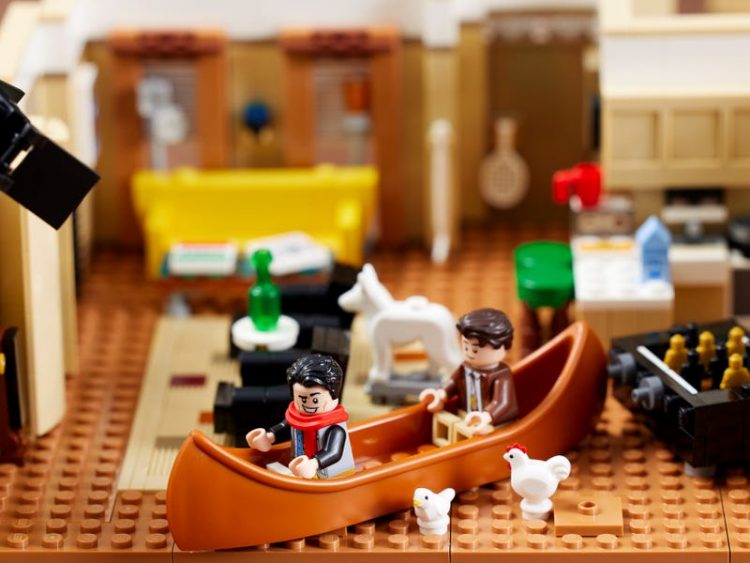 Un enorme anuncio francés ocupa el espacio detrás de la televisión de Monica en la pantalla. Al igual que el cartel del apartamento de Chandler y Joey, el diseño se ha modificado y ahora hace referencia a LEGO. El lema danés de la empresa, traducido como «sólo lo mejor es suficientemente bueno», aparece sobre un caballo balancín, que permanece intacto en el cartel original.
El apartamento de Monica y Rachel contiene otra alfombra con textura, a juego con las de la residencia de los chicos y Central Perk. Este ejemplo está decorado de forma más elaborada que los demás, de nuevo con ladrillos de rejilla de 1×2, pero también integrando varias placas de color amarillo claro brillante, verde arena y rosa. La mesa de centro, las sillas y la otomana verde oscuro reflejan también la serie de televisión.
En el sofá blanco cabrían tres minifiguras, aunque los cojines estampados ocupan ambos extremos. Estas baldosas impresas de 2×2 se crearon para 21160 The Illager Raid y sin duda siguen siendo reconocibles como piezas de Minecraft. Sin embargo, estos coloridos cojines parecen bastante adecuados para este entorno, dado el gusto notoriamente ecléctico de Monica en mobiliario.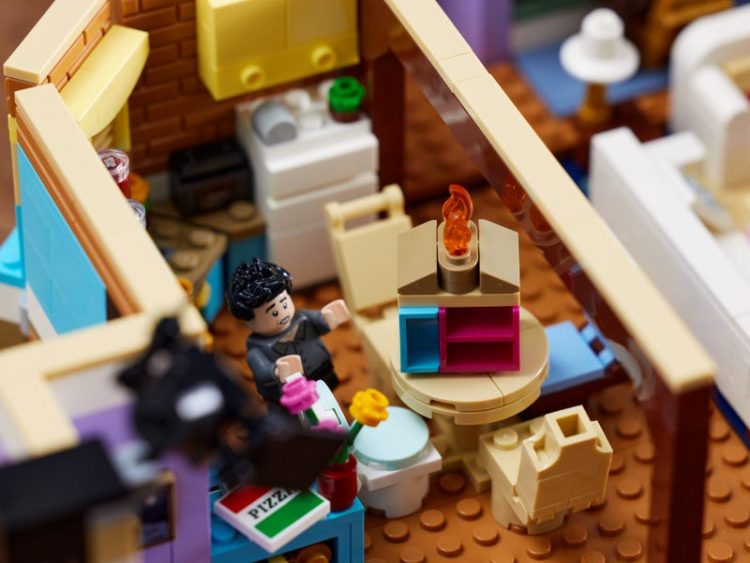 Sin embargo, incluso a Mónica no le gusta la perturbadora obra de arte de Phoebe, conocida como Gladys. Esta representación tridimensional de una mujer es inmediatamente reconocible aquí y presenta una exclusiva cabeza sonriente con ojos grises y sin vida. El postizo negro también es único en este color y se eleva mediante una placa redonda de 1×1, recreando la peluca invariablemente desplazada de Gladys.
También se incluye la casa de muñecas hecha a mano de Phoebe, ¡completada con las llamas que acaban por abrumar toda la estructura! La colorida combinación de paneles 1×2 de color magenta y azul medio crea habitaciones perfectas, logrando una precisión impresionante en comparación con el material original. No se incluye la casa de muñecas con la que compite Monica en «La casa de muñecas».
Mientras que el interior tiene un aspecto magnífico, el exterior presenta una extraña colección de colores y, desde luego, no está pensada para ser expuesta. Esto parece apropiado dado el caos comparable de la mayoría de los estudios de rodaje, donde todo lo que no es visible para las cámaras estaría inacabado. Aun así, creo que estos colores quizá deberían haberse mejorado, ya que no quedan completamente ocultos al mostrar los apartamentos.
El ambiente de los estudios se refleja también en la presencia llamativa de focos articulados, fijados mediante rótulas. Estas se corresponden vagamente con las de 21319 Central Perk, aunque su diseño se ha actualizado desde 2019 y ahora se compone casi por completo de piezas negras. Aunque ambas luces parecen realistas, se pueden quitar fácilmente si se prefieren los apartamentos sin ningún reconocimiento del entorno de la sitcom.
10292 Apartamentos de Friends: Preguntas Frecuentes
A continuación hemos recopilado las preguntas que más nos hacen nuestros usuarios sobre este set:
¿Cual es la edad recomendada para este set?
Lego recomienda este set a partir de los 18 años. Está enfocado claramente a su público más adulto.
¿Cuantas piezas tiene este set?
Tiene un total de 2048 piezas y 7 minifiguras exclusivas.
¿Cual es el precio de este set?
El PVP en Lego.com son 179,99€ aunque se pueden encontrar ofertas regularmente a traves de nuestros enlaces o directamente en Lego.com.
Conclusión y reflexiones generales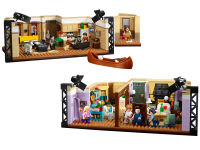 10292 Apartamentos de Friends
¡Ofertas!
Lego Icons
21319 Central Perk logró un éxito excepcional durante 2019 y una considerable demanda de estos queridos apartamentos le siguió después. 10292 The Friends Apartments conserva los estándares establecidos por el modelo Ideas anterior, compartiendo características consistentes y asegurando que se vean excelentes cuando se muestran juntos.
Sin embargo, al compararlos con el 21319 de Central Perk también se descubre su defecto más aparente, ya que ninguno de los dos apartamentos ofrece la variedad visual de Central Perk. Sigue habiendo detalles maravillosos, pero la forma irregular y la diversa combinación de colores elevan la cafetería por encima de ambas viviendas, desde mi punto de vista, a pesar de que estos apartamentos son posiblemente más conocidos.
El valor sigue siendo impresionante, igualando a su predecesor, ya que el set consta de 2048 piezas y cuesta 179,99€. También se incluyen varias minifiguras atractivas, que evocan momentos famosos de toda la serie de televisión. Como era de esperar, los fans de Friends disfrutarán con el 10292 Apartamentos de Friends, aunque quizás menos que con el brillante 21319 Central Perk.
¿Y a ti, qué te parece este set Lego Icons? Háznoslo saber en los comentarios.

10292 Apartamentos de Friends – Lego Icons