Se han producido quince excelentes minifiguras de Iron Man del Universo Cinematográfico de Marvel desde que comenzó la gama en 2012 y estas figuras son ciertamente coleccionables. El 76125 Iron Man: Sala de Armaduras es, por tanto, un emocionante set que presenta cuatro nuevas armaduras de Iron Man inspiradas en diferentes películas.
Las mejores ofertas para 76125 Iron Man: Sala de Armaduras
Las mejores ofertas para 76125 Iron Man: Sala de Armaduras
Esta interpretación del taller de Tony Stark parece igualmente impresionante, con detalles y referencias de todo el Universo Cinematográfico Marvel. Además, el set incluye 524 piezas y cuesta 59,99 euros, por lo que parece ofrecer un valor razonable, especialmente teniendo en cuenta la inclusión de seis minifiguras.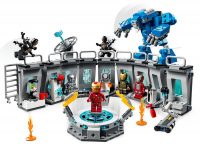 76125 Iron Man: Sala de Armaduras
¡Ofertas!
Lego Marvel
| DETALLES | |
| --- | --- |
| Numero | 76125 |
| Nombre | Iron Man: Sala de Armaduras (Iron Man Hall of Armour) |
| Tema | Marvel |
| Lanzamiento | 2019 |
| Piezas | 524 |
| Minifiguras | 6 (3 únicas en este set) |
Minifiguras
Minifiguras
Iron Man salió a la venta en 2008, pero la armadura Iron Man MK I sigue siendo excepcionalmente popular. Su combinación de colores plateados perlados es magnífica y me gustan los reflejos bronceados y azules oscuros en el torso y las piernas, que reproducen fielmente el tosco diseño de la armadura original de Tony. Sin embargo, mis detalles favoritos están en la parte trasera, donde aparece la marca de Industrias Stark junto a una botella de oxígeno. Un casco completamente nuevo habría sido ideal, pero este componente es una alternativa adecuada y la impresión es preciosa.
Una atractiva combinación de plata metálica y rojo oscuro domina la Iron Man MK V. Esta armadura apareció durante Iron Man 2 e incluye detalles notables, especialmente en el torso, donde numerosos paneles pequeños reflejan su diseño portátil de la película a la vez que contrastan con otras armaduras. El casco incluye una placa facial con bisagras que presenta algunas vetas negras y los ojos blancos también resultan llamativos.
Iron Man MK XLI se introdujo durante Iron Man 3 y se conoce comúnmente como la armadura Bones. Bajo el marco dorado que sostiene el traje blindado se aprecian excepcionales detalles mecánicos que continúan en las piernas, que se corresponden exactamente con la película. Las tres minifiguras se habrían beneficiado de la impresión de los brazos, pero aún así estoy impresionado con cada diseño distintivo.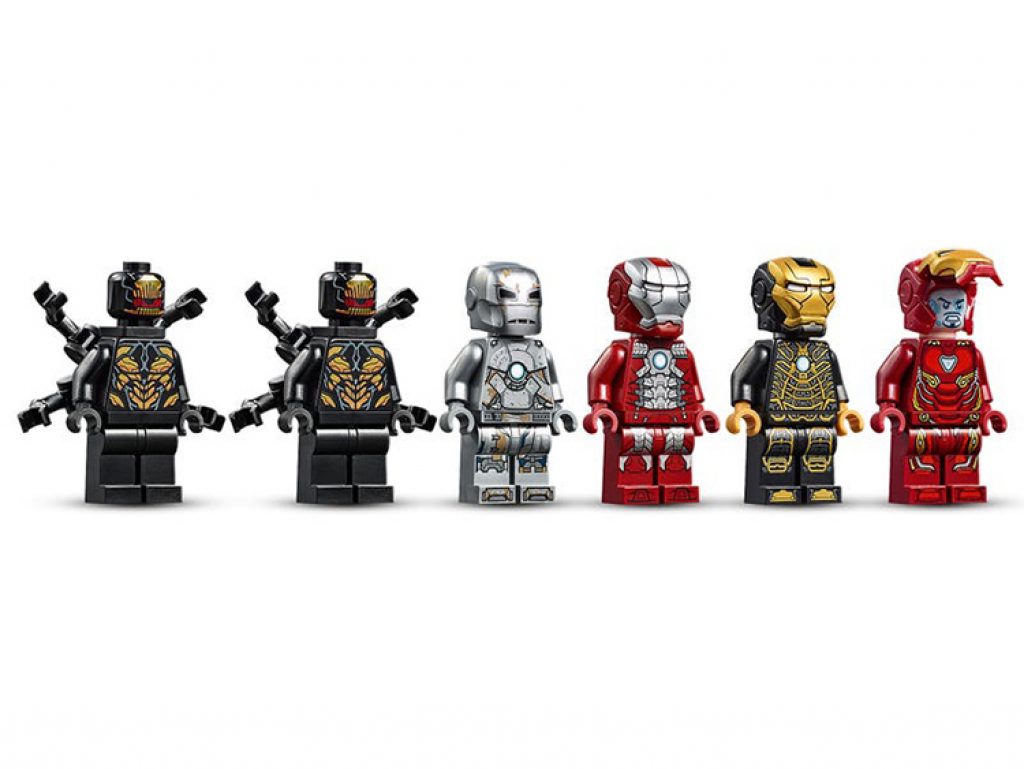 Mientras que las armaduras anteriores incluyen cabezas trans-cargadas bajo sus cascos, la armadura Iron Man MK L es la que lleva Tony Stark. Esta cabeza de doble cara fue creada originalmente para la gama Avengers: Infinity War y tiene un aspecto maravilloso, con una cabeza azul pálido y dos expresiones diferentes. El casco está decorado con ojos azul pálido a juego.
Además, este set contiene un postizo negro para que puedas mostrar a Tony Stark sin su casco. El traje blindado parece más elegante que sus predecesores, con formas más curvas y un distintivo Reactor de Arco triangular. Me encantan los reflejos metálicos dorados y plateados, así como los diferentes tonos rojos que transmiten aún más la forma aerodinámica de la armadura Mark L durante la película.
Dos merodeadores Outriders completan la selección de minifiguras. Aparecen en numerosos sets de Marvel Super Heroes y son, sin duda, mis personajes de construcción de ejércitos favoritos de la gama Marvel, con una atractiva armadura dorada y una boca roja oscura. Tienen cuatro brazos adicionales conectados a la espalda, que se articulan de forma individual, por lo que son ideales para crear exhibiciones dinámicas con los Outriders.
El modelo completo
El modelo completo
Iron Man puede desplegar armaduras para cualquier eventualidad y el traje Mark XXXVIII, más conocido como Igor, está pensado principalmente para levantar objetos pesados. En consecuencia, es más grande que casi cualquier otra armadura y la figura mide 9 cm de altura, por lo que es bastante más alta que las minifiguras estándar. Su escala no es perfecta, pero el modelo está bastante detallado, con pegatinas de franjas blancas de peligro en los brazos y las piernas.
La armadura está extremadamente articulada, con rótulas en los hombros, los codos, las caderas y las rodillas. Además, los dedos de los pies se fijan mediante bisagras que estabilizan la figura y sus dedos se articulan individualmente. Por lo tanto, esta versión de la armadura de Igor ofrece un gran valor de juego y es bastante táctil, aunque su aspecto podría mejorarse en la cabeza y los hombros.
Un excelente azulejo impreso forma los ojos, mientras que la mitad inferior de la cabeza está representada por un elemento de arco de 2×1. Este diseño no es especialmente eficaz, ya que no capta realmente la forma del material original. Por otro lado, me encanta cómo el cuerpo se abre para revelar el espacio para Iron Man en su interior. No está completamente encerrado cuando la cabeza y el torso están plegados, lo cual es desafortunado, pero es una función agradable.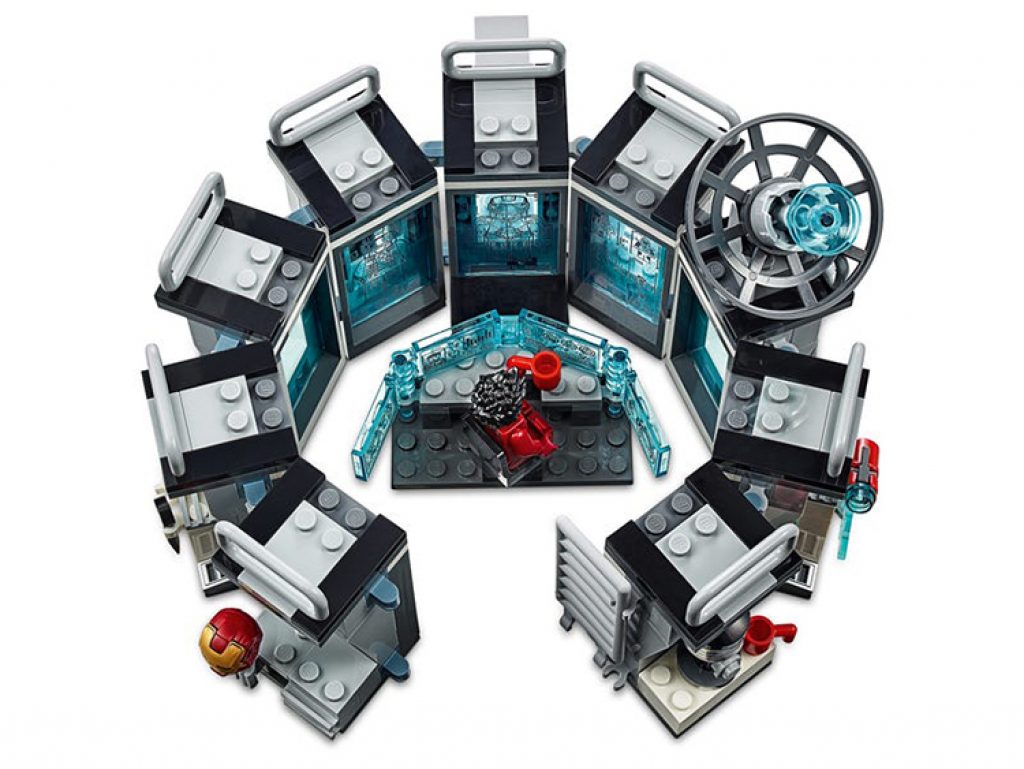 Hay relativamente pocos detalles en el reverso, pero el modelo sigue pareciendo razonable en mi opinión. Habría sido preferible un diseño más preciso, pero esta versión es ideal para el juego y capta las características esenciales de su homólogo en la pantalla, sin depender de nuevas piezas. El reactor de arco azul transiluminado es un gran detalle y se ha hecho un agradable intento de capturar la postura encorvada de esta armadura.
Dum-E ha aparecido anteriormente en 76007 Iron Man: Malibu Mansion Attack, pero este modelo es único y tiene buen aspecto. Las ruedas negras son precisas y el brazo articulado incluye tres articulaciones, lo cual es perfecto. Un cono blanco forma una gorra de burro y Dum-E lleva un extintor para prepararse para cualquier emergencia. Se incluyen dos llamas, por lo que en esta ocasión sí hay un fuego que apagar.
Tony Stark guarda cada una de las armaduras de Iron Man en su taller y este lugar apareció de forma destacada durante las anteriores películas del Universo Cinematográfico Marvel. El modelo consta de nueve secciones que se unen mediante bisagras, lo que permite separarlas fácilmente o cambiar su ángulo para formar pantallas más amplias. Además, puedes acercarlas entre sí, creando así un anillo más pequeño que ofrece poco espacio para jugar pero que luce magnífico en la exhibición.
En el centro de la cámara se encuentra una atractiva plataforma de color azul transiluminado que refleja su disposición en las películas. Tanto el escenario como el escritorio de Tony Stark están fijados a la pared mediante ejes Technic para poder separarlos y reorganizarlos. Otro punto de fijación está oculto detrás de la pared, lo que resulta un poco extraño, pero cualquier opción de personalización es bienvenida.
Además, los módulos están diseñados para ser apilados, por lo que se pueden construir varios niveles, lo que se corresponde con la «Bodega» que se creó para Iron Man 3. Al quitar las barandillas de color gris azulado, queda espacio para conectar las bahías de blindaje verticalmente y se proporcionan pernos abiertos para fijar las barandillas desplazadas, como se demuestra a continuación. El plato ajustable también puede retirarse con facilidad.
El escritorio de Tony incluye una silla giratoria, una taza roja y cuatro pantallas holográficas. Las pegatinas se aplican en cada pantalla y son extraordinariamente detalladas, pero no pueden distinguirse fácilmente contra las partes azules transiluminadas. No obstante, me gusta la pantalla que identifica al agente Coulson como una llamada bloqueada y el teclado virtual es preciso si se compara con su aspecto durante Iron Man.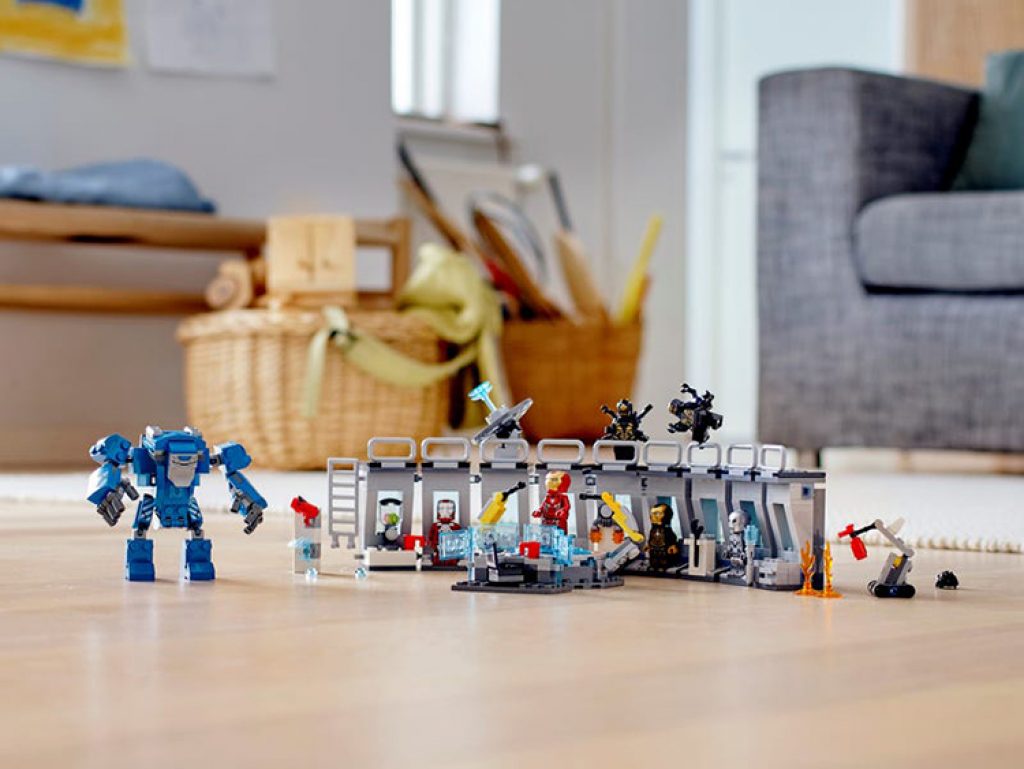 La plataforma circular es bastante sencilla pero tiene un aspecto magnífico. La función de rotación funciona a la perfección y se incluyen dos brazos robóticos, a juego con las anteriores películas del Universo Cinematográfico Marvel en las que la armadura de Tony requería ayuda externa para su desmontaje. Cada brazo cuenta con dos bisagras y una rótula, lo que proporciona una excelente amplitud de movimiento, pero desgraciadamente no pueden sujetar eficazmente un casco de Iron Man.
Los clips se utilizan para conectar las nueve bahías de blindaje y todas ellas están diseñadas en torno a la misma estructura, distinguiéndose únicamente por la adición de soportes de accesorios y pegatinas. La batidora que contiene placas redondas de 1×1 de color verde lima y rosa hace referencia a Iron Man 3, mientras que en las pinzas vecinas hay dos armas inusuales. El tirador de tachuelas rojas presumiblemente representa un cañón de protones, mientras que la hoja de energía azul translúcida puede conectarse a la armadura Mark L, a juego con Vengadores: Infinity War.
Una mochila propulsora considerable ocupa la bahía central y también hay espacio suficiente para una llave inglesa. Estos bastidores pueden desmontarse muy fácilmente para proporcionar más ranuras para las minifiguras y aprecio los accesorios adicionales. Sin embargo, su esquema de color blanco no combina con el entorno. Sin embargo, el banco de trabajo de Tony tiene un aspecto estupendo, ya que incorpora un soporte para guardar el casco de Iron Man o el postizo del héroe.
Las pegatinas son visibles a través de las tres bahías centrales, pero se pueden ver más claramente desde atrás, presentando la armadura Mark V, la armadura Mark XXV y el Protocolo de la Casa. Estos diseños son fantásticos y ciertamente capturan la estética futurista del taller de Tony Stark, aunque es una pena que las armaduras 'Striker' y 'Red Snapper' no estén realmente disponibles, a pesar de aparecer aquí.
Conclusiones finales
Conclusiones finales
La presentación de la gama Avengers: Endgame, pero el 76125 Iron Man Hall of Armour es un set impresionante. La selección de minifiguras es excelente, e incluye tres nuevas armaduras que se encuentran entre las mejores que ha producido LEGO, además de los personajes existentes, que tienen un aspecto fantástico. El Salón de la Armadura es igualmente atractivo y sus numerosas opciones de personalización son agradables.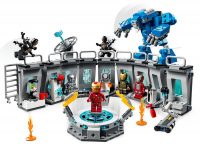 76125 Iron Man: Sala de Armaduras
¡Ofertas!
Lego Marvel
La inusual armadura Mark XXXVIII es probablemente el aspecto que menos me gusta de este set, aunque creo que sería difícil mejorar este diseño sin crear nuevas piezas. Proporcionar un espacio adecuado para una minifigura era importante y la articulación es notable. Este set cuesta 59,99 euros, lo cual es razonable en mi opinión, y sin duda recomendaría añadirlo a tu colección.
Espero que esta reseña le haya resultado informativa. Háganos saber si le gusta este artículo y comparta su opinión sobre el conjunto en los comentarios a continuación.

76125 Iron Man: Sala de Armaduras – Marvel